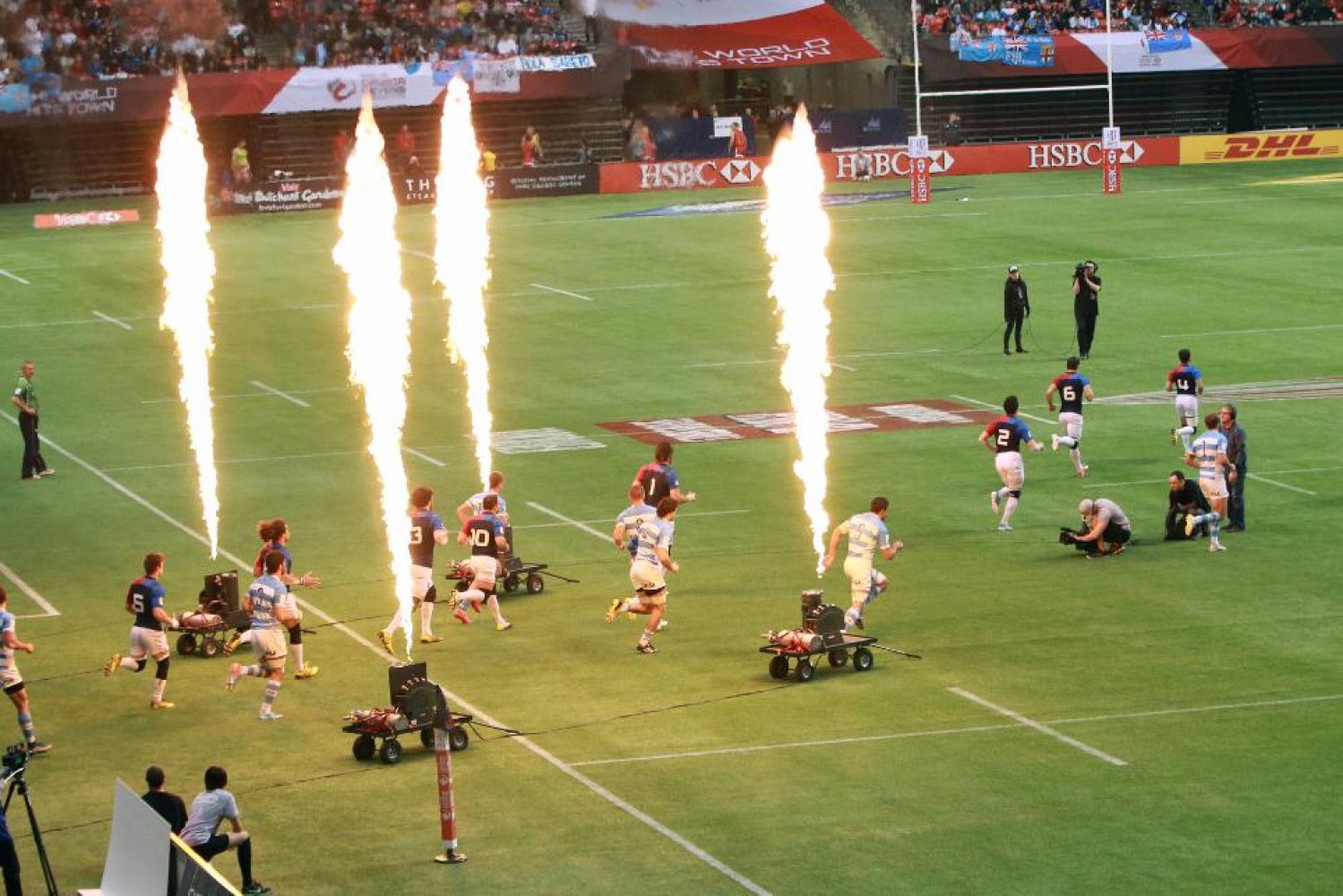 Another Great Auction Item - Tickets for Two – Vancouver Sevens

Two seats in 7's Access Area, level 200, center section. These are special "reserved" seats which offer direct access to the Players Entrance and Exit Tunnels. Access ticket holders will also have exclusive access to view player walkouts, get up close for autograph ops and enjoy snack and drink specials at the Level One Lounge. The tickets will also include a Broadcast Booth Tour with CW/Canada's own, Gareth Rees. Finally, the package will include one night at The Sheraton Wall Center and Helijet travel to and from Victoria. This is a bucket list item for the rugby fan.
Now for our Guest Speaker…..
Clue #6
. Born in Bermuda. He was deemed as a great "guinea pig" for Tetley Tea inventor, Oak Bay Wanderers, Dr Don Burlap. He went on to score 227 points during a span of 29 International Caps. In one match against Scotland, he landed a record eight penalties! Having said this, the rumour comes from some quarters that the "cat is out of the bag"!
Mark the Spark/'Sparky'/The Great One, 'Gretzky' Wyatt (depending with who and when he was graced on the pitch), dual RWC Rep; 9 years RC Sevens Team; dual 'World XV' (1988, 89) and Barbaas (1990) Rep, are just a few of the honours Mark earned in his expansive rugby career, highlighted by a decade-long National Team span, although he never was on a B.C. Premiership winning team!! Mark was recently inducted to the B.C. Sports Hall of Fame, just another accolade to add to his long memory bank of achievements. A noted humorist, wrestler and prankster, we are honored to welcome him to the House of Windsor, as our guest, after-dinner speaker on Saturday.
"Precious Pins"!
Bouquets Galore Today we are very excited to announce and congratulate a number of our female players on their achievements. Upcoming on the Sevens front is the Las Vegas stop for the IRB circuit. CW has six players selected to the B.C. Elite U16 and U18 Girls/Women's teams. Kelsey White, Shaye Tudor, Payton Cochrane will represent at the U18 level. Maelle Reed, Amelia Gordon, Chloe Hill-Huse will play on the U16 team. CW's, Mandy Marchuk will be assisting in the coaching capacity with head coach, Darcy Patterson.
Giving back…..U18 player, Shaye Tudor was recently spotted on the sidelines as an AR at the Canada Vs Chile ARC match. No better way to become a better player than to immerse yourself with the laws. 'onya, Shaye!

Whet the whistle – A massive day for CW on Saturday. Women take on second place Seattle RFC. It is possible that this match will be a 1:00 k.o. at Windsor, whilst the Men – Ones and Prems will be at McDonald to play JBAA. Stay tuned for selections and predictions.


---