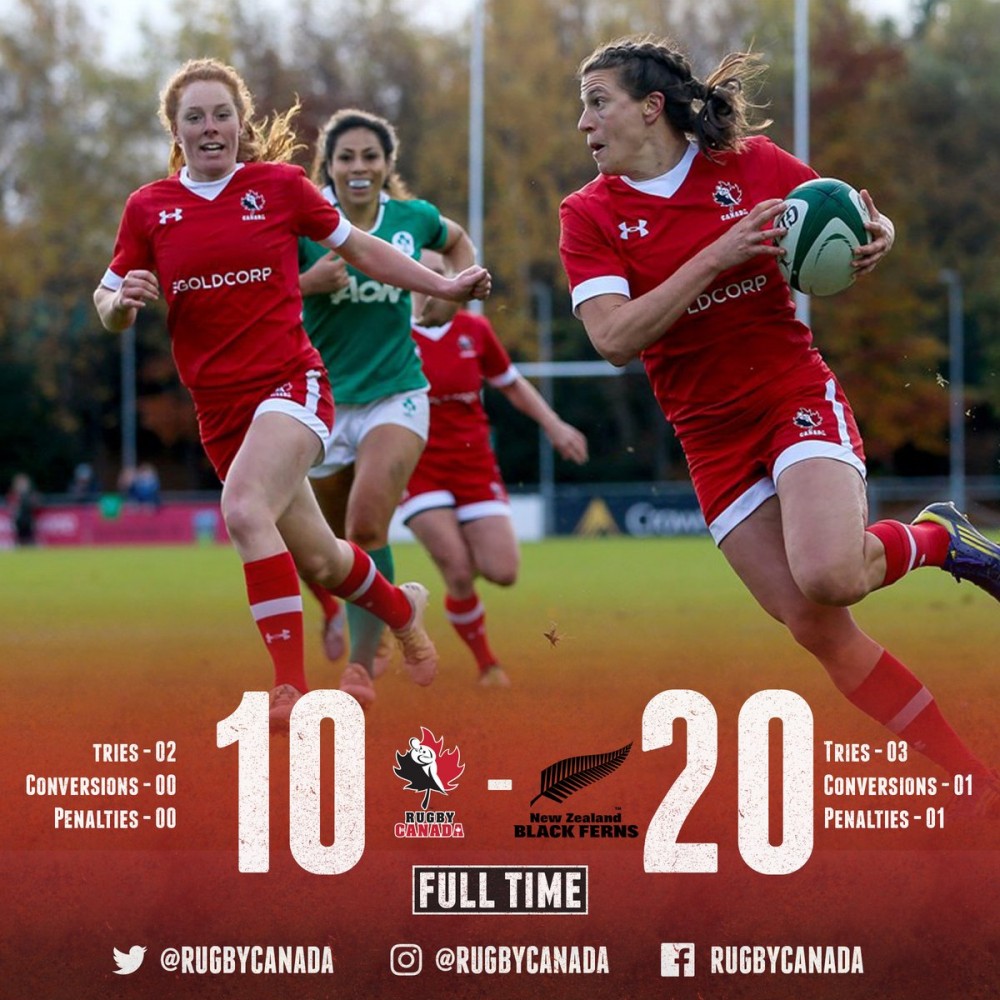 Zuss on the scoot!
Well, it was a bit of an error prone game, some inconsistencies from the ref, although she did apply them equally to both teams! We applaud Canada's NSWT effort in their 20 – 10 loss to N.Z.'s Black Ferns, 3 tries to 2, this morning (our time). A further try under the sticks for Canada, was knocked on in the last minute. The following summation has been lifted from R.C's site;
"Canada got second half tries from Magali Harvey and Laura Russell but three tries and the boot of Kendra Cocksedge propelled the Black Ferns to victory. We weren't consistent today," head coach Francois Ratier said. "We were able to scores tries but we gave away soft penalties. We were courageous, we never gave up but it just wasn't enough today." After leading 8-0 at the interval thanks to a Selica Winiata try and Cocksedge penalty, Canada came roaring back into the game as Harvey got her second try in as many games as she raced away to touch down after Latoya Blackwood had intercepted a Black Ferns pass. However, New Zealand answered immediately as replacement forward Aotearoa Mata'u powered over from close range to push the Black Ferns' lead to 15-5.
Canada's Brittany Waters was shown a yellow card in the 61st minute but the teams were back even just three minutes later as Eloise Blackwell was sent to the sin bin. Canada made the Black Ferns pay immediately as from the resulting lineout, Russell peeled off of a driving maul to touch down in the corner to cut the lead to 15-10 with 15 minutes to play. But again New Zealand hit back right away. After Cocksedge's penalty had missed, fullback Winiata carved Canada apart to touch down in the 68th minute to seal the Black Ferns' victory.
"We're not happy," Captain Kelly Russell said. "We're disappointed with the way we came out and played. We didn't start playing our game until midway through the second half. The girls give it their all every minute of the game. We can't ask for more. We just have to be more switched on when he hit the pitch."
The ladies take on England on Saturday, in another quick turnaround – three tough games within a week. One wonders just what the safety and health protocols are around such a schedule. Would the (male) All Blacks, Springboks, Wallabies comply with such a timeline! (Ed.)
Doff of the Cap! CW's Brandon Schellenberger and U.Vic's Crosby Stewart were recently honoured with the 2016 Premiers Award for Aboriginal Youth – Excellence in Sport. Wow! Both these guys are really going somewhere with their rugby and we add our heartiest congratulations.
Final Plaudits Further kudos go out to a number of CW girls and women who are trending on the rep rugby scene. A recent shot was taken after a session at PISE of B.C. Girls on the NSWT centralized long list and the BCEY 7's. Top row – Soph De Goede (l.) and Caroline Crossley (2nd from r.); Maelle Reed, Rae Parkins (3rd and 4th from l., middle row); Amelia Gordon (1st), Kelsey White (2nd), Peyton Cochrane (3rd), front row. Quite the achievements – well done, all.
---