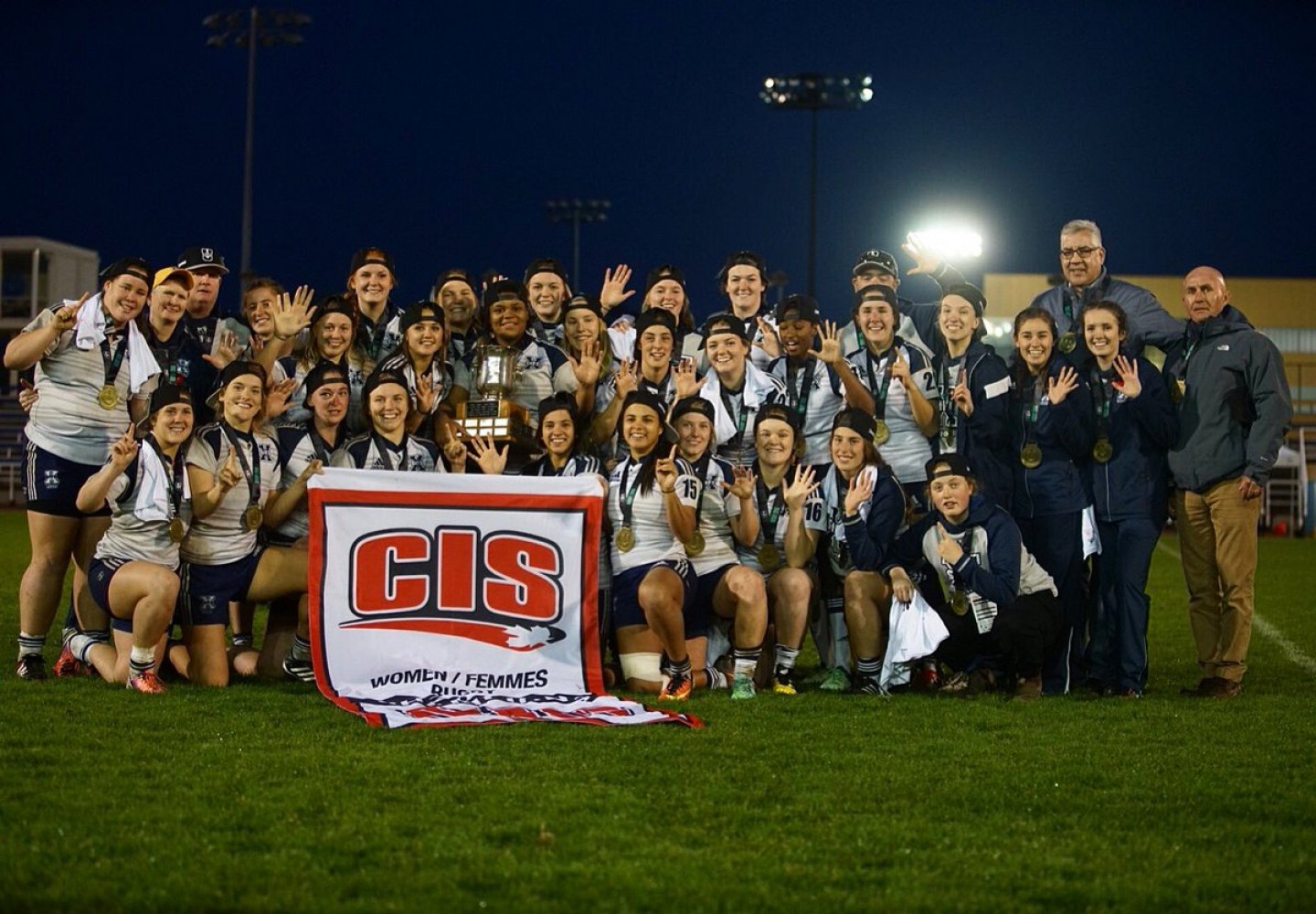 A tip of The Ruggernut's cap to StFX Women CIS Champs
CW Rugby congratulates St FX Uni on their victory over Ottawa Gee Gees at the CIS University Championships, 27 – 19 on Sunday last. The Victoria faithful – dedicated rugby fans were conspicuous by their absence at most games, with the exception Of U.Vic's loss to Guelph on Thursday night. The final had a mere handful present and thus was somewhat of a pity, for the rugby, although perhaps not scintillating in backline play, was very impressive with forward play – size, strength, skill (ball handling) being the foremost of the talents. Students from the other teams made it an exciting atmosphere, cheering for their favourites. It was not a good tourney for the hosts but bouquets to Jess Neilson, who once again made First Team All Stars......'onya, Jess.
From the sidelines;
A shout out to three CW lads who have been invited to the Canada West U18 Boys tryout camp. This is the first of the trials to select a National Team at this age grade level. Gareth Sandner, Sam Kahn and Lachie Kratz are the trio. Best of luck to you – go, CW!

Reminder to all – Canada NSMT take on giant killers, Ireland this Saturday! Ireland will be merciless, as they were on opening day at Cardiff in last year's RWC, perhaps even more so after their historic victory over NZ last week, keen to show their home fans just what they've got. It will be a severe test for the visitors and new coach, Anscombe will certainly be able to sort the wheat from the chaff after this one. This being said, we know the men will raise their hand and give of their best. Good luck to all. Local fans will be viewing at The Sticky @ 11:00 a.m.
Long time buddies reunited. Men's' and Fem's Sevens. This weekend will also see a number of CW players in action at an inaugural Rugby America's North Sevens Comp being held in Trinidad and Tobago. Some are mourning the fact that it is a pity the men are not up against tougher opposition in the Central Coast (NSW) Sevens but it is what it is, such as so many other things are on this day! The women kick off against Bermuda and the squad includes; Sophie De Goede, Carolina Crossley and Denise Roy from CW and for the men who start against British Virgin Islands – Mike Fuailefau, Luke McCloskey and Pat Kay. Hope all six can strut their stuff and good luck to both teams.



Ron Willems good word about Ron's surgery, although very lengthy and intricate, reported as a success. 'onya, Ron. As we get word about recuperation, we'll drop a note on this site.

Finally – Friday Nite Lites Vs UVic Vikes at Centennial Stadium k.o. 7:00 p.m. Saturday, The Ones travel to Piggysville to take on the always tough, Cowichan RFC. Women Prems - Roadie to Klahanie.


---