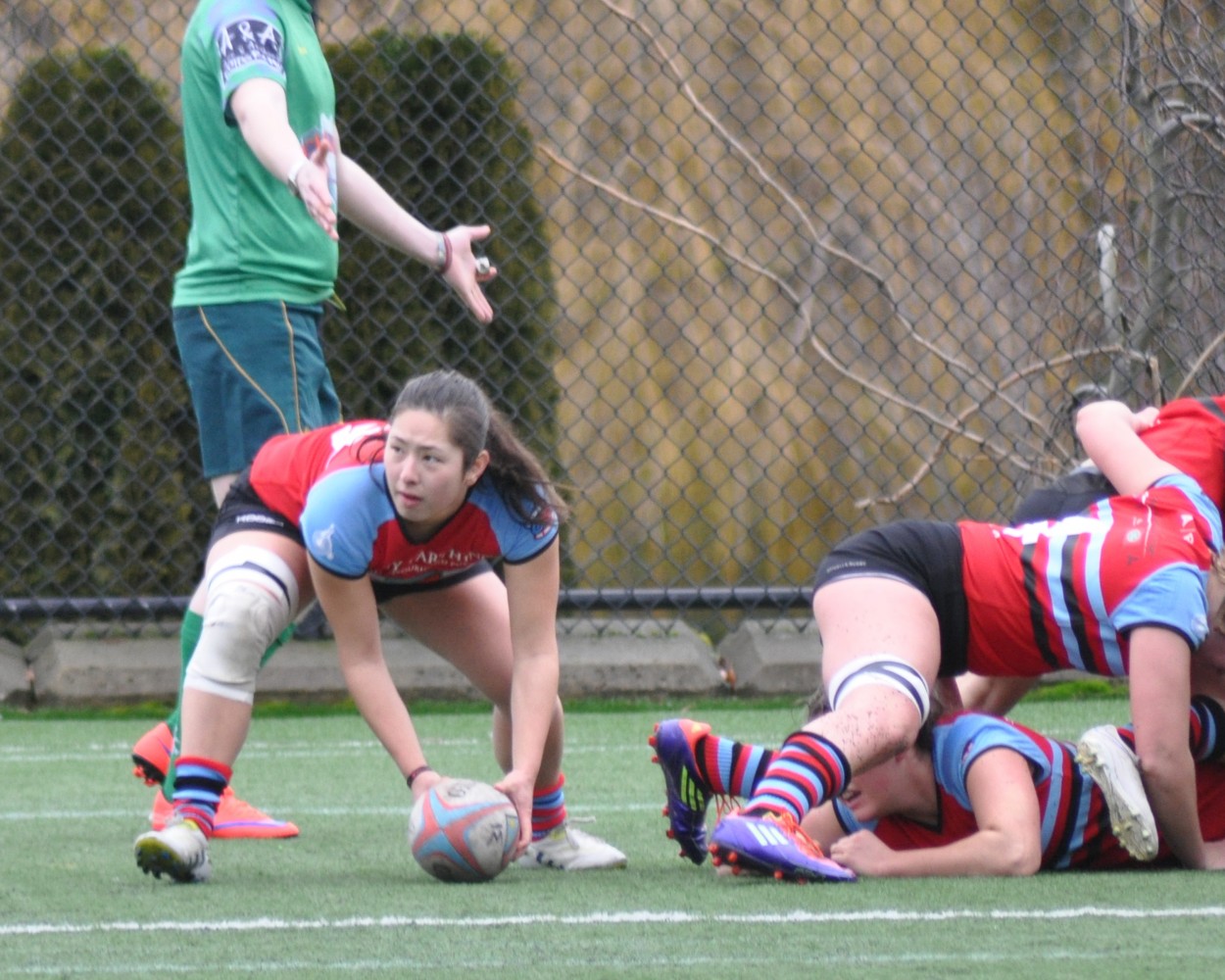 CIS action begins tomorrow at UVic. The UVic Women, led by prolific point-scorer, Jess Neilson, member of CW's Premiership winning team and Coach, Britt Waters who dons The Tricolor each week will both play a huge role as to whether UVic will be able to retain the title they won last year. Other CW ladies, Camille Irvine and Sofie Kennedy will be on the field for Queens U. Matches k.o. at noon with U of C Vs Arcadia and the hosts, ranked #8 take on #1, Guelph at 7:00 p.m. at Centennial. The action should be fast and furious. See you there! Postscript - We failed to mention Vikes Captain, Julia Folk, addy Graham and Gabby Senft who have also played with Ceedub, my bad.
NSMT – Off to Ireland. The November Tour will also include matches against Romania and Samoa, a rather heavy schedule! CW congratulates our boys, FRF – Ray Barkwill, Jake Ilnicki and DJ Sears-Duru. They will renew acquaintances with Ciaran Hearn. From this pundit's pov, having Mack and Braid in the group will help overcome some of the missing faces due to injury. We wish the boys all the best. Go, Canada! The remainder of the squad includes; Kyle Baillie, Nick Blevins, Aaron Carpenter, Matt Evans, Matt Heaton, Eric Howard, Ben LeSage, Gordon McRorie, Evan Olmstead, Pat Parfrey, Taylor Paris, Lucas Rumball, Brock Staller and Matt Tierney. Rob Brouwer, Ryan Kotlewski and Clay Panga.
CW Age Grade Results;
CW's U16's and U18's have been keeping busy of late. Two weeks back, the U16's were schooled by UBCOB Ravens, basically, a St Georges School combo, 48 – 17 however, they took that score line out on Cowichan last weekend, scoring lots to a little in a satisfying win.
We bring you this report of last weekend's U18 match Vs Westshore RFC; "Befitting the overcast skies, it was raining tries last Sunday when CW U.18 and their cross-town rivals, Westshore Velox met in League action. The line was crossed eleven times, but at the end of the day The Tricolours came out on top 41-32. Much credit must be given to referee Kevin Smith, for officiating with an open, fair, and firm mindset; permitting these young men to exhibit the full range of their skills while holding firm on the boundaries for their exuberance. One yellow card per team could not be argued with in this hard fought match.
For CW, Jonny Makaroff was again outstanding in scoring two scorching tries. Coach Robinson was equally impressed with the mature display of Matt Hagkull and Ethan Agar, with the latter scoring once again. The forwards were led by the hard grafting, Edward Down (1 try) and the industrious play of Robbie Alberto and Wyatt Giesbrecht. Nick Carson scored two tries as an all-conquering #8, but the try of the day was most appropriately scored by team captain, Gareth Sandner; 60m of weaving magic from the CW fly-half who has definitely become more in touch with his Welsh routes! A great team performance played in good spirit. Thank you to all the support from parents and siblings and thanks to Westshore Velox for the great hosting. CW U18 are scheduled to play Cowichan next Sunday in a make-up game at Windsor Park."
RIP, John Anderson. An avid CW supporter, morally and financially for the past eight or nine years, as well as doing a stint on ground prep. John succumbed quietly last weekend to his battle over the past three years with his debilitating disease. John was not known by many of the 'hard core' but was simply a quiet fan who took his place on the balcony at home games. Safe travels, John.

From the Sidelines (or, a rugby ramble).
Having recently re-read the autobiography of the legendary All Black captain, Graham Mourie and his concluding opinions about the future of NZ rugby in his day, circa 1982, one is then fascinated to read current articles, specifically, the announced development of the USRPA. The relationship between the players and the staid NZRU, basically run by administration from the Wellington RU was becoming agitated as Mourie concluded his playing days. This segues to the recent announcement about the USRPA formation.

Players' Associations started with the RUPA, formed in Australia in 1995. Today, this has expanded world-wide to the IRPA. Initial motivation stemmed from one side (Rugby Unions), holding all the trumps and players were left financially uncompensated after the service they had given to grow Union coffers. We have recently seen similar issues with our NSMT 7's who, in essence, went on strike. Fortunately, the situation has been resolved and one hopes the solution included the players earning a living wage.

Matters such as this development in North America also give cause to wonder just where "professional rugby" may be going. We, at CW witnessed a great battle between two long standing teams last weekend. The teams were bereft of their NSMT players. One wonders if professional rugby was to expand to Canada, just how depleted the clubs' talent pools would become? It would not take much for a young guy to desert ship or put a university pathway on hold for $10 – 15,000. It would definitely reduce the available talent, yet, it might be a window of opportunity, reverting to days of yonks when clubs were basically on a level playing field with available talent and all was well in our rugby world or it could reduce it to a state of mediocrity with limited support and even greater difficulties with growth and development. Food for thought.

We leave you with this and remind the reader that ramblings expressed are solely those of the writer. Go, CW! An afterthought – CW unpegs camp from Windsor this Saturday and the whole crew (Thirds need a rest), moves to Westshore RFC at Juan de Fuca Arena for three matches against the host Westshore Rugby Club.


---