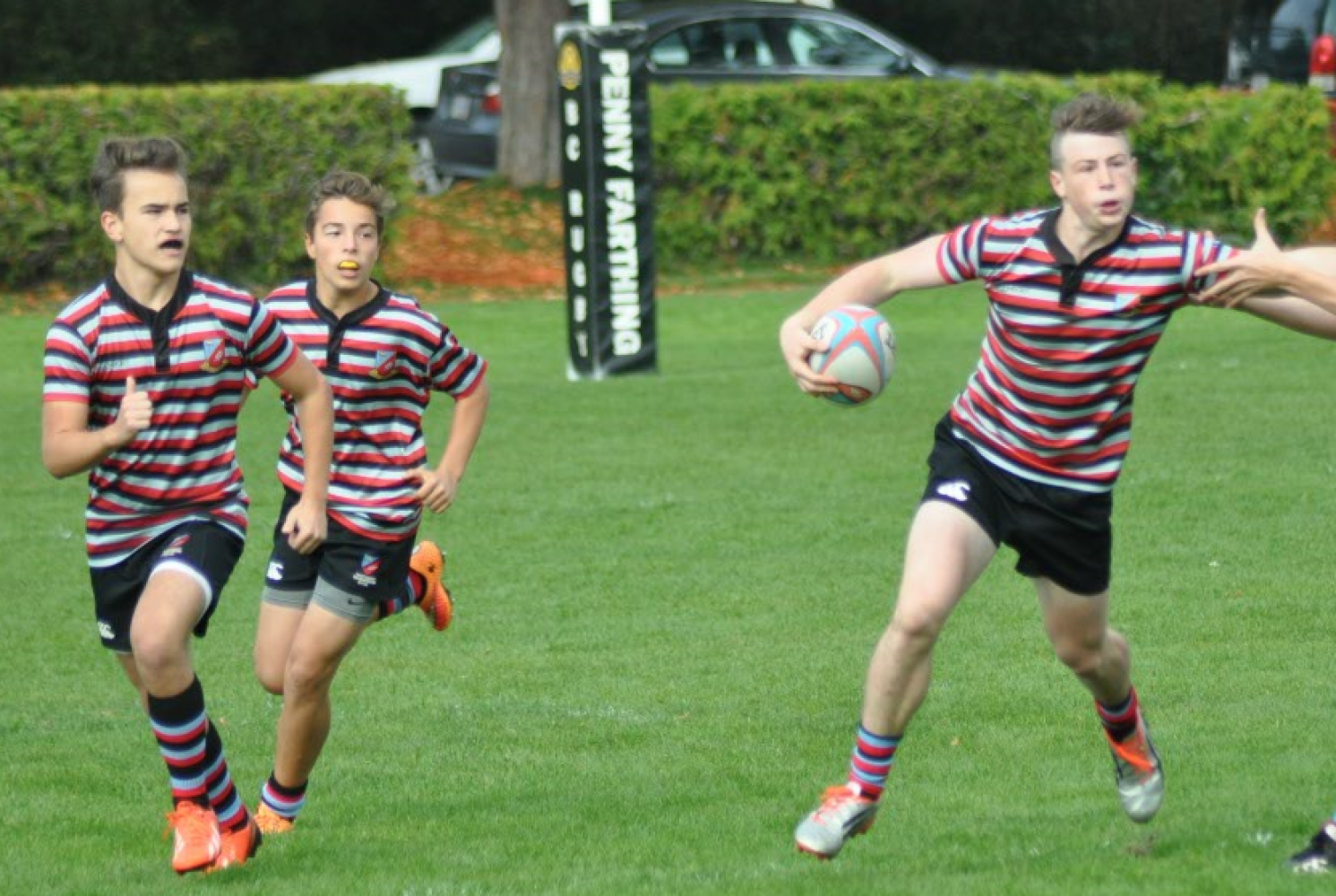 U18 Boy's Action - Lachie Gives a "Don't Argue"!
Further weekend Scores and tidbits: A new chapter in CW U.18 boy's rugby kicked off last weekend when they crossed the Malahat to take on Cowichan. The fixture was belatedly moved to Brentwood College, a long-time supporter of CRFC and kickoff time was postponed until 3:30pm. When the contest finally got underway it was intense and both sides got stuck into the work at hand. CW rebounded from conceding two early tries by scoring two of their own to level the scores as the first half came to a close. After a fantastic opening game for this new chapter in the CW U.18 story, CW came up one score short, losing 38-31. Congratulations, Cowichan and thanks to officials.
Coach Robinson was most impressed with the tenacity and desire on display from this new breed of "CW-ians". This was typified by the play of the Hutchinson, Abercrombie and Carson back-row, and the finishing of wingers Agar and Jardine. "The most pleasing aspect for me is that every player played a crucial part in our performance. There is no dead weight with this group, and that means we have huge potential for growth even if everyone just adds one percent improvement to their own play."
Tries: Tom Abercrombie, Sam Kahn, Hector Jardine and Ethan Agar. Conversions: Gareth Sandner (4), Sandner adding a penalty.
Next weekend will be a busy one as CW plays two exhibition games: Saturday at 2:00pm vs Brentwood School at Brentwood and Sunday at 2:30pm vs James Bay at Windsor.
CW First Div Men travelled to Port and yet again, came away on the thin edge, 11 – 34. The score line was closer than in season's past however the Up-Island teams might seem to have CW's number again. However, early days and we'll see what happens when the Hornets visit Windsor on Saturday.
U18 Canada Girls: Rugby Canada recently announced a U18 "long list" of 68 players. CW congratulates Sophie De Goede, Shaye Tudor and Imogen White who have been included on the list. Deservedly so, in our opinion - go, you 'good things'!
Inaugural Tripleheader: What will be a "first-ever" trio of senior matches will provide some great rugby this coming Saturday at the House of Windsor although at this point in time, the presence of The Royals has not been confirmed. For those wags who seem to claim Gareth can fix everything for The Tricolor, we'll have you know – he's working on this one.
11:30 a.m. Cowichan Premier Women visit B.C. Champs - CW
1:00 p.m. Nanaimo Hornets visit The CW Ones
2:45 p.m. JBAA battles CW in men's Premier action
There will be talent aplenty on display and we will have more to say if we can get a grip on team selections, later in the week. Go, Ceedub!
---