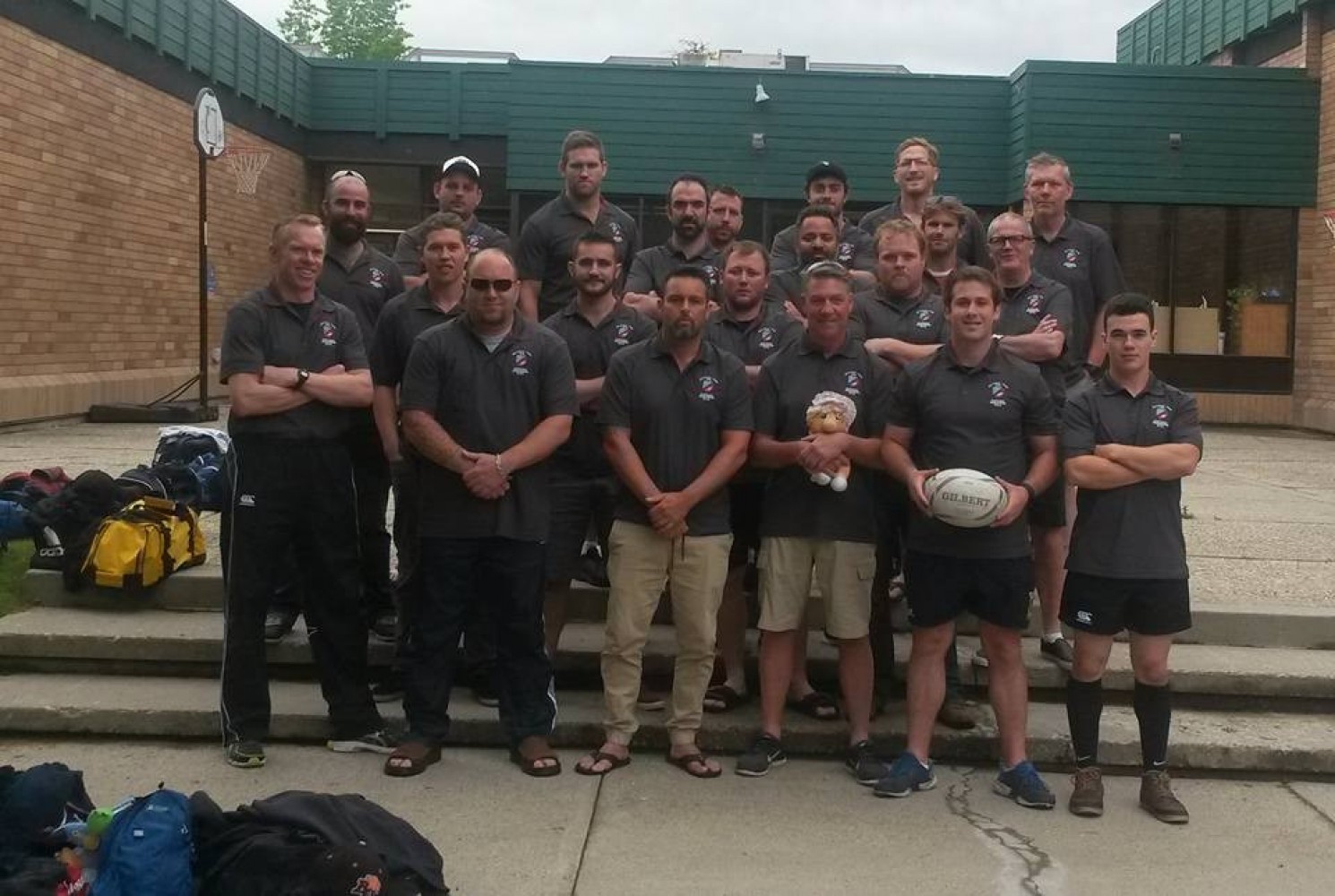 CW Men on Tour
Last weekend, CW Men T.O.T's (Tricolours On Tour – TOT's of brandy, single malt and Mount Gay), squad made their first timid venture forth for many a moon when they mustered some troops, supplemented from the West Shores (of all places), under the guidance of The Chaplain and the severe enforcement from The Don and Kehoe's tutelage and wended to Kelowna, Home of The Crows RFC. Heard tell, true or not, it was a great match with the visitors notching a tally from a gutsy tap penalty call in "no time", to boot, reported try was converted for a 36 – 35 victory. Now this is just one side of the story. The Crows have been long-term friends of Victoria rugby clubs, supplying a host of very talented players over the years, not to mention many almost unbelievable characters and antics, their hospitality being iconic. Heard the post-match was even more shenanigans than the match and when The Chaplain led the troops to a tasting at Cedar Creek the next day, the unanimous vote said; "head for home", we know that the Tea Party had been an occasion not to forget! The Tour was mostly paid for by the guys and their fund raising (some $3600), with a minor club contribution. Hopefully this inspiration may be the start of something even bigger in the not too distant. Well done, all.
Rugby Canada Implements a Plan of Talent I.D.
Rugby Canada has developed a nationwide network of scouts to support the provincial, regional and national pathways. Ken Goodland, Rugby Canada's Coordinator of PlayerDevelopment and Talent ID, has finalized a list of 33 scouts to aid in unearthing talent from every corner of the country. Their mission is to assist in identifying talent at various levels and work proactively with provincial and regional high performance staff to guide the athletes through the appropriate pathway. They will also act as a contact for other coaches who want to promote an athlete and be required to follow up through video or watching subsequent games live.
"First I would like to thank everyone for their interest," Goodland said. "The response was excellent and it confirmed for me that passion for rugby in Canada is huge and people simply want to be involved and give back in any way they can. I'm very excited to get this off the ground. This initiative is crucial on multiple levels. It will help build the foundation for our age grade programs and make them sustainable while also benefiting the senior sevens and 15s programs by having a closer look at domestic club and university leagues."
According to Goodland, a large target area the network will focus on is high schools. As Rugby Canada relies heavily on the club system to grow the game and develop players for national duty it is a huge concern that very few high school players continue on with a club after graduation. "I believe the clubs should be encouraged to directly recruit from their local high school while we at Rugby Canada have a duty to assist and provide guidance around what opportunities exist for the athletes at the next level," Goodland said. "We also have to supply both the clubs and scouts with the proper information about what we are looking for at the national level so that we are all on the same page."
The scouts will be assessing talent against national standards and identifying those who are seen to possess the right attributes needed to perform at the regional and national level. Once the athlete is identified it will be a coordinated effort with the high performance staff to guide them toward the next step in the pathway. Selection for regional and national teams still remains in the hands of the respective staffs, however, the network should provide those programs with a much larger pool and therefore higher level of competition for spots.
British Columbia; Mike Stiles – TBD (Vancouver); Mike Mallette – TBD (Vancouver); Evan Hall – 15s and high school (Vancouver); Doug Primrose – high school (Fraser Valley); Adam Roberts – Sevens and 15s (Fraser Valley); Harry Toews – 15s (Fraser Valley); Ander Monro - 15s and high school (Vancouver Island); Koji Zolbrod – Sevens and 15s (Vancouver Island) and Jas Purewal – Sevens and 15s (North Vancouver Island).
Run For Rio
The IRB has made the draw for the Monaco Melange Sevens Repecharge. Canada has a favourable draw in Pool B against Germany, Uruguay, and Sri Lanka and should finish #1. Pool A with Samoa and Ireland looks challenging. Pool C looks to be a gift for Russia, with Pool D a battle between Spain and Hong Kong. Overall, Samoa will be the team to beat, based on their clearly superior finish on the table at the recent completion of the HSBC World Sevens Series. This being said, it will be fresh in Canada's minds that they scored an emphatic win over the Islanders in London. No, doubt, the one-game-at-a-time philosophy will be embedded in the player's minds. This source could not find what happens with "cross-overs" after pool play.
We wish all of our players the best as they prepare for this very special opportunity, a couple of the lads likely making this their life-time rugby goal as a result of their investment over the past couple of years. It is to be hoped that injuries do not mar selection and that Canada can put its best team and bench, on the field. The event takes place on June 18-19.
It's just that serious! Harry Jones gets throttled by a Welshman seemingly bent on mayhem!
ADDENDUM:
A very cool read on what's happening with PRO Rugby America, compliments of Canada's, Phil MacKenzie. Check it
OUT
---