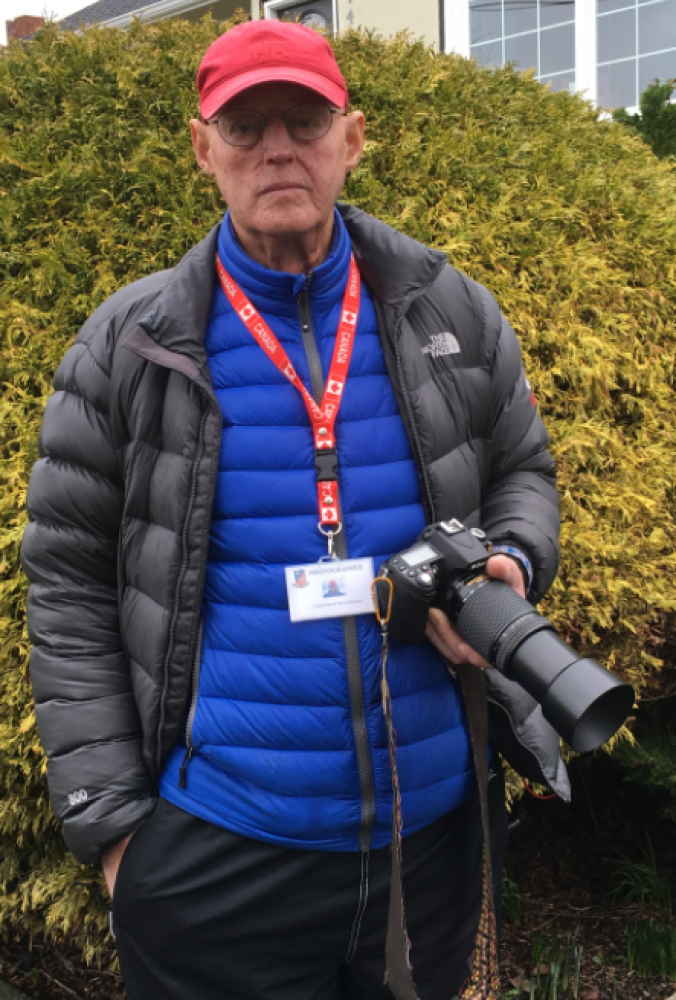 Official Club Photographer
It takes numerous volunteers to keep a rugby club on the go. Ron Willems, our club photographer, was raised to the role of "official" when a local ref demanded his presence "outside the ropes". We thought we would give Ron "official" status with his personal accreditation tag! We recently caught up with Ron and asked a few questions.
How long has photography been your hobby?
I bought my first 35mm SLR used camera, a Fujica 35 EE, in 1966 and have been taking pictures ever since.
How did you become interested in CW rugby?
I don't have a rugby background from high school and university but three things happened to get me involved with CW.
First in 1991 my son Alan joined a CW junior team coached by Tom Stobart and Larry Chung and I was so impressed with the impact the game had on him, because of the coaching and club team spirit that I wanted to join the CW club and help out. Second, I was a work colleague of Dennis Carson, former president of CW. When he died suddenly, I was asked to step in "temporarily" to become treasurer of CW........that task lasted for 10 years! Third, my wife was a former field hockey player who played for the Castaways, so I didn't need convincing that CW was the club to join!
What joys do you get from your rugby shots?
I love the fast action of the rugby game and the challenge of getting the CW player, the opponent and the ball (with the logo toward the viewer) all in focus in the same photo. In a small percentage of the multiple photos one can take with today's digital equipment this is an occasional success. I enjoy providing players/families with commemorative photos.
The other sense of satisfaction to me and benefit to the club is; because I've been taking pictures for so long the Club now has an archive of photos, both game and candid, since 2003.
How would you describe the fact that you have really developed "an eye" for a good rugby action shot?
Coming from a sports background, albeit not rugby, getting the good sports photo is all about anticipation. That is, being at the right spot at the right time in advance of the sequence of events that you want to capture. For me, anticipating plays in rugby has been totally learned on the sideline. That, good light and a lot of luck, results in good photos.
What are the technical specs of your tool/s of trade?
When I started to take pictures at junior rugby games in 1992 I was using a totally manual Pentax camera with a 200mm zoom lens and perhaps taking 36 -50 film photos per game. Not many good photos!
I now use Nikon D70 and D90 camera bodies with a 300 mm zoom lens and take upwards of 200-300 photos per game. These cameras are OK in good light but poor in low light and can shoot at 4-5 frames per second. I dream of owning a Nikon D4s that shoots 11 frames per second at 16 megapixels with an f 4 - 500 mm zoom. That will remain a dream.
Thank you Ron. Your modesty regarding "an occasional success" typifies the person you are and when we view any of your work, the results belie your comment. Ron, despite some personal health issues, is on the sideline, rain, hail or shine and his contribution to the club has been a marvellous asset.
NSMT FOR ARC'S
Rugby Canada has announced a "long-list" of 28 players, Captained by Hubert Buydens, for the upcoming ARC Championships. The selections are:
Kyle Baillie – (Halifax Tars/Atlantic Rock) Summerside, PEI?
Ray Barkwill – (Castaway Wanderers/Ontario Blues) Niagara Falls, ON
Nick Blevins – (Calgary Hornets/Prairie Wolf Pack) Calgary, AB?
Gradyn Bowd – (UVIC Vikes/Prairie Wolf Pack) Calgary, AB?
Rob Brouwer – (Lindsay RFC/Ontario Blues) Lindsay, ON?
Hubert Buydens – (Castaway Wanderers/Prairie Wolf Pack) Saskatoon, SK
Liam Chisholm – (UVIC Vikes) Kenora, ON?
Alistair Clark – (Bay Street Pigs/Ontario Blues) Oakville, ON?
Paul Ciulini – (Aurora Barbarians/Ontario Blues) Vaughan, ON?
Andrew Ferguson – (Oakville Crusaders/Ontario Blues) Mississauga, ON
Michael Hamson – (Halifax Tars/Atlantic Rock) Halifax, NS?
Eric Howard – (Brantford Harlequins/Ontario Blues) Ottawa, ON?
Jake Ilnicki – (Castaway Wanderers/BC Bears) Williams Lake, BC?
Brett Johnson – (Truro Saints/Atlantic Rock) Truro, NS?
Ryan Kotlewski – (Calgary Saints/Prairie Wolf Pack) Calgary, AB?
Phil Mackenzie – (Sale Sharks/Ontario Blues), Oakville, ON?
Duncan Maguire – (St. Albert RFCC/Prairie Wolf Pack) St. Albert, AB?
Alex Mascott – (UBC Thunderbirds/BC Bears) Langley, BC?
Gordon McRorie – (Calgary Hornets/Prairie Wolf Pack) Calgary, AB
Dan Moor – (Balmy Beach RFC/Ontario Blues) Toronto, ON?
Callum Morrison – (UBCOB Ravens/BC Bears) Victoria, BC?
Evan Olmstead – (Parramatta Two Blues/Prairie Wolf Pack) Vancouver, BC
Clay Panga – (Castaway Wanderers/Prairie Wolf Pack) Calgary, AB?
Pat Parfrey – (Swilers RFC/Atlantic Rock) St. John's, NL?
Jacob Robinson – (St. Albert RFC/Prairie Wolf Pack) St. Albert, AB?
Lucas Rumball – (Balmy Beach RFC/Ontario Blues) Scarborough, ON
Mozac Samson – (Calgary Saints/Prairie Wolf Pack) Calgary, AB?
Djustice Sears-Duru – (Oakville Crusaders/Ontario Blues) Oakville, ON
We especially congratulate, "Moose" Buydens, Ray Barkwill, Jake Ilnicki, Clay Panga, DJ Sears and former CW-ers, Kyle Baillie and Mozac Samson, from a Tricolor pov however, congratulations to all players on their selection. The BIG news is that Jamie Cudmore will be parachuted in for a short part of the early competition to assist with the coaching duties. Jamie is under injury time out and Clermont has given the okay. This pundit loudly applauds this idea and it will be interesting to follow his future in a coaching capacity, certainly he is one that bleeds "Canadian".
As for the selections, it is very apparent that last season's CRC's have played a major factor. There are 18 uncapped players in the group. Having seen Samson play, his selection is long overdue. There is a good core of the group that has seen international experience to go along with names that we are not familiar with on the west coast. It will be interesting to see if Blevins and Olmstead can pick up where they left off. However, the area that this fan will follow with interest is the halfbacks - #9 and 10, for it is here where we have not had consistency and international quality for some time, in my opinion.
First match is February 6th Vs Uruguay @ Westhills, 7:00 p.m. k.o.
Dinner Follow-Up.
Tickets can be purchased on-line by going HERE
---