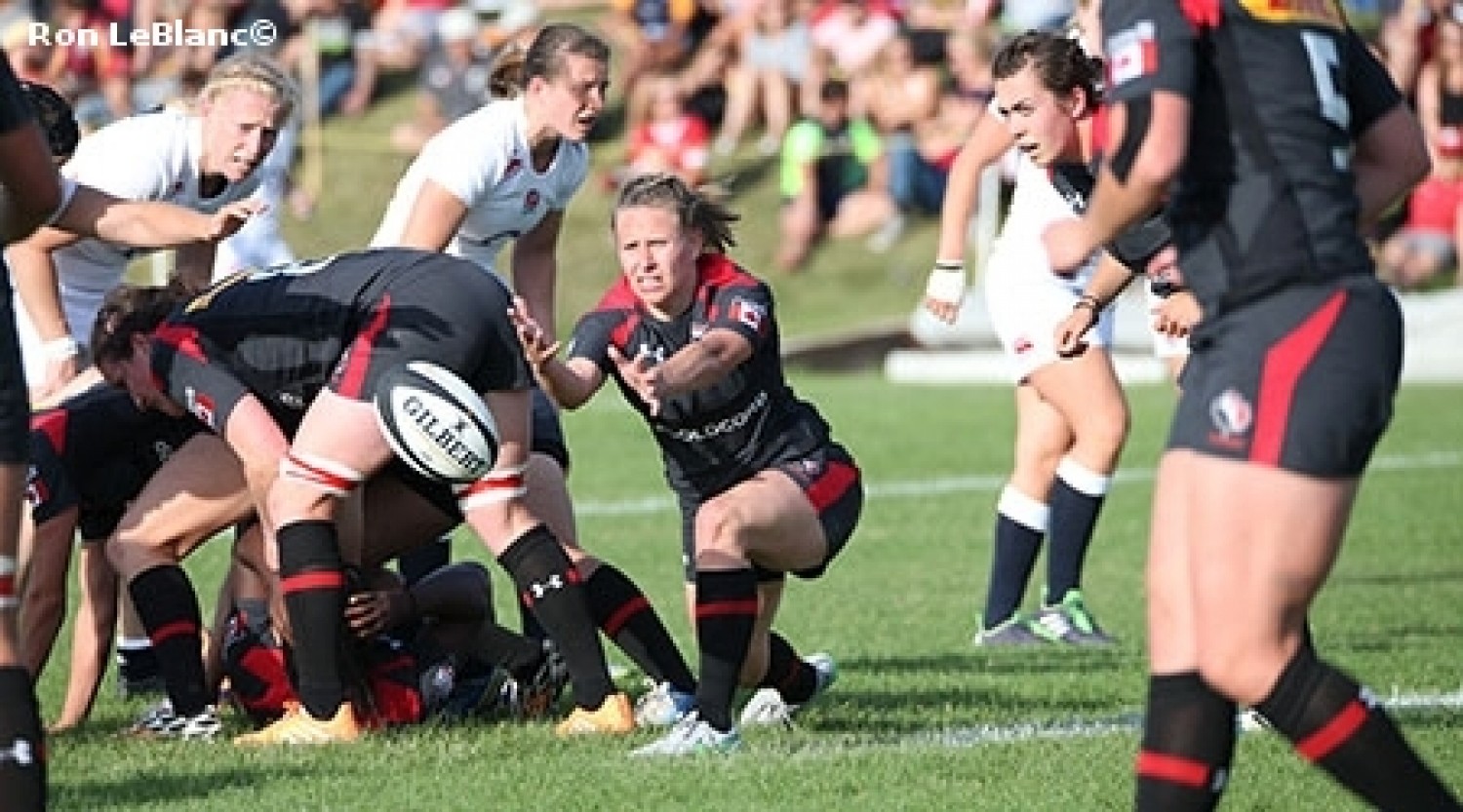 MAPLE LEAF WOMEN'S XV
The women lost a tight game to England yesterday, 29 – 37. Canada led 17 – 15 at the half and pulled away to a 29 – 20 gap with not a lot of ticks on the clock. One could not tell from the Twitter feed what might have happened but the team allowed seventeen points in the final ten minutes, something the coaching staff would not have been happy about. It is difficult to judge whether this result is positive or not. The teams play a re-match on the weekend.
SEVENS CIRCUIT RESUMES
This weekend the NSMT and NSWT play in the BIGS at Dubai with the men's and women's Maple Leafs playing in an 'A' Tournament. The men's effort hopefully starts another crack at the Road to Rio. They play in a strong pool with Fiji, Argentina and Japan. CW's Mike Fuailefau and Caroline Crossley are in the top teams and Nanyak Dala and Luke McCloskey lace 'em up with the Leafs. CW offers the best of luck to players in all four teams.
LEVEL 2 COACHING CLINIC
B.C. Level 2 Coaching Clinic………………December 4, 5, 6th @ Brentwood College. Please contact
Don Swainson
, if you would like the club support for your registration.
Thre are a number of pre-requisites for the course, please contact
Ruggernut
for details.
Course Costs
:$200 ($175 Course Fee / One time $25 Rugby Canada Fee)
MAESTRO'S KICKING KLINIC
December 13th @ Brentwood College, Ander Monro aka The Maestro will be conducting a clinic for players and coaches on kicking skills, out of hand or off the tee. Fee is $5. Registration details will be forthcoming.



RUGBY NEWS

CW wishes to congratulate former Prems Captain, Andrew Tiedemann on his signing with PROD 2 club, Bourgoin. As recently as three weeks ago, Tieds was slated to lace 'em up against the Vikes after he had returned to Canada from Hong Kong. Tieds has a wealth of experience and will be a welcome addition to this club that is currently struggling with a 3 – 6 record.

Ciaran Hearn appears to have had only a sole start with London Irish against Bristol. The Exiles are struggling in the early stages of the Comp., although the recent addition of N.Z.'s, Ben Franks might help the cause!


AROUND CW
Long time Castaways, CW faithful and former VIRU RRS member, Dick Hales is currently battling some serious health issues in Jubilee Hospital. Many friends have been into see Dick and family have asked that Dick be not overstressed with visitors. We have seen some "gains" but he still has a long way to go. Let's get some vibes out there for Dick's recuperation.

Paul Baylis – Friends of Paul will remember his time with us at a Celebration of Life this coming Friday at 1:00 p.m. @ Victoria Golf Club. Baylis will be fondly remembered by Victoria's rugby fraternity and his multitude of friends. R.I.P., Paul Baylis.


END OF STOR
Y
The Temple is looking for fire wood! Preferably dry although anything free is acceptable, splitting and collecting can be arranged. Contact
Brent
.
PREMS PLAY IN BARNARD CUP
Escaping Demosthenes sword of relegation, Ceedub has fought through Fall VIRU action, to find their way into the Barnard Cup Final this coming Saturday. It has been "a while" since this occurrence and the match takes place at Wallace Field on Saturday at 1:00 p.m. Prognostications and team selections will follow on this site.
CW U14 girls at recent clinic and Jamboree action.
---