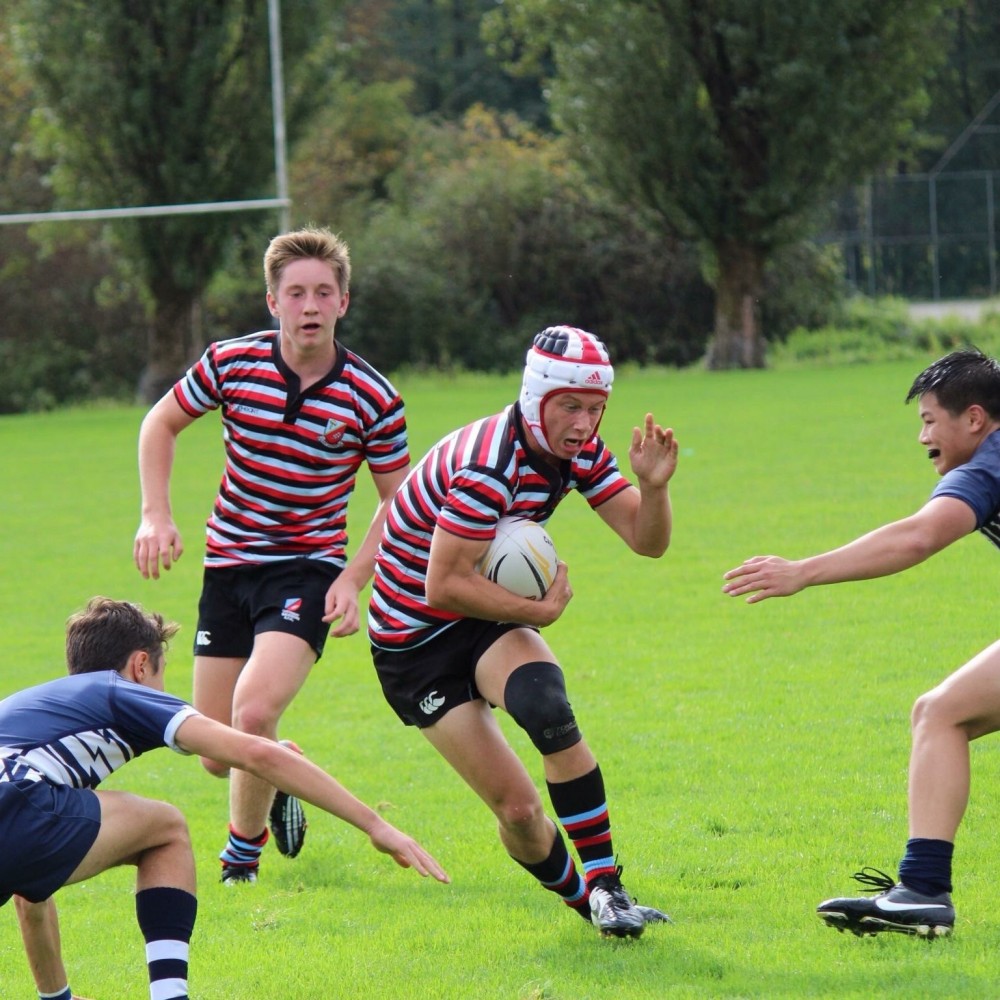 OFF TO ENGLAND – PLAYER PROFILE
BRANDON SCHELLENBERGER
With CW's U18 Boys preparing to travel to the U.K. later this summer, we thought it would be appropriate to profile a few of the lads and we start with Brandon.
Brandon first started playing rugby at Middle School at Colquitz, he currently attends Oak Bay High. He casts his mind back to his early days when playing a game against Royal Oak School; "That game felt like one of the hardest games because I had never played rugby before! I had never played any sport with so much contact!"
CW: What representative honors have you had so far?
B.S.: "I've represented The Tide on several occasions; BCYE Sevens, I have played for B.C. U15 and U17 and also selected to play for Canada West."
CW: What have been some of your more memorable games?
B.S.: "The classic Boot game this past season when we were down to SMUS, 22 – 0 at the half. We pulled together to pinch this game, 26 – 22!"
CW: How do you see your future in rugby?
B.S.: "I see myself playing for the Men's National Team and later on, helping youth to become better players by coaching."
Brandon represents the many youth playing rugby across Canada and brings hope that the game of rugby will do nothing but continue to improve in our country. Thank you, Brandon and good luck this summer.
JESS NEILSEN
CW is in the fortunate position where we can now recognise both genders and we bring a special note about Jess which we spotted in a recent Vikes, "Go Vikes" athletic edition.
The 'First Lady' of rugby……..

The athletics facility, CARSA, offers an array of training and rehab options all under one roof, which eases some stress in a hectic student athlete timetable. Even so, the demands on Vikes team members' time are great. A scholarship can take away the pressure of fitting in part-time work around school, so time is the greatest gift a donor can make.

Jess's rugby award is from local rugby club, the Castaway Wanderers. Jess is the first female recipient of this scholarship, which was originally created for the men's team. In that sense, getting the award is like history repeating itself.

Playing with the boys…………

When Jess started playing rugby at Castaways aged 8 she was the only girl in the club.

"I remember my first try vividly," says Jess. "I threw the ball down like a touch-down. The boys laughed at me and told me to go home, so I did. But I dried my tears, stuck with it, and eventually won them over."

Jess faced another hurdle when she reached Grade 7. Her middle school told her that she couldn't play on the boys' team anymore, and there was no team for girls. Jess was devastated, so she fought for her rights and started a girls' team at Monterey middle school. Her petition to the board of the Lower Island Middle School Sports Association resulted in a ruling allowing her to play with the boys again.

Jess continued to improve her rugby skills through high school. She was part of Canada's Own the Podium program at 17, and represented Canada on the under 20 team, winning the Nations Cup in 2013 and the Can-Am Cup in 2014. She's currently playing with the Vikes and studying for a degree in political science. Jess's relationship with Castaways has also come full circle, as she's now coaching their developing girls' program. Director of Female Rugby, David Crossley, says that local girls playing rugby have a lot to thank Jess for.

"Jess is a great coach and a trail blazer for female athletes in rugby. A few other girls in my program play with the boys in middle school, which they owe to Jess's determination back then," he says. "We give the Castaways' award to a deserving player who has made contributions to the club and it's fitting that Jess is the first female Vike to receive it." "Having my old club support me in my journey to follow my dreams is the most helpful thing they could do," says Jess. "I can rest easy knowing that I'm getting a great education, and top notch training and coaching through UVic."

Jess's ultimate goal is to make the Canadian World Cup 15s team in 2017. With her track record, there are sure to be many other 'firsts' in her future.

---