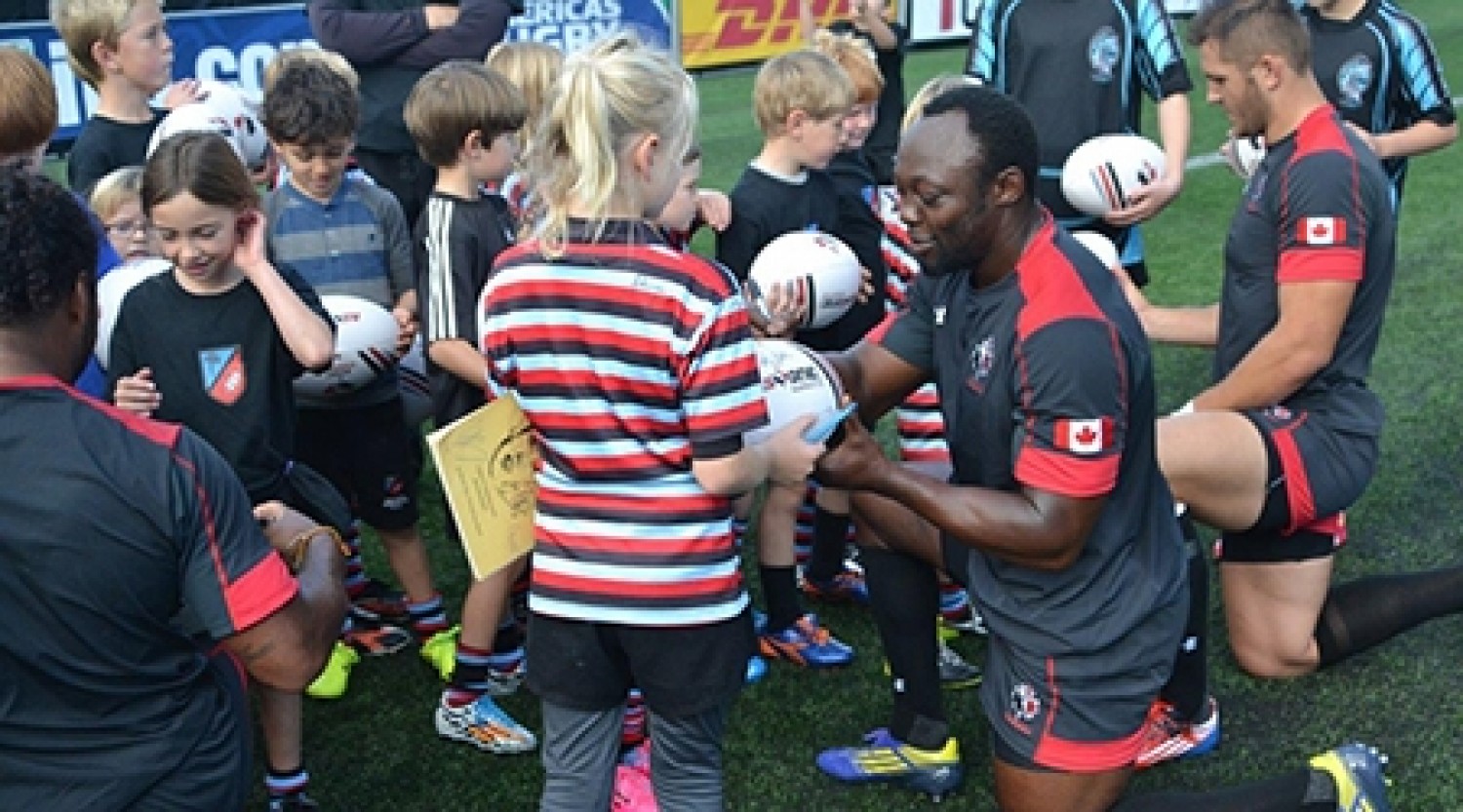 Growing the Game
Photo, CW's, 'Yak' (Nanyak Dala) and 'Puck' (Derek Daypuck) pictured, "giving back".
Rugby Canada recently posted the fact that the game of rugby is growing in leaps and bounds, although this may be hard to fathom when clubs are having trouble (CW included) finding numbers for senior men's teams at the local level. A new, "Get into Rugby" program has as its goal attracting and retaining one million new players by the time of the Rio Olympics. Meritorious! At Ceedub our girls program has expanded from 12 – 20 – 26 – 35 over the last four years.
Of interest is the following competition to Win a Trip to Rio; The IOC is offering a chance to win a trip for two to Rio de Janeiro in December for a sneak peek of the Olympic Park ahead of next summer's Olympic Games. To enter, individuals simply need to get active; capture the moment with a photo or video; and then share it using #olympicday on social media.

Since 1 June, thousands of people, including Olympians, have been sharing their sporting prowess and efforts. The contest will run until 30 June, so there's no time to waste to get active. For more info, click here: www.olympic.org/olympicdaycontest.
B.C. Bears announce squad to play Wolfpack, Sunday June 28th, 2:00 (PST), Calgary.

CW wishes to congratulate three senior men selected to the side, club captain and prop, John Braddock; fullback, Keenan Horton and flanker and Bears' captain, Adam Kleeberger. It is a young team that has been selected, so it will be interesting to see how they fare against a very experienced Wolfpack side. The game can be viewed live on the following downstream link; www.livestream.com/rugbycanadaofficial
CW Women's News
The ladies struggled at Vancouver's Sevens last weekend, stretching the limit for numbers and finding the opposition tough sledding. Going from top of the heap at Abbotsford to dnf at Vancouver gives the ladies a hint of many such highs and lows that no doubt, will occur in the coming season. This being said, there is much to celebrate with the announcement of the U16 Tide team to compete in next weekend's PRC's @ Burnaby Sports Complex, home of BLRFC. Seven girls have been selected to the team; Kelsey White, Renee Cook (unavailable), Maelle Reed, Shaye Tudor, Amelia Gordon, Rae-Lynn Parkins and Maeve Maguire. The future augers well, as a couple of these players are only fourteen! As well, CW has put two players on the V.I. Tsunami team for the U18 PRC's. Congratulations to Sofie Kennedy and Frelen Gorst. Best of luck to these girls and their team mates in the competition.
OPEN HOUSE FOR GIRLS & WOMEN THIS SATURDAY
You are invited to drop by our clubhouse (Discovery Sports Club), to meet and mingle with existing and prospective youth and adult players in our CW female rugby programs. This is an opportunity for everyone to learn more about our club, socialize with fellow players and the coaches and watch the Super Series on our big screen TV. We encourage you to bring a friend(s) that may be interested in the game of rugby!

There will be a BBQ with burgers, hot dogs and drinks by donation; raffles for CW gear and of course a big screen to watch the first day of the Women's Super-Series live in Alberta. National Women's Sevens players will be in attendance to take in the action and meet the players.
Game times are as follows;
USA v England - 3:00pm; Canada v New Zealand - 5:30pm.

We hope to see you there!
Natasha, Jess, and Julien
(CW Senior Women's coaching and management team.)
(Please DO NOT park in the hotel parking lot immediately next to the clubhouse - there is street parking available on nearby blocks.)
NSMT SEVENS FOR PAN AM GAMES

Coach Middleton has announced his men for this contest where Canada is the defending Champs. It is a side which includes some guys who missed out on Charlotte and some pundits argued that losing the harmony that had been the side for the IRB series was costly. So, we will see what they can do in Toronto. The men are in a pool with Argentina who finished ahead of Canada in the IRB series. The other pool has U.S.A., no doubt, favorites going in, so a repeat win would be magic. The Games are from July 10 – 26. CW has only managed one selection for the team, that being Mike Fuailefau who has been very consistent with his play this year – 'onya, Fuli! Full squad is; Cejvanovic, Douglas, Duke, Fuli, Hammond, Hirayama, Jones, Kay, Moonlight, Parfrey, Trainor and White. Congratulations to these players and best of luck. Go, Canada!


---