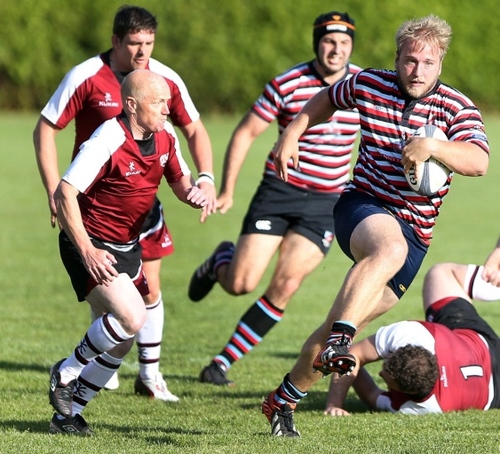 Burger ramapaging towards the try line!
1200 fans, a sun-drenched evening and a good game of rugby…all that was missing was a cold brew! Bedlinog, a Welsh 1st Division team, took to Windsor Park against the locals in their third game of a whirlwind Tour of Canada and Washington State. After being promoted from the 2nd Division, this past season, their club has found the going difficult, finishing near the bottom of their league, despite some close scores. The Tricolors fielded a combination of five or six Prems, a good core of Ones and a supplement of Mighty Thurds.
For many in the crowd, it was a throwback to years of yonks ago, when teams travelled, Victoria clubs and Tide playing against a host of good ones such as Cardiff, Newport, Llanelli and Bridgend from Wales and a host of others from the UK, but the best times being against the "lesser lights", when the games were hard but fun and friendships forged through the commonality of the game. This was evidenced at The Temple on this occasion, with the vocal chords active well into the evening.
As for the match, it was CW ahead 14 – 5 at the interval and going on to win the second stanza 14 – 5 as well. It had a little of everything, featuring good play and good tries," handbags" and two yellow cards yet, it was played in good spirit and the crowd enjoyed the efforts. For Ceedub, Burger, on cameo from UVic added to his impressive tally total, the Aussie duet - Oliver and Rocher; Goodland at #10 and flashing bursts from Matty Bucks, were all highlights. We would be remiss not to mention an ever so brief appearance from "Nameless" who kept up his record of a card per season, allowing the Visitors to get it to 10 -14 whilst he repented his sin. So, well done Bedlinog and huge thanks to The Chaplain aka Matt Gordon for all his work. The Visitors informed us that they "travel" every two years – a commendable feat, raising money through lotteries and the generosity of their club's two main sponsors. 'onyouse, Welshies!
HATS OFF TO HUGHIE. Hugh Creighton will be attending Oak Bay High Schools 60TH Anniversary this weekend. In passing, he dropped that they won four consecutive Howard Russell's in "his day". Hugh serves faithfully at all Home games as our scoreboard keeper – a job he saw a need for and quietly took it on. 'onya, Hugh, quite the feat and may you attend many more.
Rugby Everywhere. Last weekend's Langford Sevens saw a solid contingent of Tricolors on assorted teams. The winners were GNS Old Boys, featuring a number of players, alumni of CW Juniors, under the tutelage of Winston Stanley, no slouch himself at the Sevens game. Pictured are Bos, Prevost and Hall, happily sharing the spoils! There is plenty more rugby upcoming, with the Tide in action this weekend, summer PRC's for Age Grade and Summer Games as well. Try to get out to support the players and we will try to keep you informed of all the action – not always an easy task with local rugby!
---