Wednesday's Ruck & Maul on Thursday!
---
---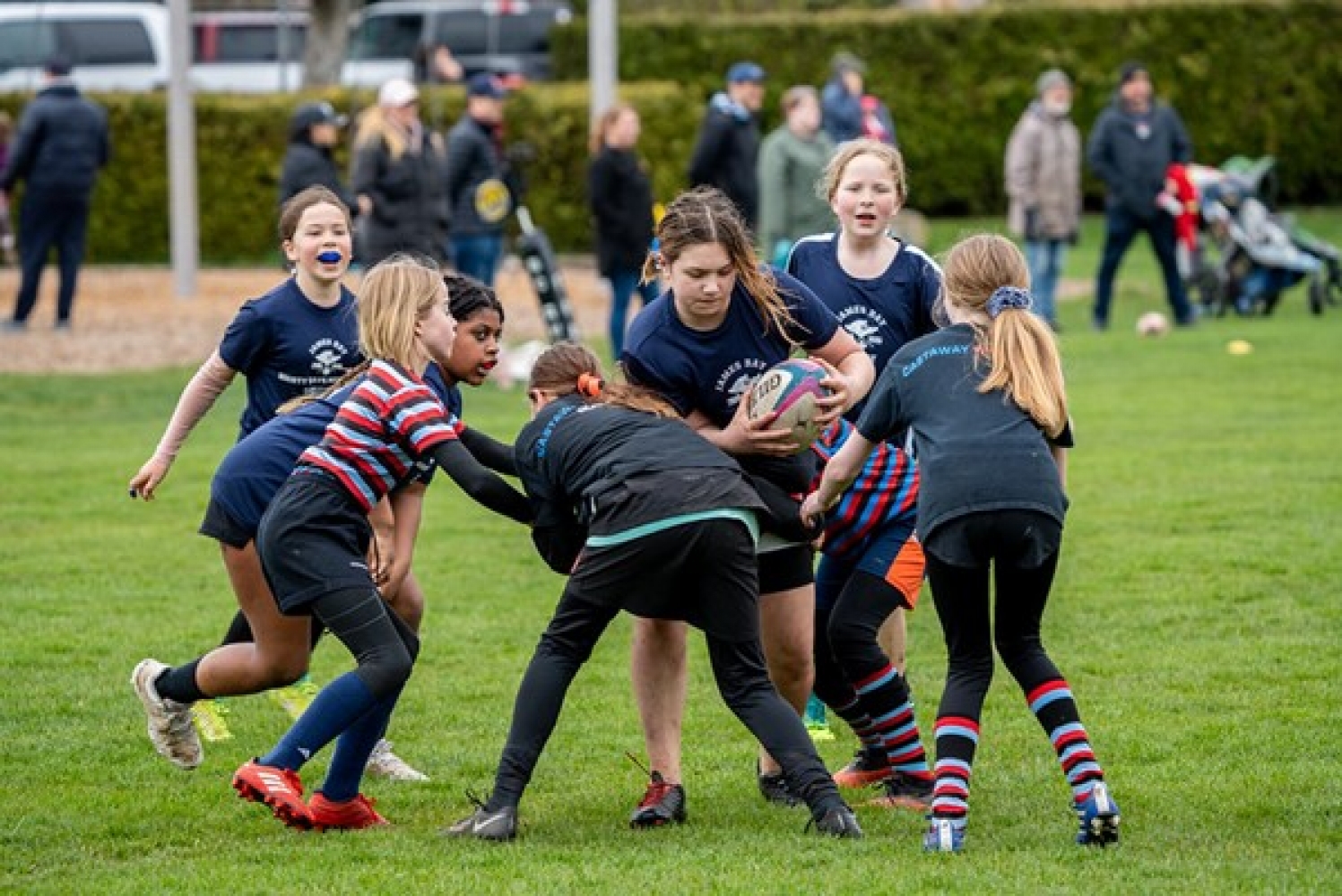 James Bay Minis protect the ball.
Today we are full of Juniors news. CW Minis hosted the Island Spring Jamboree last Sunday. It was a great turnout and there were many smiles all around. Thank you to the volunteers who stepped up to make this morning a success. These club events can't happen without families stepping up to take a turn at field set up, field marshalling, helping with the concession or cleaning up.
A special thanks to Rod Fraser, Mini's Director who organised the event. Pictured are Rod Fraser, Jay Dupuis, and Devon Fontaine, U12 coaches and burger chefs! Jay (Good Grade Plumbing) donated the Glenwood Meats burgers and enticed his fellow chefs to stay on to feed players at the U14 girls Jamboree that followed.
The U14 Junior Girls also came together for a Jamboree and instead of playing individual clubs, they were combined into two teams, South and North island. It was impressive to see how well these girls combined to play solid periods of rugby. Thank you to Rob Peel, Junior Girls Director, for bringing everyone together for this event.
Good form at the breakdown.
Photos, Mathew Martin.
U14 VIRU CHAMPS
This Sunday will see Interclub action between the U14 boys from CW and the visiting Capilanos. Caps are bringing over two teams. The "curtain-raiser" vs a South Island amalgam will kick off at 12:00 at Windsor Park. This will be followed by an 'unofficial' BC U14 Championship match between the clubs. This pundit goes back to 2015 when the two clubs battled for the 'official' BC Title, with CW coming away with a 27 – 24 victory in a real "nail-biter". The main game will start at 1:00 p.m. This U14 side is the real deal and hopefully will be at full strength after their last outing when this was not the case. Regardless, let's get down to The House to support the lads. Go, Ceedub.
---