Wednesday's Ruck & Maul on Thursday!
---
---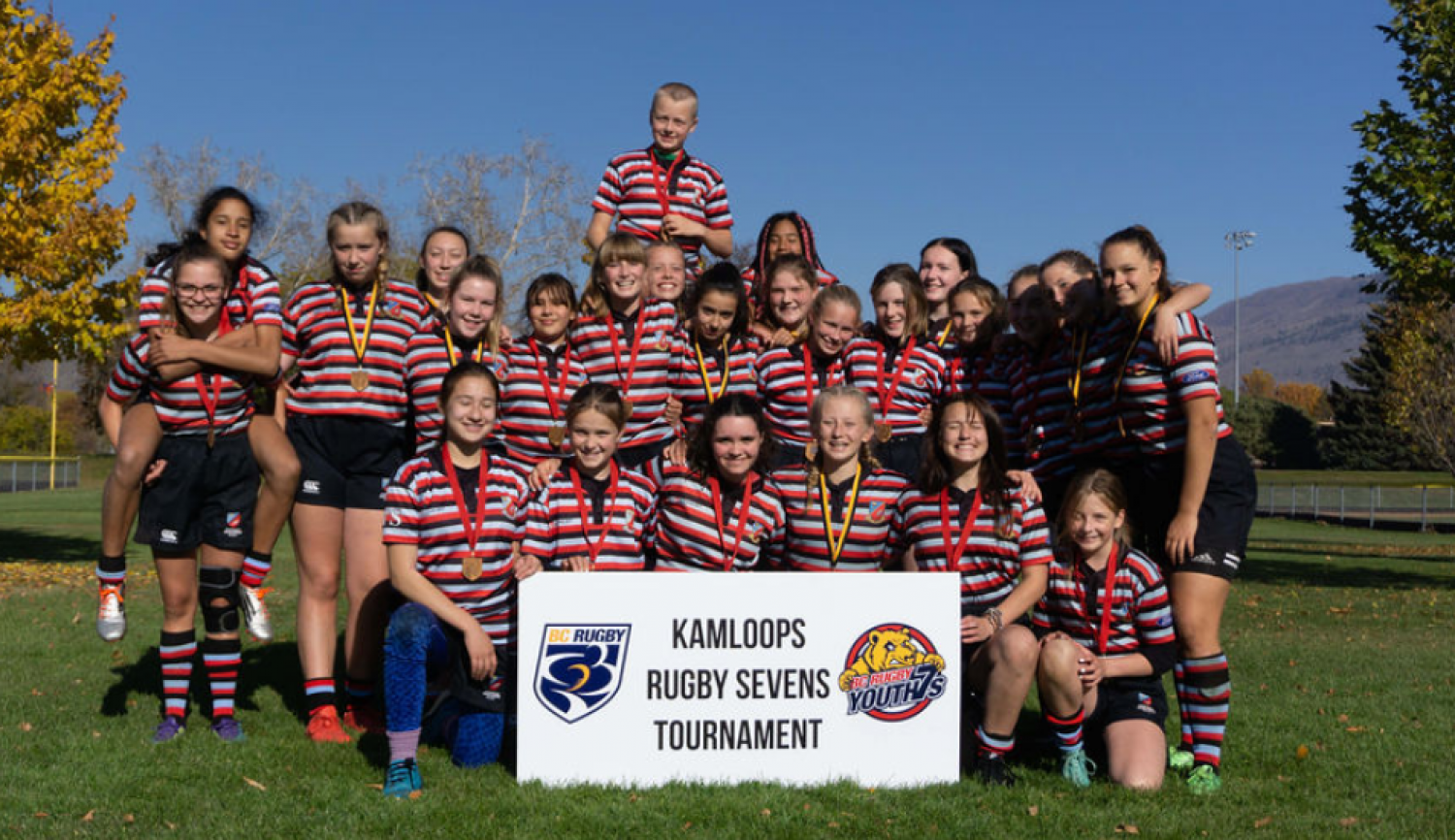 Youth Girls at Kamloops for Sevens
Many accolades have been received about the successes of this trip. This is the second year CW girls have participated in this tournament. It was most apt that this year, Boys U14 Coach, Shane Muldrew accompanied the girls (as Aaron Cook was unable to attend) and provided expertise that he has acquired from coaching Provincial Age Grade sides. He worked predominantly with the Championship U16 Girls however he was able to offer insight to the other two teams and their coaches as well. The girls were so appreciative that they presented Shane with a signed rugby ball at the end of the weekend.
The results were noted in Monday's blog however, today we include some feedback. "Kamloops 2018 was a fantastic outing for the girls. All the girls played well. They showed awesome prowess, skills and cheerful attitudes. A big thanks to Ed who kept the girls focussed and busy throughout the weekend. Also congrats to the most awesome bunch of girls!"
"Shane was awesome. He did a really great job of coaching the U16's and he was completely committed to making sure they had a good time, learned something and were competitive. They were dominant from the start to the finish. They won five games. In the finals they beat Williams Lake, who had BC U16 players on their team, 19-12. They scored 155 for and only 27 against."
"I thought Lauren did a very good job coaching the U19's. She worked with the girls on techniques she thought they were struggling with and they seemed to respond. She moved players around until she got what I assume was the best she could get from the players she had to work with. From a rugby point of view the U19's over achieved in my opinion. They played very well and earned everything they got, especially on Sunday. A very good but incomplete roster, with only 1.5 spares, it is really impressive they were able to accomplish what they did."
The achievements of many individual players were mentioned in the feedback, too many to mention. Instead, we conclude with a few words from Shane; "The girls managed themselves well in each game so I subbed at half time rather than roll players in and out through the games. I kept warm-ups simple and short with star drills, dynamic stretching with active feet, tackle technique and fast down and ups. This and minimal pre-game instructions seemed to help the girls manage their nerves going into games. Significant improvements – tackling, ball in contact and presentation on the ground, moving ball to space, supporting ball carrier and setting a defensive line. Upon reflection, the girls attributed their success on defence to training with the U19's. It was a privilege and pleasure to work with the girls. Collectively and individually, they were wonderful on and off then pitch. They set personal and team goals for the weekend and in each game and worked hard in achieving them. The girls took charge of post-game reviews and each girl shared insightful observations about their personal and the team's performance. I saw noticeable improvement in skills and decision-making and increased self-confidence throughout the group as the weekend progressed."
What a wonderful summation and CW congratulates current players, Lauren Sargent and Ollie Winsor for giving back, as well as Ed Knaggs and Shane Muldrew, for a job well done at the tournament. It is worthy to note that one half of the coaching team that has been instrumental in bringing along this cohort of girls from U14 now to U16/U19 level was unable to attend the tournament. Big thanks to Aaron Cook's preparation of the girls for the tournament. More on the instrumental role that both Aaron and Ed have played in this girl's pathway development in a subsequent article.

WEEKEND MATCHES. CW will move to Westshore for Saturday action. The Premier Women play Westshore RFC, kickoff, 11:30 a.m.; Men's Islanders Vs Westshore, 1:00 p.m. and Men's Premiers Vs Westshore (Barnard Cup) 2:30 p.m.


---