Wednesday's Ruck & Maul, (on Thursday!)
---
---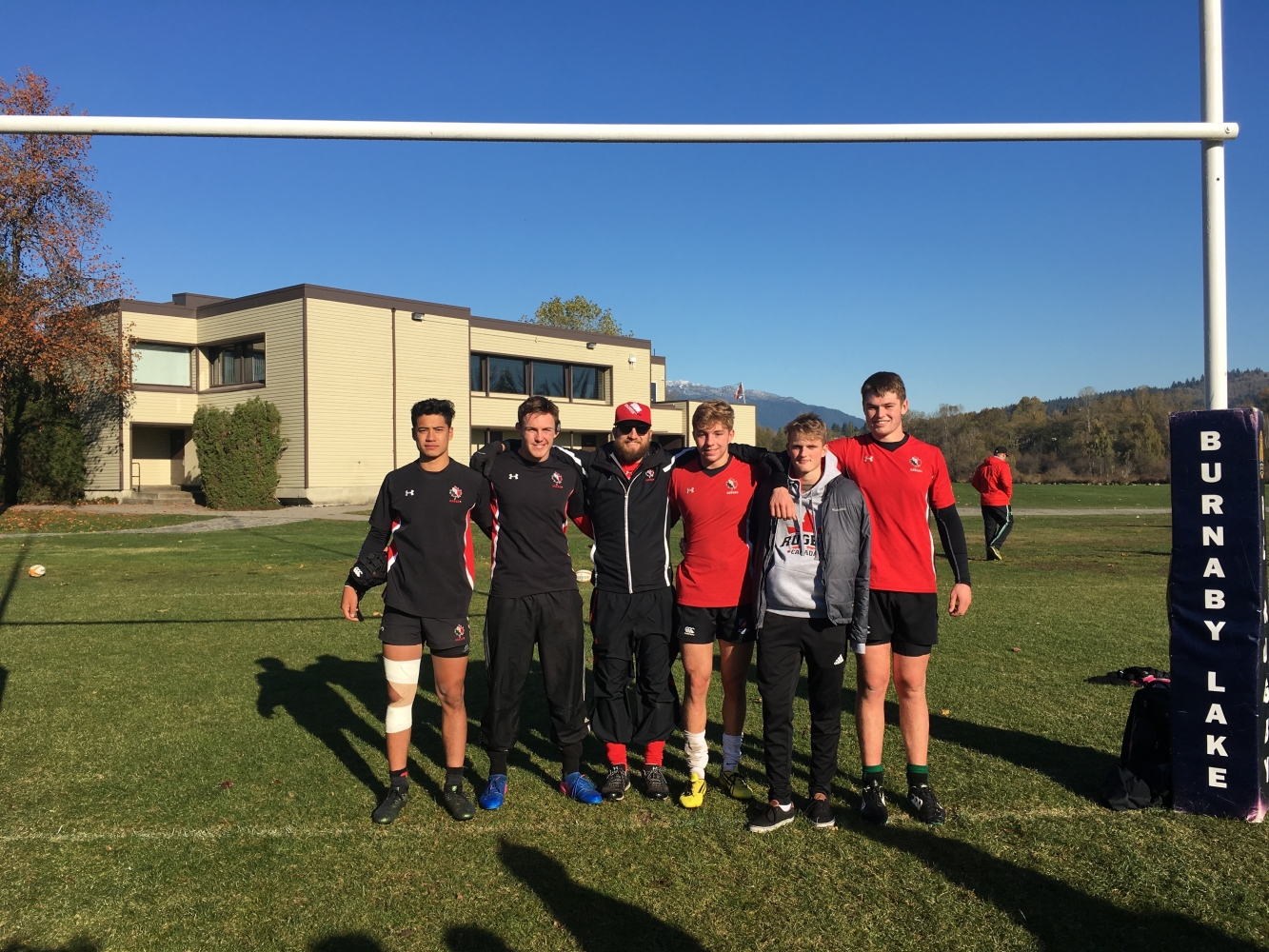 Boys' U18.
On the weekend, Coach Manning and a cadre of Tricolour lads were in attendance at a National Selection clinic in Vancouver. The five boys were; Hector Jardine, Jarvis Dashkewytch, Tom Abercrombie, Connor Hills and Nick Carson (pictured above). The club also had Lachie Kratz, Luke Taffin and Kris Uschold in trials at the U19 level. Kudos to all of these guys and the best of luck with selections.
Recently announced, NSWT XV's selection for a three –match Test Series against England, includes CW and U.Vic's, Jess Neilson and CW's Olivia De Merchant. Chanelle Edwards-challenger and Gabby Senft are "home-based" reserves. Congratulations, ladies and the best of luck.
NSMT's 7's and 15's produced weekend results that were far from 'over the moon', although the 15's showed better worth than that which was on display in Uruguay in the early fall. What a pity they could not conjure a try in front of 30,000 people. They were out - skilled and out - guiled by a far more experienced Maori side who also out-conned an inexperienced referee. The N.Z. boys treated us to plenty of customary Kiwi magic in their win. Canada has travelled to Europe, where they are, as I write, to play a strong #12 ranked Georgia side on Saturday. Georgia now has a strong domestic program and many players, particularly, their forwards play pro rugby in France. If Rugby Canada provides a link, we will post it here.
Down in California, Coach McGrath and the boys would have been disappointed with their 7's showing. After their opening 19 – 12 win over England, the team did not show much, given the perceived calibre of player present.
Reader's Comments: Following last Saturday's game report, had a regular reader question; what's with the pick and go with threats such as Fraser, Johnston and Ngongo outside? We thought this to be a good tactical question. The pick and go/drive seems to be an aspect of attack that has certainly come into vogue. The concept is that the gain line is close and the technique puts defenders on the back foot, with the potential for a penalty or to repeat the play, eventually sucking in defenders and disrupting the defensive line and then utilise quick ball in a wide attack, with a numbers advantage. In theory, it sounds simple however even teams as strong as the AB's can be observed to have results that move the play laterally, rather than north/south. So, as witnessed in Saturday's Turning Point, a resistance led mainly by former CW youth, Kratz and Bos and an earlier first half series close to the UVic line by CW, it doesn't always work like that! A lot depends on the half back's alertness, vision and read of the play.
When used close to the line and you score or set up a score from it – a good strategy. It relies on the ball handling ability of forwards; the ball being "sealed" by a supporter bound to the carrier and the ability to drive low, requiring more than one defender to stop progress. This is a very brief attempt to explain the strategy, open to debate or criticism from minds far wiser than mine. In the case of Saturday, my call would be that the strategy went on far too long and indeed, the outside threats never had a chance.
---