Wednesday's Ruck and Maul
---
---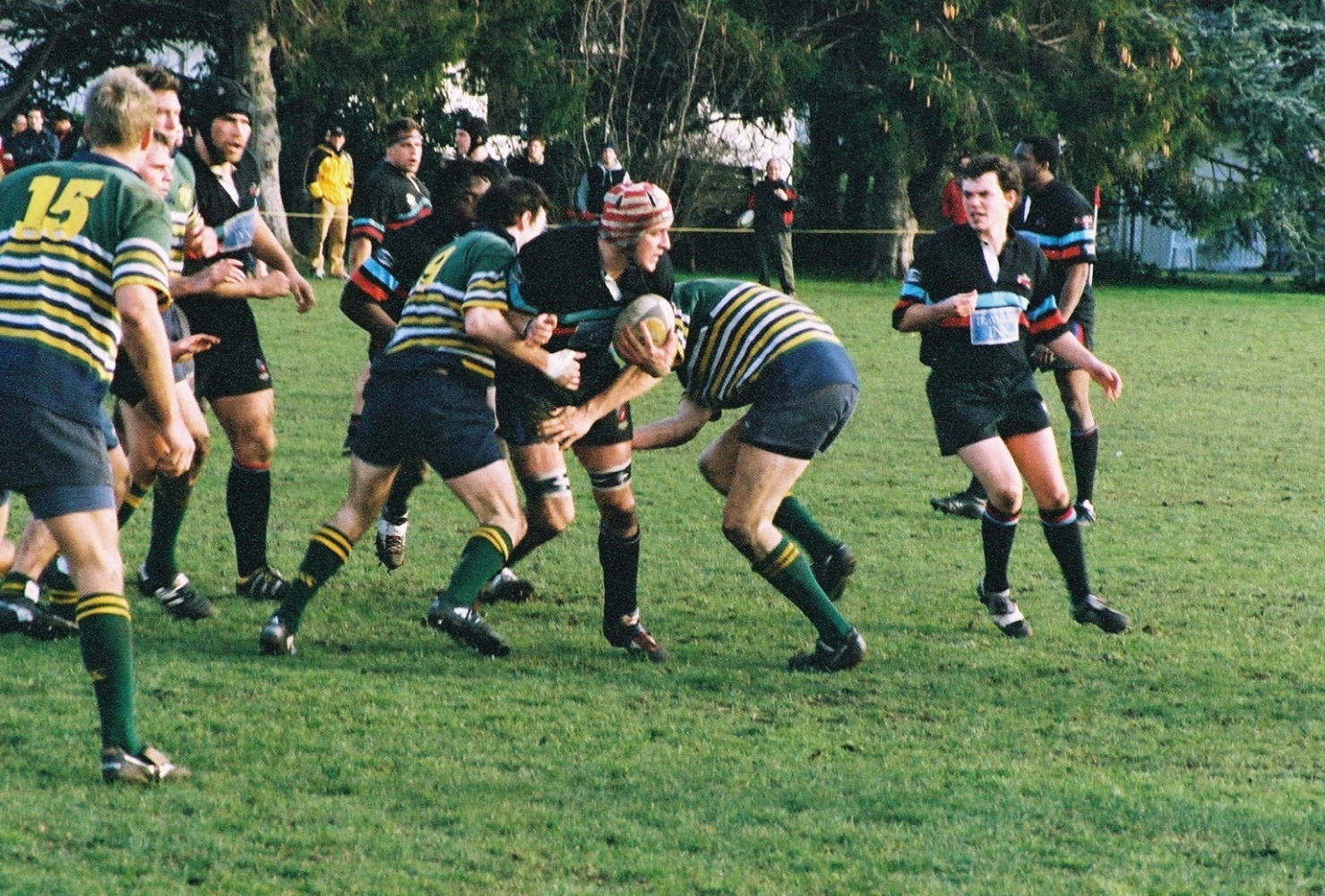 Pride 'grads', Ken Goodland, Garth Cooke, aided by Hank Williams and Jerry Cordle seek to show The Pride a thing or two – back in the day!
COMBO – FPP
Ceedub – One of Many Beneficiaries of Former Pride Program
Today's header states a mouthful! The initial Pacific Pride program was beneficial to Canadian rugby in many ways – an undisputable fact. Back in the day, the NSMT's program ranked close to "top ten" globally, the standard of rugby on the west coast was of a high level and B.C. clubs benefitted from the skills of graduating players, CW being not the least. This is not to denigrate today's players in any way.
This writer recalls the likes of; Ken Goodland, Aaron Abrams, Chuck Baumberg, Garth Cooke, Mike Danskin, Derek Daypuck, Casey Dunning, Iain Exner, Eddie Fairhurst, Shawn Fauth, Josh Jackson, Matt King, Tony La Carte, Chris Mayzer, Sipili Molia, Jake Osbourne, Simon Pacey, Chad Plater, Mike Pyke, Ryan Smith, Mike Webb and Chris Witkowski, all donning the CW colours and playing, some for a short term (or longer), whilst awaiting a contract, ( Baumberg, Cooke, Danskin, Dunning, Exner, Fairhurst, Jackson, Pyke, Smith = 40% with some level of professional career). Others stayed for many seasons and Ken has become a displaced Newfoundlander and is Assistant Coach with our Men's Premier side.
In the light of this, any argument that the revived program will steal players from our club is 'lightweight'. One can only hope that Coach Cudmore can mirror the successes achieved by Clarkey and JMac. This Saturday will see the Pride's inaugural 'serious' match this season when they visit the House of Windsor, a location that was a tough venue last season for visitors but whose bubble has already been burst this season! To date, CW, with only one match seems to be still putting the pieces in place, having lost a number of good 'uns; Cam Hall, Mike Adibe, Dustin Dobravsky, Nate Stewart, Walsham Owen, Kelton Dawe, Jack Sponarski, Haydn Evans, Dougie Woolridge, Doug Fraser, Cam Polson, Anton Ngongo (Pride) and Cullen Fawcett, almost a very good side in its own right!
We will bring you the selections for Saturday's match later in the week. Our premier Senior Women will be on deck in the curtain-raiser when they play Nanaimo Hornets at 12:45. No Reserves this week, however Islanders will play Saxons at 11:00 a.m.
Expect Slim Pickin's
As per RC's NSMT @ RWC, patrons of this site can expect "slim pickin's" over the coming three weeks, men's games being slated against The Pride and on the road Vs Burnaby. So far, at RWC, 'The Minnows' have not looked too bad when they have decided to use the ball in hand, with Los Teros causing the upset of the tourney so far – ball in hand.
Hopefully, Canada will choose the run and pass, boots on the grass option, although their lead-up games have not indicated that tactic. Our boys go into their game Vs Italy tonight minus three probable starters, having succumbed to injury in the build-up – Olmstead, Paris and Baillie. There has been a great deal of the high ball without a whole lot of result, to date in the RWC matches, and that goes for the better teams as well. Where that has come from and why, is pure speculation for, imo, the box kick has NOT been much of a winning factor in any games to date!
The writer will be taking a short vacation. We will attempt to fill the voids as best we possibly can. Enjoy RWC and go, Canada.
---