Wednesday's, "Ruck & Maul".
---
---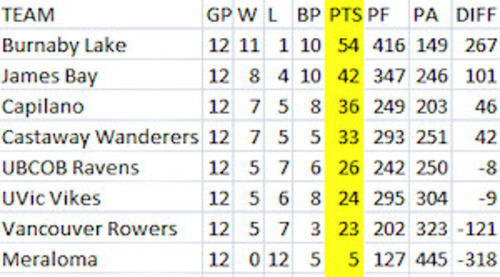 Standings coming out of last Saturday, sees CW having gained one point on Caps. As has been said, "a step at a time". This coming Saturday, Caps visit MacDonald Park whilst Lomas visit the House of Windsor. Focus on the game at hand will be the order of the day.
CW's D.J. Sears will be alongside three "CW grads", playing with UVic - Fergus Hall, Mac Bos and Joe Erlic who will be representing Canada at the upcoming Junior (U20) World Rugby Championship in Hong Kong. CW's best wishes go with the lads.
CW offers our congratulations to the B.C. U18 Elite team that competed in an International Sevens Tournament in Hong Kong. This is the third year, the Shane Thompson group has competed in this tournament and the third time the group has won the honours! This year the final resulted in the "best one yet" with B.C. winning by a score of 12 - 7 in double overtime.
Canadian Overseas Players
For the most recent news on NSMT players who are plyng their trade professionally, go HERE. It is disappointing to read that many are either coming off the bench or not playing at all. There seems to be a spate of injuries as well. Best of luck to all as seasons wind down towards Playoffs and promotion and relegation.
---