Wednesday's, "Ruck & Maul" on Thursday!
---
---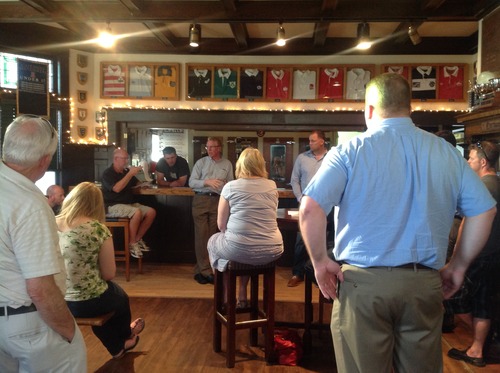 FALL JUNIOR RUGBY
CWRFC started preliminary planning for Fall age grade and mini programs for girls and boys for the coming season when twenty two interested folk met at The Temple to offer services for coaching and management of teams for the upcoming season. The meeting was led by in-coming President, Don Swainson, Director of Girls Rugby, Dave Crossley and Director of Junior Rugby, Matt Gordon. Volunteers were placed for coaching for the kids at all grade levels and Directors offered encouragement and support from the club for volunteers to complete accredited courses from concussion protocol and safe rugby to technical NCCP courses. To serve as a leadership example, we congratulate Matt on the near completion of his Level II Technical. Things look rosy for our girls and boys. Go, CW! Huge thanks to all volunteers.
PRC's FOR U15 BOYS & U16 GIRLS
CW wishes the following players the best of luck for this weekend's Provincial action at UBC's Wolfson Fields. The following girls will be playing; Allie Bos, Camille Irvine, Adrienne Graham, Maeve Maguire, Halayna Roberts and Sofie Kennedy. The following boys will be playing for the Tide, coached by CW's, Shane Muldrew; Jim Newman, Michael Lindross, Conor Hills, Devin Fennerty, Gareth Sandner, Max Barclay, Jai Pereira, Jon Makaroff, Sam Kahn and non-travelling, Gareth Scott. The Ruggernut dips the lid to all these players, massive thanks to parents for support - financially and morally. Go, all you good things! Photo shows Gareth Rees presenting jerseys to the Junior boys.
CAPTURED AT BELFAST AIRPORT
We welcome the pending arrival of Down High School from Northern Ireland. These lads will take on the "Spring" TIde teams of U16 and U18 boys at WINDSOR PARK this coming Monday at 5:00 and 6:15 p.m. Down is a school that has travelled to the Island in time of yonks ago and we welcome their return. It is a school that places a strong emphasis on their rugby, so it is an exciting challenge for Vancouver Island's young men to put themselves against a bench mark. We tip here, that they will stand up well and be strongly counted for.....Canada Day Double Header......see you at The Park.
LATE BREAKING - CW boys playing for the U16 Tide; Julian Oldham, Carter White, Gavin Kratz, Callum Masterton, Myles Duncan, Jonah Hall, Jonas Robinson, Brennig King, Connor King, Josh Khan, Brandon Schellenberger, Adrian Rupke, Aiden Cole, Brayden Tate, Sam Barclay and Will Tarrant.
CANADA BIDS FOR SEVENS CIRCUIT

VANCOUVER, BC – Rugby Canada and the Canada Sevens Bid Committee announced today a formal bid submission for Vancouver to host the International Rugby Board (IRB) Sevens World Series, starting in 2016. This is the IRB's premier Sevens event and is part of the build up to the IRB debut at the Rio 2016 Olympic Games for both men's and women's Rugby Sevens. The Vancouver-based bid package was unveiled today by Rugby Canada, the Canada Sevens Bid Committee, dignitaries, corporate supporters and top Canadian rugby athletes.
The Canada Sevens brand positioning, "New Place, New Face, New Force", reflects Canada's ranking and growing presence in international Rugby Sevens. The bid package, to be couriered to the IRB Headquarters in Dublin Ireland, includes a detailed bid book, video and a specially hand painted, vintage rugby ball by internationally recognized First Nations and 2010 Olympic Games medals artist Corrine Hunt.

The proposed Canada Sevens event is a two-day indoor tournament proposed for BC Place stadium (a global first) and will feature 16 of the world's top Men's Rugby Sevens teams. The bid lays out a dynamic event platform that promises a celebration of sport, culture and community – reaching rugby loyalists and general sport and event fans alike. Sevens Rugby, a fast-paced, condensed version of traditional rugby with only seven players per side, attracts large audiences in markets as diverse as Hong Kong, Wellington, Dubai and London where the Sevens World Series is a must-attend event. The tour will be expanded through this bid process, from nine stops to ten major cities to be selected by the IRB. Competition is expected to be fierce between bidding countries.

The Vancouver bid, which is supported by the Government of Canada, the Province of British Columbia the City of Vancouver, and the Vancouver Hotel Destination Association builds on Vancouver's established success in hosting world-class sport events, most notably the Vancouver 2010 Olympic and Paralympic Winter Games. The tournament and supporting activities offer opportunity for positive economic impact through local and national corporate partnerships, tourism and festival programming.

The Vancouver-based tournament would join a line-up of nine other Sevens World Series global tour stops where national Rugby Sevens Teams compete for World Series points. If successful, the initial Sevens World Series event in Vancouver will act as a key build up for Canada in their final preparations for the Rio 2016 Olympic Games where Canada hopes to debut in both men's and women's Sevens Rugby.

Canada has competed in every Sevens World Series season since its formation in 1999, finishing with an overall sixth place result in 2013-14. Both Canadian teams are seen as potential podium contenders for the Rio Olympics and are supported by Own the Podium. The Dublin-based IRB is expected to select a shortlist of contenders in July and make its final decision in October 2014. Selection considerations include host market viability, rugby operations, infrastructure, and support for player welfare.

Honourable Bal Gosal, Minister of State (Sport) said: "We are very excited about this enormous opportunity for rugby in Canada. Providing Canadian athletes with a chance to compete against international competition on home soil is important to our Government."

Premier Christy Clark of the Province of British Columbia said: "Rugby has a storied history and a great future in Vancouver and British Columbia, and we would be proud to host a tour stop for the Sevens World Series."

Mayor Gregor Robertson of City of Vancouver said: "Vancouver is known worldwide as a world-class host city for major sports events, and hosting the Sevens World Series would be an exciting opportunity for our city and for rugby fans across Canada. I look forward to seeing Vancouver once again welcome the world to our vibrant city, and to supporting Canada's rugby players on home turf!"

Pat Aldous, Chairman of Rugby Canada said: "There are over 30,000 rugby players across Canada, and an event of this caliber on home soil will undoubtedly inspire many more. An annual Canada Sevens tournament will be a game changer for Canadian Rugby, creating continued opportunities for investment in the development of the game."

Gareth Rees, Canada Sevens Bid Committee Co-Chair and International Rugby Hall of Fame Inductee said: "Rugby in Canada has grown rapidly since I played and with this event I see us emerging now as a new international force. I am so excited to see Rugby Sevens showcased at the Olympic Games and hope the road to Rio 2016 for Canada runs right through Vancouver."

Canada Sevens Bid Committee Co-Chair John Furlong said: "It's been a great honor for me to co-lead the Canada Sevens World Series Bid and once again help elevate Vancouver, BC and Canada onto the world sporting stage. Sport unites and brings out the best in all of us and I know we will rise to the occasion to once again host an outstanding and unifying rugby event should we be chosen."

Joann Pfeifer, Chair, Vancouver Hotel Destination Association said: "An event like the Rugby Sevens World Series will have a major impact on the Vancouver tourism industry. We are pleased to support the bid effort."
---