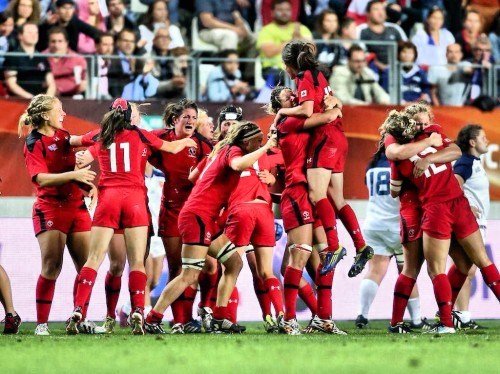 The year in review would have to have the performances of Canadian Women's teams in both VII's and XV's as arguably, the top achievement. Further to this, Canada will be hosting a leg of the Women's World Rugby VII's Circuit in April. This tournament will take place at Westhills Stadium in Langford on 18 and 19th April. A two day pass on line can be purchased for "bleacher seating" for $40, representing excellent value, otherwise it will be $40 per day "at the gate". Stadium and VIP seating is also available at; BUY TICKETS ONLINE
Ceedub wishes to thank those who have availed themselves of our annual shredding promotion. We truly appreciate your generous donations which will assist us in continuing to offer quality programs. Shredding will conclude this coming weekend between 10:00 a.m. and 4:00 p.m. Thanks to Bartlett Tree Services for your volunteer time and equipment and also to our player and parent volunteers.
Referee's Clinic
. (
Clinician, John De Goede in action!
) A reminder to all that January 8
th
is deadline for applications for this clinic. All players, boys, girls and senior men from U16 up are invited to participate. With our ever-growing player base at this club, we need more referees. There will be a nominal registration fee of $70
HOWEVER
, CW will refund juniors 100% and adults 50%. Please also note the pre-course requirements. This is a GREAT opportunity for CW to step up our game, as players and as a club.The course includes instruction, course manual, IRB Law book and RC certification.
Please contact Don Swainson @ [email protected] if you are interested.
Note: Prerequisites for those looking to take the course include an IRB Law Test www.irblaws.com/EN/ and a Rugby Ready Test www.irbrugbyready.com/ . Course participants are required to bring both completion certificates to the course session.
Rugby resumes
– January 17
th
@ Windsor when Nanaimo Hornets will visit to play The Ones. The BIGS get underway on the 31
st
when Seattle RFC will bring two teams to challenge the Tricolors. There is an enigma surrounding Seattle's involvement with B.C. rugby. I quote, courtesy of BC Rugby News; "Seattle are really the top team but the other teams won't play them (except Abbotsford) so Seattle were guaranteed number two spot before the season started. The reason Seattle were given number two is so they could be sent to the Island for the semis because the mainland didn't want to play them in the semis in case they promote the top two teams this year, and the mainland has more votes." If you can follow this, well….! No matter, it will be resolved in the boardroom. In the meantime, they visit Windsor with two teams and tackle The Tricolors. The visitors will boast a number of Eagles Internationals who played against the All Blacks in the fall and who will be in the running for U.S. RWC selection.
---