Wednesday's, "Ruck & Maul".
---
---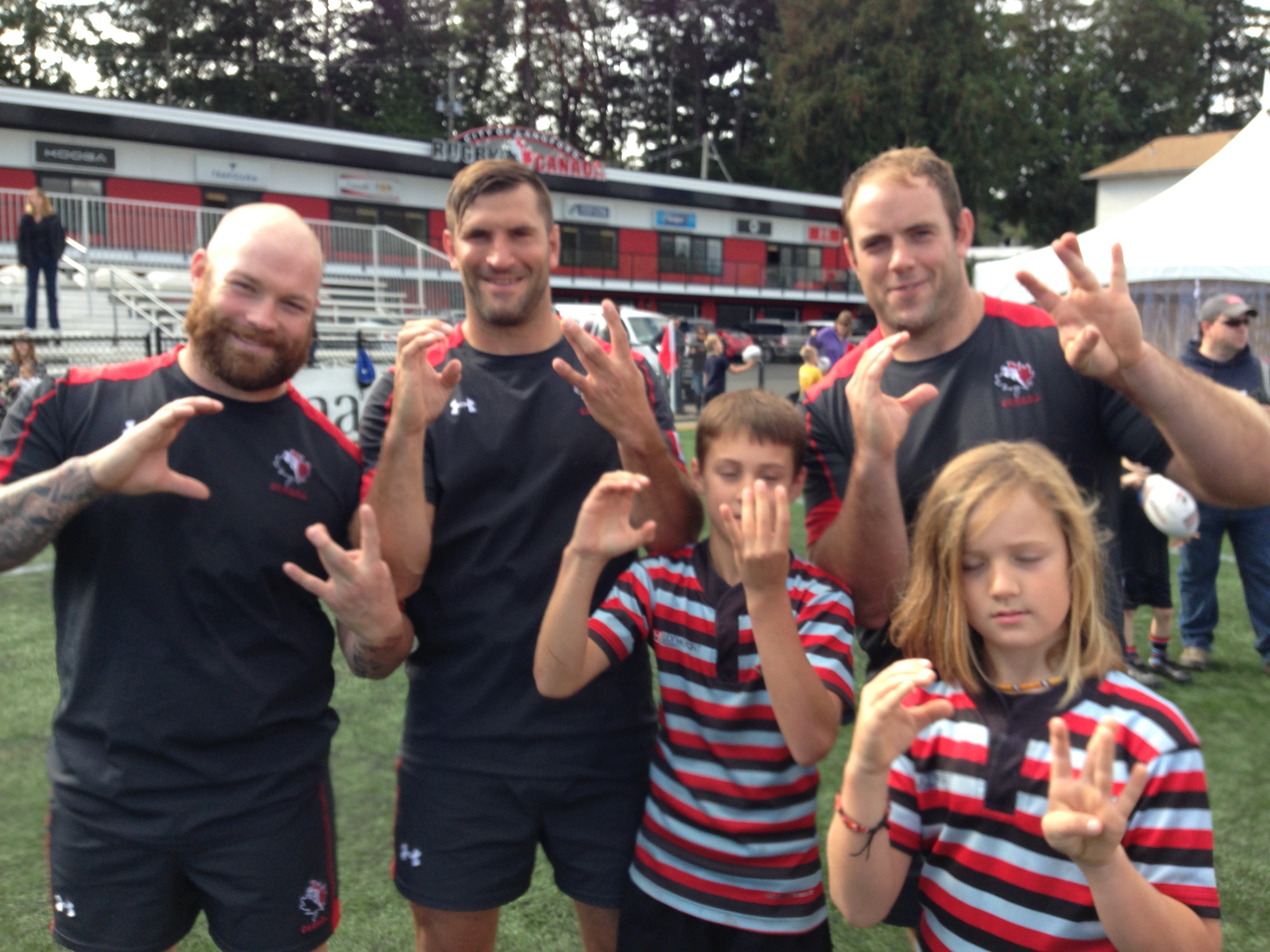 We open this blog............................................. With our sincerest thoughts towards the family of Cpl Nathan Cirillo, victim of today's terrorist act in Ottawa. He was on the side of good versus our opinions of evil, in today's horrendous happenings in our nation's capital that outweigh the mere utterances to follow, in today's blog which does refer to the many positives available to us through our love of rugby and in our "rugby lives".
Must comment on some very positive interactions off the field during the recent ARC's by National team men and women, even though events on the field never rose to any great heights. Players at "non-game" times made themselves available to fans, particularly to the mini and youth variety. A classic example was a youngster in a school track suit; "Excuse me, are you Ciaran Hearn?" "Yes, I am and who are you?" The conversation about rugby and school continued for some minutes. What a thrill for that young fan! An even more special moment, initiated by Tom Woods and the U.S. Men. Woody organized for the team to be at an assembly at Esquimalt H.S. where Mikayla Evans, a young rugby player who had recently had a battle with cancer was presented with tickets for two to the U.S. Vs All Blacks match, upcoming in Chicago. GREAT STUFF, ALL! It has always been my observation that our senior players always give time to fans and recognise their importance as role models. This applies from their fun, social media responses to taking time at the practise pitch. We say, good 'onya and go, Canada!

…..and we think Canadian rugby has problems? How about those Wallabies? 48 hours to departure for a major Northern Hemisphere Tour and no coach! Former coach, Eddie Jones describes it as "very un-Australian!" Just read where, NSW Tahs coach, Michael Cheika got the job. A baptism of fire when they play the Baa-Baas on Saturday…..a team that has been loaded up with All Blacks.

CW U16's were nutted by Bayside on the weekend, giving the visitors a double-header over their hosts. Missed the game but heard it was a classic, to and fro contest. Should The Tricolor teams make any B.C. Finals this year, they will at least have a sense of their opposition from the mainland as next up, comes Capilanos! Good 'onya, Luke.
CDI Competition, going forward……hearsay, 2015-16 will be a ten team league – 18 home and away games, starting after Labour Day. No relegations this season but two up and two down in 2016 – 17. Looks like Seattle and A.N. Other with a few other permutations such as "import" and carded player restrictions. Time will tell, although there is much that could be argued for and agin Seattle's inclusion. There can be no disagreements that we must find a way to increase more intense competitive opportunities. In this pundit's opinion, the CRC is not doing that successfully!
Finally, to Sipili and Noah Molia and Tal Bachman, thanks for the musical send off to Matty on Saturday nite......and to the boys, work hard on your preparation.
PROUD TO BE CANADIAN
---