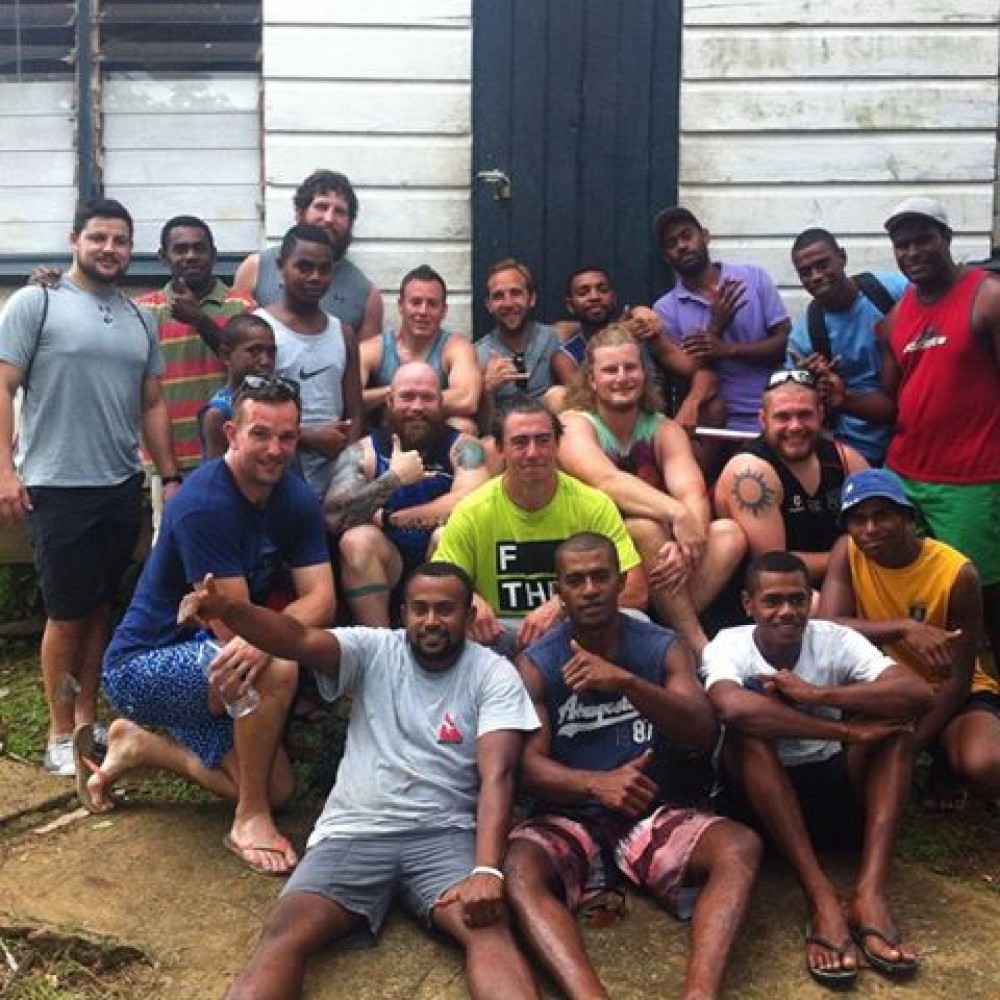 – Interview with Captain, "Moose" Bydens who proffers his ever articulate take on things.
NSMT NEWS. The boys take a rest and spend time with former CW player, Mesa in Fiji – bula, all. Canada's NSMT wailed on Junior Japan/Japan A in Suva on Monday. It is hard to know what the goals of this tournament might be in terms of IRB sponsored demands. Whether it is the best domestic players, RWC hopefuls for 2019 or simply, whatever!!?? Canada has a very strong team assembled in Suva. This was born out in a ten try performance in an opening 69 – 10 victory over Japan. Canada A was led by Phil McKenzie's hat trick, CW's Ciaran Hearn added a solo to Moonlight's, Olmstead's and Trainor's brace. (Ed. Heard down streaming was pixelated badly.) Next up, Samoa A. 'onyas, all!
Girls Giving Back. Tip of The Ruggernut's cap to CW girls, Sydney Hall, Sofie Kennedy and Frelen Gorst who joined Old Spice & the Pres in volunteering at last weekend's University7's National Championship at Westhills.
CANADA U20 MEN. A nice reversal of affairs was witnessed yesterday at Shawnigan Lake School when Canada defeated Rumania, 21 – 9. Last year when these two countries met the shoe was on the Rumanian foot and a very noticeable difference occurred amongst the two forward packs. Yesterday it was ever so good to watch a Canadian pack be the shunters verses the shunted! Pictured is MoM, #9 Dan Joyce (Trinity College, Dublin), who wrote a very good chapter with his speedy service and opportune try from fifteen meters out. In this observer's opinion, there were others who also stood out in an excellent second half performance. Loved the work of Black Sheep and U.Vic's Luke Bradley at #8….a great sixty meter break in the second half to set up Canada's second tally and the other two loosies, Captain, Nott from the Vikes and Colborne from Bristol (England) also looked good. Center Mitch Santilli who we have seen ply his trade with James Bay, started a little shakily but was the pick of the rest of the backs in my book. A number of lads who might be considered "first stringers" were left out of the mix yesterday but will go on Saturday when the show moves to Westhills for Game #2, kickoff @ 6:30 p.m. This was a strong start for the lads with two important test coming up against U.S.A., results which will affect placement in the Junior World Rugby Championship. It would be very cool for the lads to qualify after a spate of perhaps "less than satisfactory" performances at this level. Go, Canada! (Footnote - A technically, well refereed game but truly, what's with the preponderance of yellow cards? Players make technical mistakes and often they may be deliberate but surely, part of the role of the MiM or WiM is to keep players ON the field? Three yellows in the spate of about ten minutes yesterday.)
NSWT SEVENS.
CW's best wishes go out to our National Women's Sevens team who will be in action this weekend in Atlanta at the next leg of the IRB 7's Championship. John Tait's team sits in third place overall and has made the semis of all of the four tournament series so far. Fingers X-ed that they can get to the final to have another crack at the Kiwis or Aussies. Go, you good things.



B.C. BEARS TRIALS.
All BC and Canada eligible players interested in participating in the BC Bears program this year are being called to attend the open selection camp being held Sunday, March 15, at Windsor Park in Victoria. Players are encouraged to arrive early and be ready to begin the session promptly at 11:00am. Please bring your boots, mouth guard and training kit.
Players identified from this camp will be invited to attend final selection camps in June. The BC Bears will then play in the Canadian Rugby Championship from June 26 - July 1 in Calgary, AB.
Date: Sunday, March 15, 2015
Time: 11:00am - 3:15pm
Location: Windsor Park, Victoria
Contact: Dean Murten [email protected]

http://www.bcrugby.com/events/2015/03/15/representative-rugby-provincial/bc-bears-open-selection-camp/ for further information.
---