Wednesday's, "Ruck & Maul" on Thursday!
---
---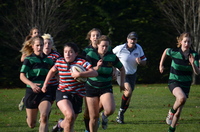 https://cwrugby.com/photos?topic=16830
We invite you to view the on-field efforts of our boys and girls U18 teams in weekend performances. The boys battled Capilanos for third place in the province whilst the girls travelled to Cowichan for the Island Championship. The girls amalgamated with some players from Velox during the season to muster a group that could play as a team with all players getting an oportunity to play. In the VIRU title game, unfortunately, Cowichan could only must twelve players, so the game went on with the assumption that it would be a forfeit in favour of the CW/VV girls. As it transpired, Cowichan won the twelve aside match, 57 - 51 in a fantastic contest but the BCRU ruled in favor of the "W" for the visitors, based on rules of competition. Whatever the outcome, a great result for girls rugby on the Island and a credit to all three clubs. CW/VV now travel to the mainland to take on a very strong Abbotsford team on Sunday. Good luck, girls.
---