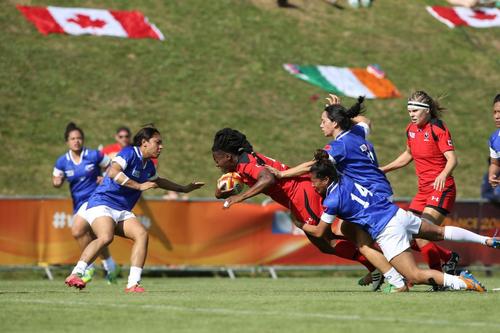 Canada Women Go 2 – 0 @ RWC, Paris.
Canada Women scored six tries (through the backs) and 21 points in each half to decimate Samoa yesterday. The point's differential was big however they still need to beat or tie England on Friday to get into the Championship side of the affair. Brittany Waters led the team with a brace and for this pundit, Burke, Marchek and Kelly Russell were outstanding.
There was noted improvement in scrummaging, against a very big pack, constant backward shunting of Samoa being evident. The ball retention and breakdown play were other facets of improvement. The girls stuck to the plot rather well in the first forty with strong running and support and they were unlucky not to notch more tries. Things became disjointed in the first quarter of the second half with replacements and errors creeping in but the finish was strong. The half backs were more efficient however the attack seemed so steep and far apart that it often lacked the thrust that these powerful runners should be having in the game. Short flat ball and mixed lines could be very threatening.
The bottom line is, the girls were good value, their game was much more focussed and their attitude is scrupulous. This coupled with what is amazing fan (parent) support, might just be enough on Friday against England but it will be a monumental task, taking a line through scores to this point. 6:30 a.m., TSN. Rise early and support these gals – best of luck, kick some English ham!
The Tournament was turned on its ear yesterday when Ireland defeated the Kiwis, 17 – 14! Read somewhere this was their first defeat in 23 years (wasn't sure that Women's Internationals have been going that long, even for this long in the tooth fan!). Good on the Irish, accomplishing what their Senior Men almost did last fall. England hammered Spain, 45 – 5 and the Americans had a big win over Kazakhstan, roiling the waters of the bookies. It's heating up in the kitchen and becoming very interesting. One can be sure the standards of play will improve commensurably as pool play comes to an end.
B.C. (and CW), at the Nationals.
It was quite a day in Calgary yesterday for age grade teams from B.C. We'll start with U16 Girls, who did not play yesterday but we congratulate the four CW ladies on the team and wish them all the best as they commence competition today. Led by Camille Irvine (back from a speedy recovery from a fracture), Sophie de Goede, Sofie Kennedy and Shaye Tudor round out the Tricolor compliment.
B.C. Boy's #1 (I am not a fan of this delineation), were firing on all cylinders, defeating Quebec, 43 – 5. CW has Gavin Kratz and Brennig Prevost on this squad. Heard Gavin (at prop), suffered an early injury. He's one tough dude, so a good chance he will be back ere long. B.C. Boy's #2 wailed on New Brunswick, 82 – 0, sending a hint of a message to their counterparts. CW has a host of players with this group (Connor King, Callum Masterton, Jonas Robinson, Brandon Schellenberger, Braydon Tate and Carter White). King, Masterton, Robinson and Schellenberger notched tallies in this one.
We also spotted on R.C.'s website that CW's, Caroline Crossley at just 16, has been selected to attend the U20 Can Am camp in Ontario, later this month. Caroline is one of just two B.C. women who will be attending. It seems that this young lady's rugby track continues in the fast lane…onya, Caroline!
B.C. Bears Open In Calgary This Weekend.
Bears Vs Prairie Wolf Pack with a squad that has a decided Burnaby flavor and we like the fact that Joe Dolesau is back in the mix. CW's Kehoe, Kleeberger, Horton and Morris are also possible starters, coming from a B.C. "long list" that reads like a who's who of the CDI competition. Go, Grizz!
---