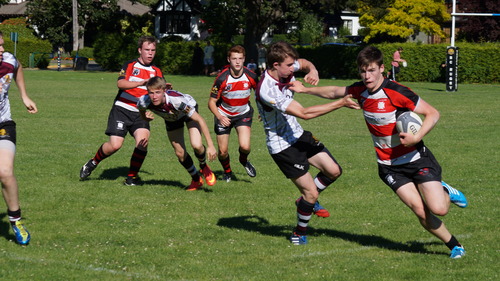 South Island Junior Tide Faced a Tough Irish Team in Youth Rugby Exhibition Match
Victoria, BC – A great evening of intense and exciting Junior Tide rugby took place at Windsor Park Monday night. The Irish schoolboys from Down High School in Northern Ireland were as tough as expected, and capitalized on the errors they forced, winning both exhibition games, at the U16 and U18 age groups.
Both Tide coaches Spencer Robinson (U16) and Matt Mortenson (U18) were delighted with the effort their players put in and agreed the fixtures were ideal preparation for the upcoming Provincial Regional Competition this weekend at UBC.
The Tide Junior Program represents athletes from the lower island selected to compete in U18, U16 and U15 Provincial Regional Championships. The PRC Tournaments take place at UBC. The U15 team competed June 28 and 29, with the U16 and u18 competition coming up this July 3-5, 2014.
---