VIKES TAKE SHIELD CHALLENGE
---
---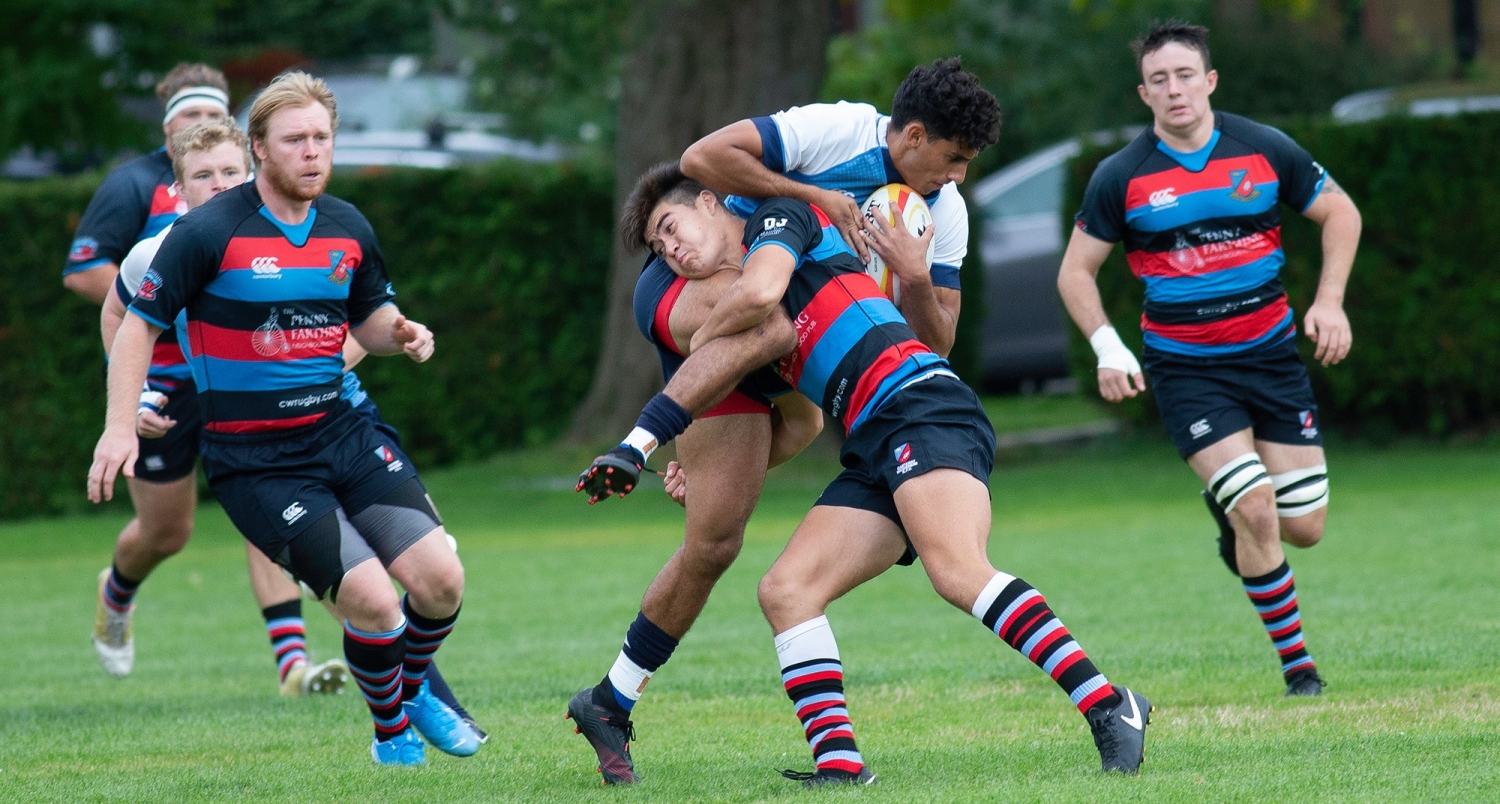 Perhaps it was only fitting that the UVic Vikes won the inaugural challenge for the Howard Gerwing Shield. Long-time UVic rugby servant, the iconic Howard Gerwing would have been thrilled with the display of power and running rugby the Vikes brought to the day, earning a dominant 43 – 21 victory. Apart from this outcome, where rugby was the winner, it was a great day at Windsor Park for the host club. Early morning saw players running skills' stations for some fifty girls and boys. Positive parent feedback was received as the kids filled their "passports" with decals, following successful completion of the challenges. Well done, all. Then it was the senior women having a great intra-squad hit out, aided by some "intruders" from Finnerty Hill. And so, on to the games.
The Reserves were pretty much an unknown, yet certainly interesting group. The Norsemen brought CW 'grads'; White, Masterton, Cole, Mourat and maybe a few others, to the fray. CW matched with the experience of Hohert, Crawford, Makaroff, Gerhardt, Vataiki, Winser and Boyd-Porter. The Norse have generally reaped a greater differential against The Tricolor in recent seasons but it was not to be on this day. It took til mid-half before the scoring was opened and the home team was first to strike when Boyd-Porter crossed in the corner at the end of a fifty metre interpassing foray. UVic responded almost immediately to lead, 7 – 5. Under a yellow it took not one but two, almost superhuman efforts from ex-Vike, Vataiki to keep the Norse off the board. UVic had a long period of possession and sustained pressure only to be repelled, led by the wily veteran, 'The Queen' Gerhardt, yesterday at #8……..and so, endeth the half.
It was early in the second stanza when CW succumbed to a series of good 'short-side', 'picks and goes' and a 12 – 5 lead. CW responded, taking a lineout from a "touch-finder" penalty and a series of drives and 12 – 12 score at ten minutes. Next, after a good Hohert break out and a clever feed to Griffith on the overlap, Queen converted from the sideline and a 19 – 12 lead at the midpoint. Mouret (UVic) at #10 challenged the home team, probing left and right as both teams visibly tired and the clock ticked on! Gerhardt dummied and broke and what should have been seven points was halted at "the one" and a resultant penalty occurred from lack of support. Sad, however an ensuing, return the favour penalty was stroked by 'The Queen' to open a three-score luxury with time running out. The defence held and a quality 22 – 12 win was earned deservedly.
I have no notes for The Norse but for the Reserves, I share M-o-M between Gerhardt and Vataiki. Hohert and Crawford and an old/new Humphries were all deserving of mention in the pack. I liked all of the backs – particularly their sound defensive efforts, led by Winser. Griffiths, De Vries and Freeman were all exciting newbies. Well done, Divvies.
Premier play was a mere three minute's old when the Vikes shunted CW hugely to win a tight-head; good transfer; two or three rucks later and it was 7 – 0. After another scrum loss and despite "all hands on deck", a quick penalty saw winger, Bain in the corner and a 12 – 0 lead after eight minutes. Braddock's late absence was being sorely missed. UVic had their tails up and the attack flowed freely however, on one such foray a "wide pass" was telegraphed and newcomer, King, backed himself, showing clean heels over 75m and resultant 12 – 7 score line. The CW scrum settled – a rookie hooker and prop and Thornber out of position but this more stable base brought some sanity to the situation. A couple of testing breaks from both sides occurred with CW finally opening a gap, only for the ball to be dropped with the try line "begging". With the UVic "plot" showing some ascendancy with speed, handling, good lines and retention, the ball was "flung around". It was a fortuitous miscue that found the willing hands of newcomer, Griffiths whose foot speed was impressive over forty meters for the lead, 14 – 12. The teams tested to and fro with Kegode and Keta's defense being impressive and for a good stretch the home team had a territorial advantage. It was unfortunate that late in the half a Vikes penalty from Tuelfel gave them a lead, never to be relinquished. Perhaps Vike fans might argue that a one point differential at the half was complimentary to CW. The commencement had been disconcerting however plenty of positives had followed.
It was to be a much different second stanza with four tries to one for the Visitors. It started early with quick hands creating an overlap for Bain, 22 – 14. The UVic patterns flowed, good hands, inside, outside, delays, misses – a thing of beauty, stretching the defence of which Sawyer, Sutherland and Kegode were particularly noticeable. Quick ball was transferred back inside to Bain, on the 'trail', transfer to his fellow winger and Dashkewtych over to haunt his former club. Convert from wide, 29 – 14. Then there were 9/10 recycles, ball wide, reverse inside for Captain, O'Neill on an unstoppable line, 36 – 14. CW needed a couple of injury replacements and also needed a lot more than the heroics of Suddsy, Sawyer and Schelly. Despite this, they were next to score, when Kanty broke after a nice "shimmy" and fed out the back for Kegode to earn a deserved tally under the sticks, 36 – 21. UVic ended the proceedings with yet another, well worked try brought about with good hands and pace, converted again by #9, Tuelfel with 5/6 converts and a penalty for thirteen points.
Plenty of Vikes put up their hands on this day! Captain, O'Neill is all quality and an even more dangerous threat than seen before. All the pack were good value – big and hard-working, in a word, impressive. Carson, with his hard running, always takes a high/low effort to stop. The backs looked very cohesive. The patterns executed were a collective, representative of their individual strengths, from # 9 - 15, not a small man amongst them. This side will be a handful for their opposition every Saturday this season and days in between! Congratulations on winning the shield.
For CW it was a very different combination to anything we saw last season. This being said, it was not unexciting for this pundit, noting many good things, although the final score differential was pretty accurate. Newcomers on the wings, Hall and Griffiths are flyers who don't shirk from the tackle and their three-quarter mates tried hard all day, stemming from hanging their hats on defence and that's the right stuff. In the pack, Horton, who had a "sniff" last year was visible in the open in spite of the grunt work which had him under the gun in the sets and he will develop into something "special", I would predict. For mine, Sawyer and Suddsy were simply non-stop. There were no shirkers or slackers on this day, just the fact that the UVic pack seemed to function more capably, particularly in the lineout phase. Hopefully, there no injuries and a new challenge at Home next Saturday when Westshore visits. Thanks to referees, Pedrick and Turner orchestrating the day's play without too much rust! Good show.
(Photos compliments John Richardson Photos)
MUCH BETTER EFFORT FROM CANADA IN FINAL HIT OUT. ENJOY THE RIDE.
---