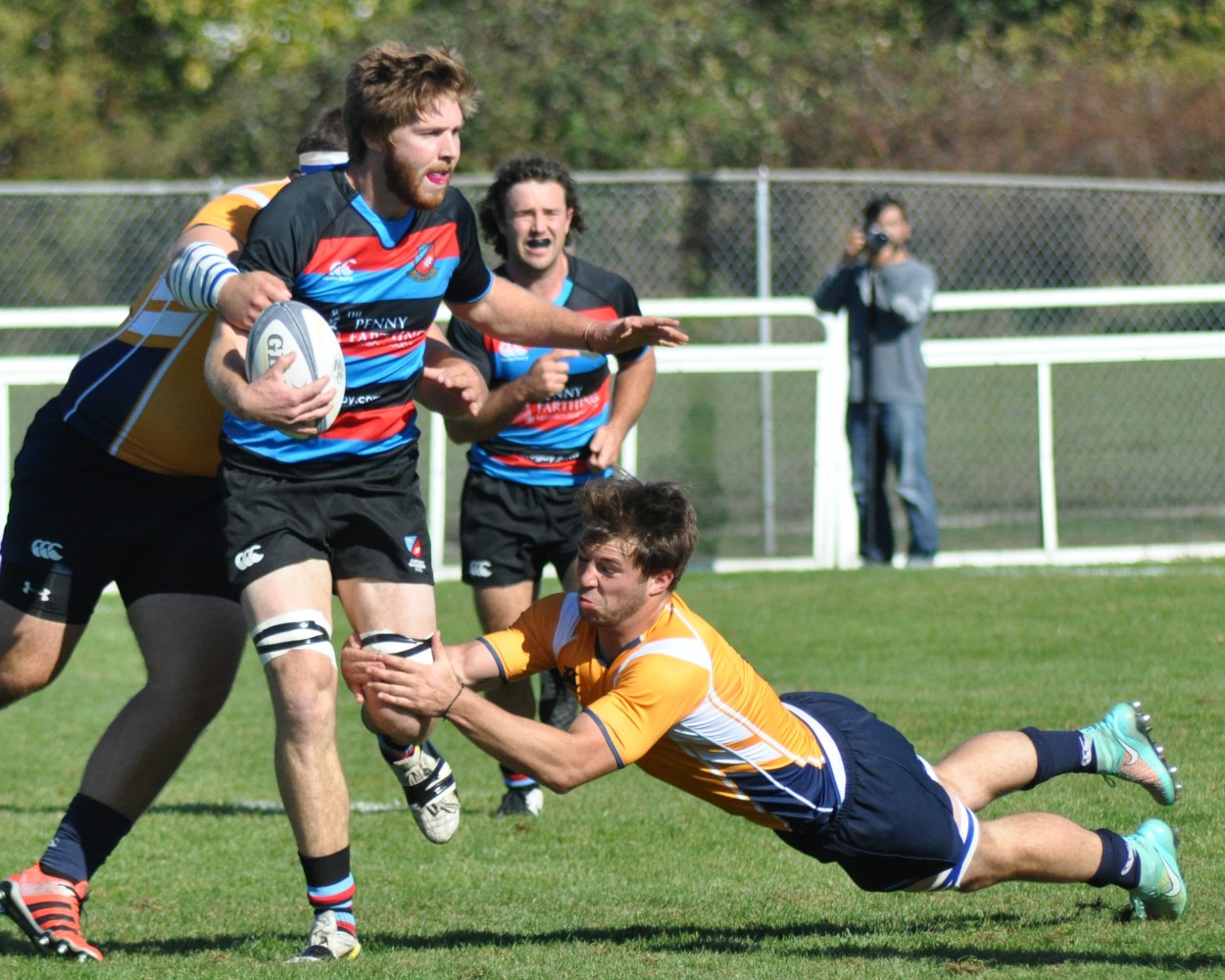 (This week's game blog is brought to readers, courtesy of Sage on the sideline.)
For this scribe the day had a measure of the unknown to it. Not much was known about the opposition and the Tricolors have only had a couple of hit outs so there was concern about "Ground Hog Day'' where we might see the same early season results as experienced over the years, with CW on the wrong end of a big score. POSTSCRIPT - From my view after watching the UVic teams play on the day, it was confirmed that they are a force to be reckoned with again this season…..good coaching and recruiting with assistance of "scholarships" has ensured the return of quality players and the arrival of new ones. Word in rugby land is that UBC has done the same again this year and it will all be very interesting to see how the "amateur" clubs fare against these powerful programs in the second half. Maybe another all University CDI Cup Final?
To the games. Division 1 CW 12 (2t, 1c) Norsemen 28 (4t, 4c) Score at the half, CW 12 Norsemen 21.
In their previous two games the second half has seen the CW lads pull away on the score board, but not so in this game where the young Norsemen were full value for eighty minutes of good rugby. Credit to the CW Div 1 squad allowing only one try in the second half by a run and gun squad of well drilled Norsemen. To this scribe Nate Thomas stepped up his game and played the big man role very well. Hickman was again a stand out at standoff, using his game experience and poise to guide the backs where once again Jordan Henderson had a big impact. (Henderson, who after a full Div 1 performance went into the Premier match, again having significant impact). For CW lots to discuss and improve upon going into the Thanksgiving break.
Premier CW 23 (2t, 2c, 3p) Vikings 29 (5t, 2c) Score at the half, CW 16 Vikes 17.
Two forward packs of fairly equal size and ability, not really the predicted difference in size, made by some pundits, accompanied by backs with comparable ability, set the stage for the contest. Most certainly the time of the ''kids from UVic'' is long past. So ensued a fierce battle moving from forwards vs forwards to backs vs backs. Lots of running rugby with width and power….an entertaining game for all who came to watch or play. Nice to see CW Mike Fuailefau have a good day in the centre with the 15s code, scoring one early try for CW. The CW second try by Steve Grdic was well done and a credit to Grdic who has matured and is playing well at this elite level. The final ten minutes of the match had CW pressuring inside the home team 22 meters but the Vikings came up strong with first up tackles and solid defence. With a converted try needed for the win CW passed on several penalty kick options but when the final whistle blew the visitors found themselves a converted try short of victory. A game bookended by CW with quality effort, a great 10 – 0 start and good finish to take away a bonus point.
So, off we go into the Thanksgiving break with both CW Div 1 and Premiers booking two wins and one loss thus far in in VIRU play. Next up is Westshore at Windsor October 17th. Coaching brass are hoping to see some new as well as familiar faces returning.
AROUND CEEDUB
The Boys U18's opened their UK Tour with a five try win over Plasmawr Grammar (Cardiff), 27 – 14. The party is having a great tour and had a hit out with Rugby Canada reserves yesterday. You can follow them on Facebook at; https://www.facebook.com/CWU18RugbyTour
U14 GIRLS came from behind in their season opener against Campbell River to tie the match 40 – 40, some point's fest! Well done, girls.
Pictured, Grdic escapes the grasp of minis and juniors team mate, Jeff Nishima-Miller, ready for another classic offload!
---