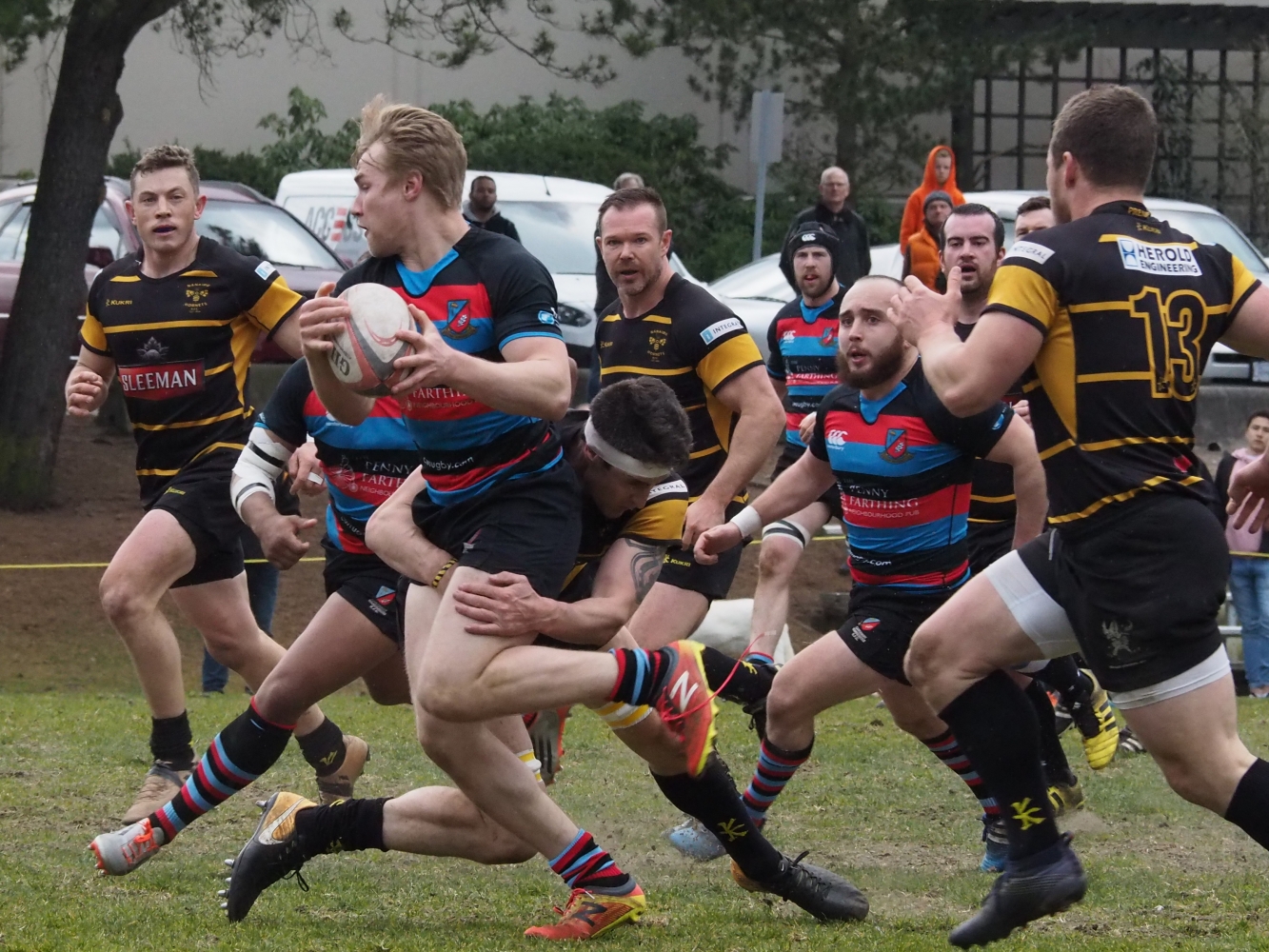 CW's Reserves ("Divvies" as the boys like to say), opened a commendable lead at the half in Nanaimo, Saturday. (22 – 12). This pundit picked up the action at this stage. Must admit, it was good to be one of a dozen of 'the Faithful' amongst a sizeable and knowledgeable (with no boorish comments), home crowd. CW opened up the second stanza strongly, with a JoMo try and soon doubled the hosts, 34 – 17. When Lavallee scored it was 43 – 17. Credit to Nanaimo – they were not finished, adding another three tries. As the Hornets crept back, long absent, John Moar added his brace for Ceedub and Matt Kelly closed out, 55 – 34, Tricolours. This was a useful win for the boys, the five points keeping them in the top six. Wasn't really noting individuals for Nanaimo however #10, Tulia was M-o-M for mine, and their six tries was a good effort, being all great fun to watch. I give #8, Lavallee, CW's M-o-M, capably supported in the pack by Mighty Makaroff ( a small man who does not shirk from taking on the big units), McLean, Elliott and Williams who later earned some minutes with the Prems. The backs were orchestrated by #9, Goldstein, his link to Boyd-Porter (whose old style place kicking is very accurate) and outside, John Moar, stood out. Good to see Kevin Carr, Mack Poole and Johnny Mo back, all making their presence felt. 'Onyas, Divvies – back on track.
The Track Meet continued with Premier play, not exactly the defensive effort CW was after but tributes to The Hornets for their questions. CW went up early, 21 – 3 by the quarter. Tries came from Burger and Stewart. Then it was beautiful, 'soft' handling from a blindside "miss" from Di Nardo to Tate who shifted gear and Pullin finished. Hornets replied when fullback, Poole "filled" to create an overlap, buoying the crowd and proving they would be a formidable enough opposition. From hoisted ball, Goldstein (on early for an unlucky Kegode), fed Tate and on to Newman who gained 60m. From the ruck, three quick passes saw Stewart over for his brace and 28 – 10 lead. The pace and scoring was intriguing and enjoyable. Fans then were to bear witness as to why Jared Stephens has become so widely rated and respected by opponents. His 30m weaving run kept his team in tough at 28 – 17. CW took the wind out of the sails of The Hornet when Yak, who had a stormer until later succumbing to injury, broke and sent DiNardo over to end the half, 35 – 17.
Nanaimo started the second half well, retaining their kickoff and exerting great pressure, only to turn the ball over. Again, it was Dala who sent Adibe on his way for a 60m breakout. CW kept the heat on when a subsequent maul from a lineout drove some further 30m and two passes later, Yak was duly rewarded with the try, 42 – 17. The Tricolour struck again just five minutes later when Pullin found himself at the end of five passes and a 50m gain for an absolute champagne try and 49 – 17 lead. At this point, CW should have been able to put the lock on it but the structure became unhinged with some substitutions and in fairness to Nanaimo, they played a big role in unhinging it! First it was Marshall and then a good break from #8 Halaliku, who was "full-on" in this match and his feed saw Stephens over for his brace, 49 – 24. Yak left with a damaged 'wing' and further subs were made. Nanaimo never let up. 70m and good inter-passing, saw wide ball come to winger Thom, on the overlap to finish. Hornets came yet again and high ball was well taken by Tate as he was upended. The yellow card seemed to re-charge CW and a Di Nardo break saw Finnemore almost over. From a subsequent scrum, a lovely "crash" ball from Adibe saw Pullin cross for his hat-trick, 56 – 34. From the re-start, the Hosts responded for their sixth and final try. CW had the last word when Newman crossed deservedly, after good hands from Pullin and Di Nardo, 61 – 41 – 191 points on the day. WOW!
For Nanaimo, I would award M-o-M to Halaliku in the forwards and 'Evergreen' Sam Fowler in the backs with honourable mention to Brad Marshall and Stephens from the backs and Matt Weir from the pack. Captain, Milford kept his boys enthusiastically on task and it was easy to see why this side has been a handful at home. Well done in your Premier debut, Hornets.
For CW there was plenty to like offensively however going forward, the defensive organisation seemed to have been the issue, not individual tackling but the pattern needs to be more attentive to opposition threats. Connor Pullin with his hat-trick earned the Hard Hat honour, fittingly enough on Paddy's Day! (The cry of "nepotism" was heard from the shower.) Dala was also outstanding with Thornber, Chisholm, Stewart and Finnemore all lending their shoulders. The Di Nardo/Adibe experiment looked fairly fruitful to me, with Adibe's decision-making immediate and accurate. Newman showed dangerously whenever he had the ball and Tate at custodian was reliable, initiating some good 'back three' counters. Special mention must be given to Braydon Goldstein who played almost two full games – at #9 and wing and making an impact in both. The boys travel to Seattle next week where a hungry Sarries awaits, a team that posted a mammoth 70 points against Westshore this weekend and a team which is battling for the final playoff post and a team which is always tough at home following the vagaries of travel for the visiting side.
So, "slainte" and "go raibh maith agat" to Hornets and umps, Moss and Smith for this day.
CW featured in another high scoring affair at Port Alberni when the Riley's Rovers went down to the Black Sheep, 45 – 15. It was a "bare" XV that finally mustered at The Temple for the trip north and with an early card to Wakely, the first half proved to be difficult and unproductive. The Islanders, akin to last week against Westshore, re-grouped for the second half and produced two tries with another disallowed, The Don and Freemen being the scorers. Highlights of the day were; the second coming of Chips Lamb, coincidentally awarded M-o-M and a fluid partnership between Sproule and Freeman. The return bus trip was evidently, as usual, epic!
---