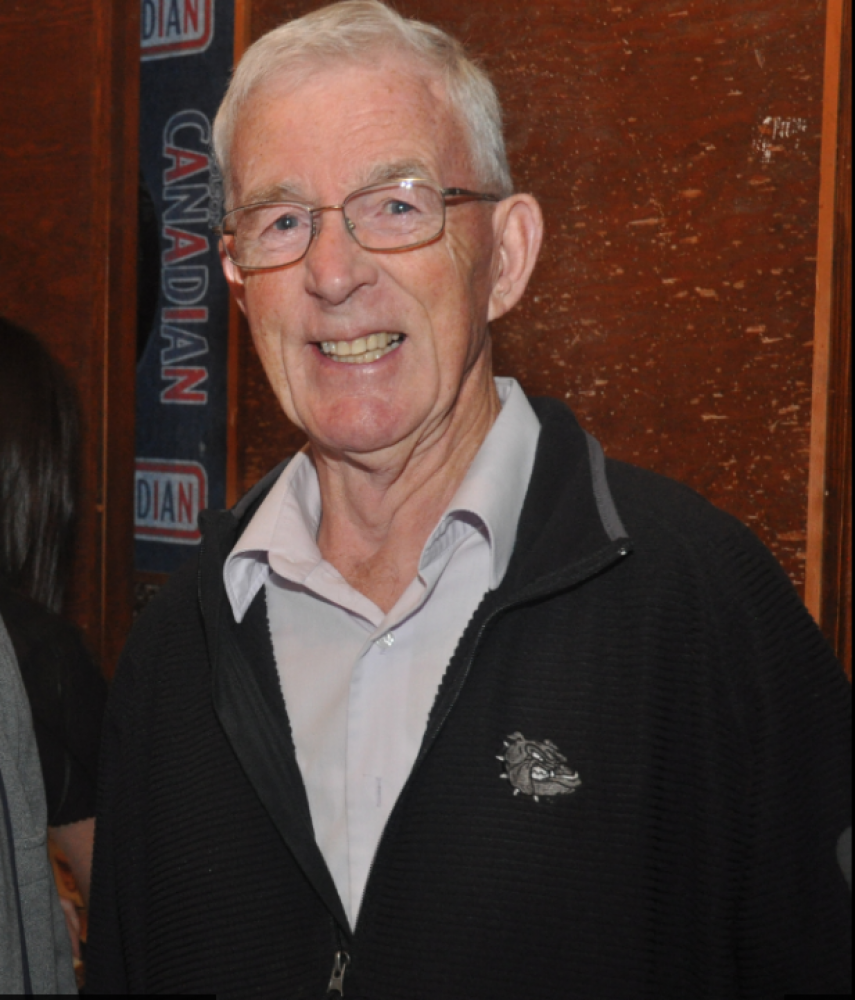 Mid-week, CWRFC lost one of our finest members, Tom Browne. This writer played against Tom, took a post-grad Ed Admin course from him and some ten years back, craftily persuaded him to play a part in the CW Magic Mini Rugby program, when his grand-daughter showed an interest with the oval ball. Sadly, never fished with him. In recent years, it has been a privilege to have "coffeed" with Tom, talking over aspects of life that have presented huge challenges for him and his family. To have heard of his recent affliction and to have visited with him and witnessed its terrible ravages has been in a word, devastating.
We bring you the words of Mel Jones, our "go-between" during these final days. "With the nurse by his side and Kate, Jeff and Tim having had great visits with him during the day, they felt that he must have known it was time to say goodbye and rest in peace and he did so, with the dignity which was a hallmark of the way he lived his life. They also feel extremely grateful and blessed for the care he received at the VGH which was truly exceptional, as well as with the continued support of family and friends."
We take you back to a blog posted on this site in 2013, when we honoured him as an; "Unsung Hero – Off the Field".
"Tom Browne is a quiet, unassuming man. He renewed his "active" rugby friendship with Ed Knaggs four years ago when he started coming to The Park on Sunday mornings and helping with the U8's. It has only been a rare Sunday that Tom has been unable to attend during those past years. Tom's rugby background is stellar, starting waaaay back at the University of Galway. He came to Canada as a young man and played for Cowichan when he taught at Brentwood and then Castaways when he moved to Victoria. He captained Castaways, Crimson Tide and B.C., playing on the B.C. side which defeated the British Lions in 1966, 8 - 3. He was also selected for Canada. Tom then parlayed that pedigree in his post-playing era to coaching, an arena where he fostered strong bonds with his players, a bond that Tom and Ed Knaggs will have forever. He has become an expert youth coach who now guides the young tykes in their introduction to rugby. In the words of Tom, Sunday is akin to "being at chapel".
Ed responded with; "I've been playing rugby for over twenty five years. I came to CW from Nova Scotia in 1998 during a time when the club was rebuilding. The highlight of that first season was beating the CCSD (Pacific Pride aka Young Canada) and taking a "perfect season" from them! We lost in the playoffs that year to Capilano and it left a scar that I swore to mend! Tom Browne joined the coaching staff in 1999 and along with Dave Docherty and Chris May, who came along in 2000, they led us to three Provincial Premier Titles."
Tom's professional life saw him teach up-Island and thence in the Saanich School District, a career which saw him close out, after an extended term as Principal of Parklands Senior Secondary. His career touched many young people, many friends on and off the rugby pitch and many colleagues and those he served as a mentor to in the education profession. He was also so very willing to befriend those who needed some time and counsel with him on a fishing outing, the other true love of his life. Our deepest sympathies go out to Tom's family, Barbara, Kate and Tim and their families, as well as Tom's brothers and family in New Foundland and Ireland. RIP, good man and thank you for all of your service and your life which you so willingly shared with others. There will be a celebration of Tom's life, likely in early October.
---