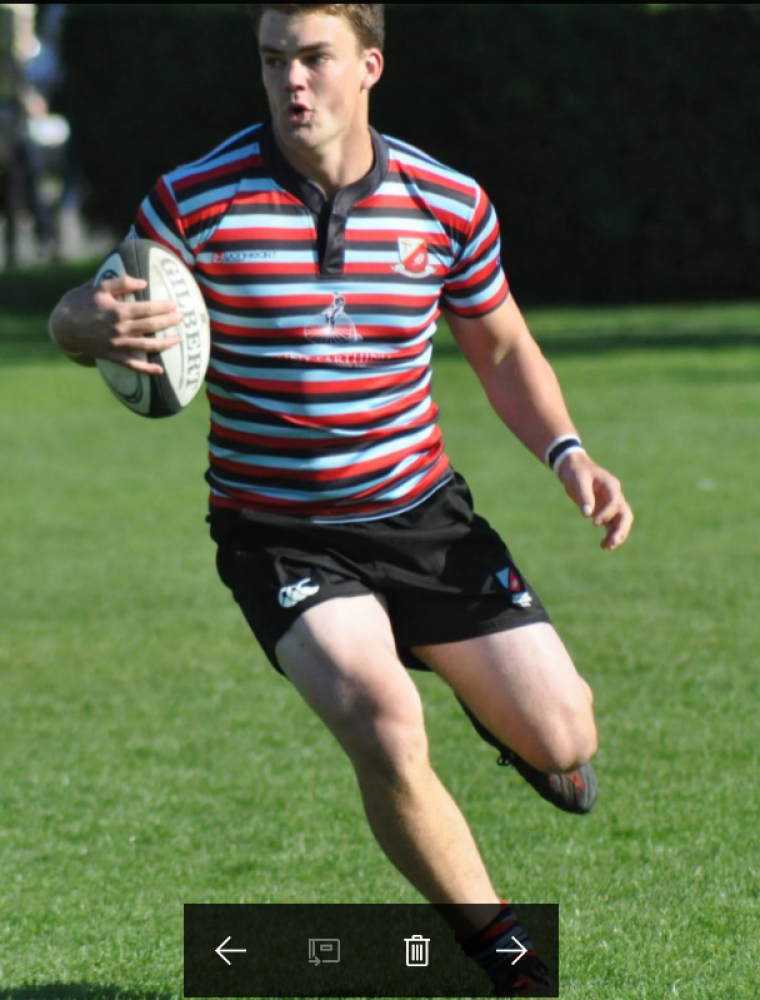 "An exceptional multi-sport athlete (Oak Bay H.S. Barbs rugby; OBHS basketball; Bays United soccer and Junior Shamrocks lacrosse), Dylan Jones lived to compete. Although he easily and naturally stood out as a leader on the field and on the floor and court, it was above all, his aptitude to be a team player that brought him success on the playing fields and in life." When one thinks of what one knew about Dylan, there are a plethora of descriptors – loyalty, talent, leadership, sportsmanship, respect, uncompromising, skill; perhaps all best summed up with the word – CHARACTER!
Dylan overcame major knee surgery in high school to return to competition with the Shamrocks and to the sport he truly loved – rugby. "CW was the recipient of the talents of this man. He had many memorable matches with The Tricolours and was always mentored with a careful eye from his dad and nationally-capped player, Evan. It was thrilling to see this man go when he had the ball in hand, sometimes simply, unstoppable!" High School coach, Gary Johnson offers words to Dylan's former team mates and friends; "(He) was a player that comes along once in a decade. He had natural ability, athletic intelligence and grit. Dylan once said that "rugby reveals character". He showed that in his play over the next two years. Dylan Jones embodied the traits that many of us admire and envy and we were fortunate to share some memorable experiences with him. Let your appreciation and memories of Dylan Jones be reflected in how you lead your lives."
"If the success of a man is measured by the company he keeps, then Dylan was successful beyond most. His legacy is in the truly exceptional character of his friends and family who were drawn to him throughout his life."
We conclude this tribute with words quoted in Dylan's recent Obituary; "If you knew Dylan, you were one of the lucky ones. If not, we wish you had; you would have loved him. A hometown Victoria boy - Dylan was magnetic. He loved a good story or prank, especially one that would end with his mischievous smile and his big, infectious laugh. He also loved cheering for his beloved Bengals; surrounded by his brotherhood of close friends. Whether on the rugby field or basketball court (or in any sport for that matter) this 27-year-old, 6'3 powerhouse was a phenomenal athlete; a loyal teammate - or fierce opponent - depending which side you were on. His handsome and tough exterior (we thought you'd like that Dyl) belied a warm and loving heart, full of positivity, empathy and immense kindness for both friends and strangers alike. It is with broken hearts that we announce Dylan's passing on Wednesday, September 13, 2017 in Vancouver, BC. Dylan mounted a long and courageous battle with cancer; and in the end, was surrounded by the people he loved and who loved him the most."
CW offers our deepest sympathy to Dylan's immediate family, Christy, Rhys and Evan, also to the many relatives and close circle of friends who will miss him dearly. Our club will honour his spirit by adding "D.J." to our players' jerseys for the remainder of the season, for we know that were it not for this tragedy, he would be on the park.
"A service will be held September 24 at 2 p.m. at Alex Goodin Hall at 907 Pandora Ave. followed by a reception at Uplands Golf Club at 4 p.m. In lieu of flowers, please consider a donation to the Victoria Cancer Clinic. On this sad occasion, we want to honour Dylan's meaningful life: his energetic enthusiasm for adventure, his big heart, how well he loved and was loved. And of course, that smile. We love you Dylan and you will live on in our hearts forever."
(Ed. Note of THANKS to Gary Johnston and Mark Bell for your special thoughts.)
---