UNSUNG HERO - Off the Field - Chris Shepherd
---
---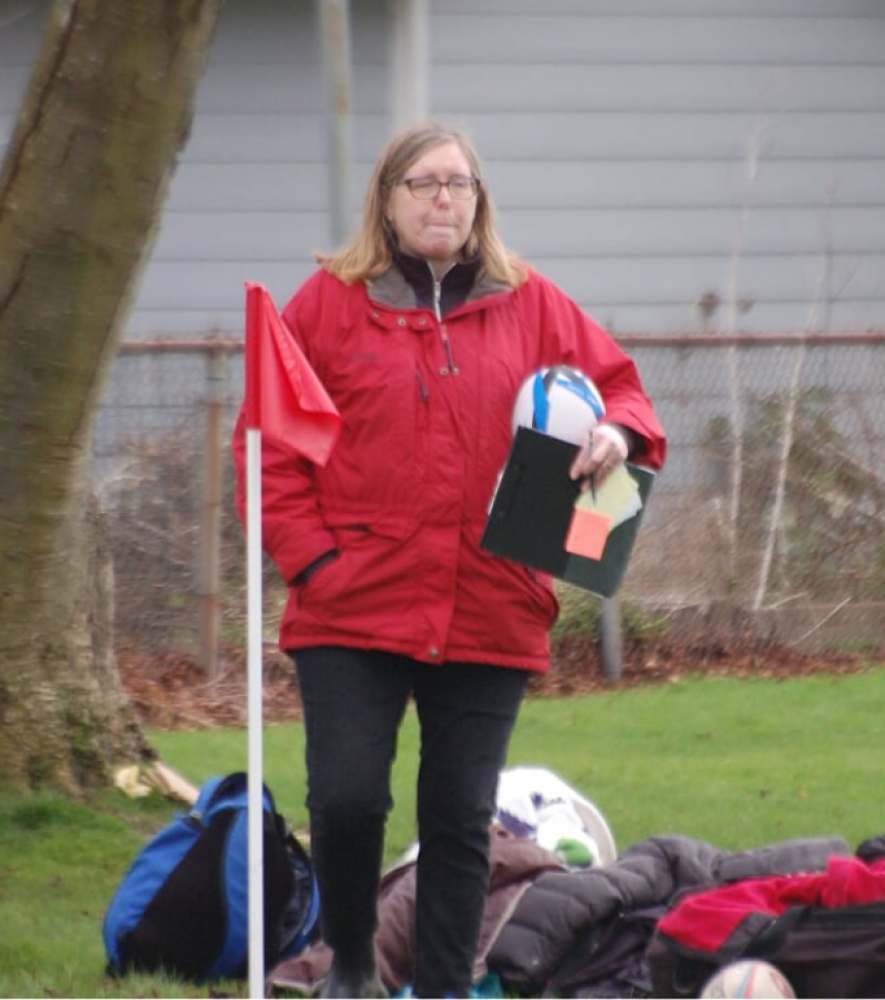 With this being a weekend of no club rugby and most fans being in Vancouver; or watching downloaded Sevens, compliments CBC Sports – good job, thanks; it is an ideal time to post a story long overdue.
CW: Chris, this is your 2/3 season with CW Women in your managerial capacity. Just what was it that inspired your interest to get involved?
CS: This is my third season with the program. My daughter Adrienne and her fiancé, John Braddock suggested I get involved. The program was just entering its critical third season and we thought it was important at that point to keep the momentum going. I had been involved with a lot of our daughter's sports over the years and was excited by the prospect to manage a women's rugby team. I had coached and managed different curling (Certified Level 2 Coach), basketball and field hockey teams over the years so I looked forward to being involved.

CW: Prior to your involvement, the ladies had won the B.C. crown in their inaugural year. This was an achievement beyond dreams and arguably, made the future difficult. In your short time with the program what achievements have you seen?
CS: The fact that we have a second team is wonderful. We now have a pathway from Minis to Senior Women for female players. At present we have close to sixty registered players available to play on our inaugural Division One team or the Premier Team. There are twelve of these players who have been involved with our Junior Programs at some point. They range from experienced players like Jess Neilson and up and coming U-18 players like Chloe Hill-Huse. There is also a core group of players who are around twenty now and have chosen to stay and play at CW. This continuous involvement really bodes well for the future of the team and the Club. We have also benefitted from positive word of mouth - we have several recruiting pipelines from the Prairies. We also have a substantial contingent of Vikes players who have played for our squad over the past five years when their varsity season was completed.

CW: As team "manager" what have been some of the unique/unexpected challenges that you have faced?
CS: Communication and patience! There are a lot of moving parts and competing interests for field space and resources. I sometimes need to temper the expectations of coaches and players from our program and on the other hand, still advocate for resources. We are still a relatively new program and learning the 'who's who' in the rugby world has been a steep learning curve.
With respect to scheduling, I really try to be proactive and review not just the two women's schedules but also review the men's schedules to hopefully avoid scheduling issues. For example, the Premier Women and Men's Prem Reserves have the same scheduled kick off time of 12:45pm - when the schedule is being reviewed before being posted, I identify the dates when there is a scheduling conflict and request that BC Rugby move our game to 11:15 - this gives the travelling teams plenty of notice. There are always some scheduling changes throughout the season which can create some challenges but usually, we can deal with them.
CW: The sport of rugby has been traditionally, a male dominated arena. How do you think the women's program has benefitted CW?
CS: I recognize that change can sometimes be hard but we are growing the game; we are providing another platform for players. There are now companies and people involved in rugby and CW who may not have been involved before. We are a microcosm of the world around us and we have some of the same issues with respect to perceived and/or real gender bias. The fact CW has a thriving women's program is testament to the support we receive at the Club level.

As a program, we are very aware of the extra resources needed to support our teams and our players have been very active in fundraising and identifying new sponsors. We also have several players actively involved in the management of the club - Lauren Sargent who is on the Executive as a player rep, has spearheaded several successful fundraising initiatives and is actively involved in coaching the junior teams and Lizzie Adams who is stepping into the role of CW bookkeeper.

CW: You have a life away from the rugby pitch. Just what does that look like?
CS: I am a Financial Officer with the Provincial Government (Public Guardian and Trustee of British Columbia). I have a Degree in Economics and a CFP designation. I love to cook and garden; I still curl once a week and I love travelling. Paul and I were always avid fans of our daughter's endeavours in sports, music and art.

CW: As a youth, did you play sports? If so, which ones and at what stages of your life did you play?
CS: I played everything I had time for - what I lacked in skill, I made up for in enthusiasm! I played ice hockey (had to play with the boys because there wasn't a girls team), basketball, field hockey, golf and soccer. In high school, I went to the Provincials in cross country running and curling where our team was Provincial Runner-up. I was a Varsity athlete in Curling when I attended UBC. I curled competitively for many years after university and was a two time Mixed Curling Provincial Runner Up.

CW: If you had a magic wand how would you use it related to your volunteer capacity?
CS: I would have two full rugby fields with lights at Windsor Park. That would deal some of the scheduling issues with respect to practices and games.

CW: With the expert coaching that you have witnessed with our women, how much have you learned about rugby?
CS: I now know the difference between a scrum, a ruck and a maul! I am still learning the nuances of the game but my questions no longer make the men in my world cringe!
CW: Canadian National Women rank at the world echelon of XV's and VII's. In your opinion, what will be the future of CW Women's rugby?
CS: I think the future is bright. We really are lucky to have had so much support in our club from the Executive, the Managers and Coaches in the Men's Programs and all the other people behind the scenes who make the Club work. We also have a great Mini Rugby Program and Junior Girls Program. There are many individuals I could recognise but I will just mention a few. Brian Huse and Ed Knaggs have been a huge help in bridging the Junior Girls Program with the Senior Women's Program. Jess Dovanne, Klash and John Sheridan have been involved with the program right from the beginning. All five have been a tremendous help and support.

CW: Chris, is the spouse of Paul, a stalwart supporter and volunteer. In fact, Paul has lined the field at Windsor Park for weekend matches for yonks, as well as being a creative publicist for our programs. It's been great to share your involvement and it's a massive shout out to the Shepherd family. Thanks and it's a; "good 'onya, Chris!"
---