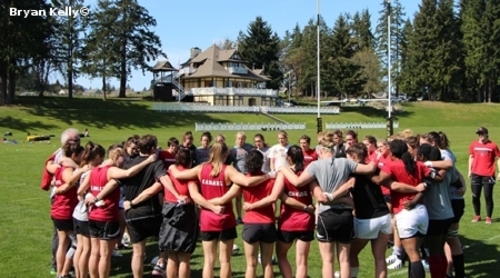 NSWT IN ACTION
Canada's Women play U.S.A. today at 3:30 at John Leckie Field, Shawnigan Lake School.....FREE!!
CANADA U20 MEN Vs JAPAN
Canadian U20's play Japan this coming Thursday to save some face in what has been a disappointing Junior World Championship, with no hope of scrambling back into the top tier of eight nations. In pool play, Japan has beaten Namibia ( Canadian loss), Uruguay has beaten Japan (Canadian tie), so the only outcome that would bring a measure of satisfaction would be a win over the hosts. In action in the other pool, U.S. are unbeaten, an outcome which must be of some concern for Rugby Canada, as the U.S. will more likely than not now earn promotion to the top level, a place Canada has not been for some five years. DJ Sears gets the starting nod at loose head and we wish the boys, the best of luck and a few breaks. Go, Canada, go! This game was Tuesday NOT Thursday and the Canucks were walloped 37 - 12! They will play for seventh spot on Thursday.
B.C. HIGH SCHOOL SEVENS
Local H.S., Oak Bay Barbs, had a measure of revenge on the weekend when they led Island qualifiers for the B.C.H.S. Sevens title. The Barbs defeated Glenlyon in the final by a score of 19 - 15. Surprisingly, both SMUS and George Vanier did not make the qualifying foresome - Brentwood and Cowichan H.S. accompanying OB and GNS to the B.C.'s. SMUS had defeated Oak Bay last week in XV's for the Rees Boot and the bulk of Vanier had defeated the bulk of OBHS in the V.I.R.U. club U18 Island Championship in the fall. CW offers special congrats to All Tournament All Stars, Tyler McDiarmid and Jack Nyren. 'onyas!

---