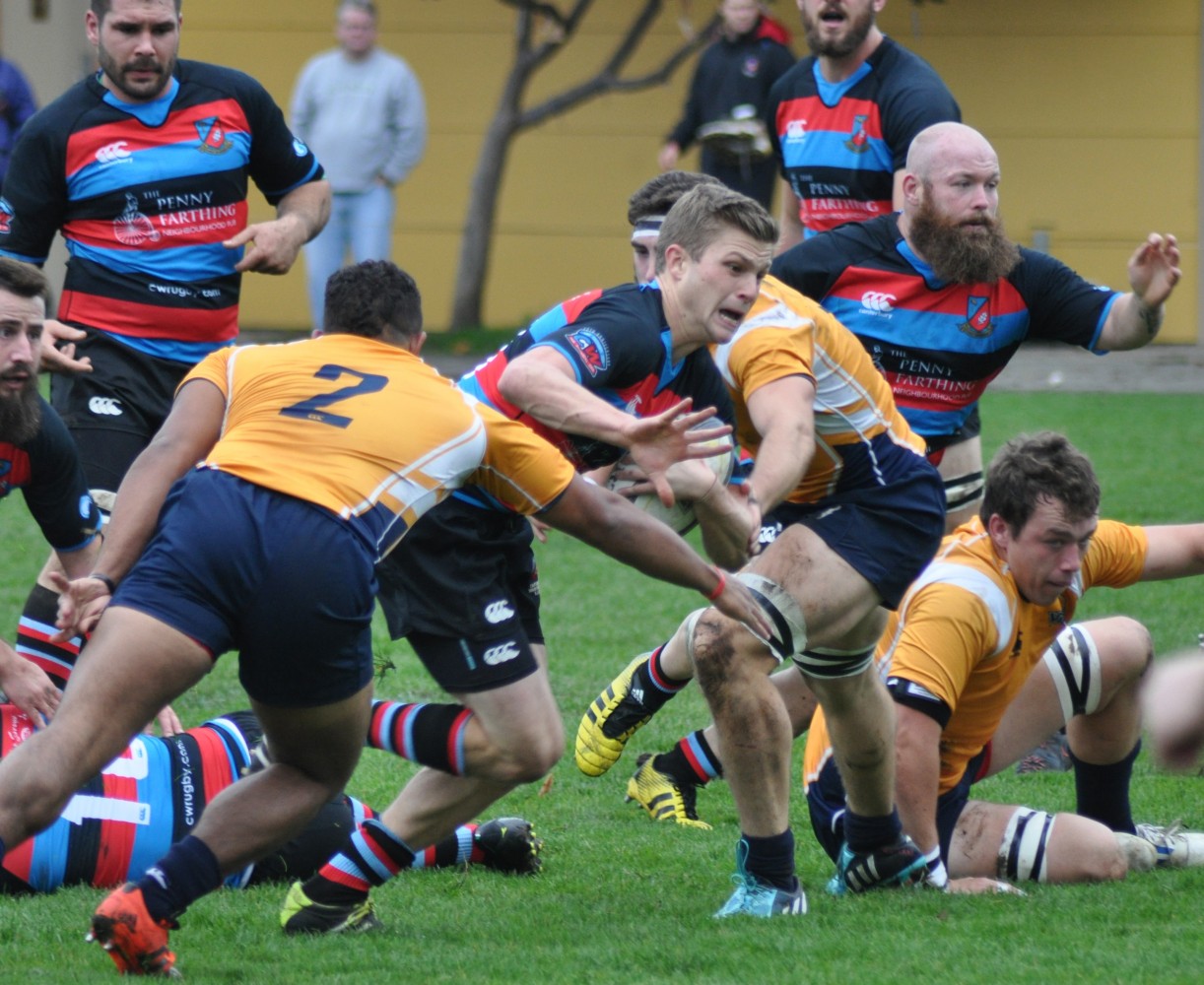 Three hours and change later, fifteen tries had been witnessed by fans last Saturday at The Park when UVic visited CW. The curtain-raiser was an entertaining, well-played and skilled contest. CW earned a bonus point in their 24 – 17 loss, a match which they might have won as they led 17 – 14 late in the contest.
It was a pair of last year's CW U18, BC Championship side – Carter White and Brennig Prevost who were the thorn in the side, White crossing for the opening try and Prevost adding seven points with the boot to enable the Norse to leap-frog CW in the standings. It took twenty minutes before the Norse breached the defense for White's tally. Some seven minutes later, winger, Newman added to that for a 14 – 0 lead. It was not until very late in the half that the CW forwards finally got going, led by Baird, Adams and Turner. After sustained pressure and retention, they were rewarded when the Captain, Pearson burrowed his way over the line, 14 – 7 at the interval.
The second stanza had ten minutes on the clock when Baird scored after a good period of defence and then possession, to tie the score. A penalty was added by Gerhardt who had a solid game on this day, to put the hosts on top. UVic seemed to realise what had happened and with some fresh legs had CW under the cosh with possession and position for a long period only to be repelled with committed defence. When the dam broke it was all too easy, from a set scrum, the ball was quickly moved wide for the winger to break through for the simplest of tallies. Prevost goaled from the sideline and with little time left, the Norse were not about to let up. A late penalty was added for the exclamation mark.
For Ceedub, Baird, Turner on debut, Pearson, Carroll, Schellie, Hickman, Winser and Gerhardt were all worth their salt on this day, not that others played poorly, these players seemed to stand out. It was a slow start, something I am sure was regretted post-match but to the victors go the spoils. The Tricolour performance was consistent with recent efforts. They seem so close to really clicking and once the pack got going they were good value, so better luck next time for The Ones.
The Prems match was only seven minutes old when Styles deservedly scored after initiating the attack with a clever grubber to break the line, snagged by Scholtzie and fed back. Six quick recycles later, Styles found himself with a gap from quick ball, 7 – 0. A mere three minutes later, Dalsin fed three quick outs and then found himself with a space as wide as the bridge, a dummy and fifteen yard scamper and it was 14 – 0. The parade continued after a good switch of play and the ball went to Horton who probed and (possibly?) knocked the ball on, Braddock was the alert recipient and it was 19 – 0. UVic managed some territorial advantage and was rewarded with a penalty, 19 – 3. About twenty five minutes had elapsed when Fraser drove from a going-ahead set scrum, at the break down Dalsin fed blind to Barkwill for the easiest of tallies, 26 – 3. The success to this point had been based on consolidated ball (and plenty of it), good choices, hit ups when necessary and quick feeds for the backs to probe the defence. From the k.o. it was a huge break by Morris and it looked like more on the board but things fizzled and the resilient Vikes, picking up the pace, were rewarded with a penalty. A quick tap and the ball was moved alertly to Kaay and the defence found themselves with too little too late, 26 – 8. Both Styles and Scholtz got close again, as it was all CW. Dobrofsky, an unheralded kicker for this pundit added a trey, to bring down the first half curtain at 29 – 8, probably as good a forty minutes of error-free football witnessed at The Park since the efforts of the 2011 side.
It was a game of two halves and very early, Hammond made a nice break and fed to Tate when he was scragged, he made an awkward pop-up only for Pitbaldo to knock-on but this attack was a sign of things to come. Perhaps this alerted CW and it was Dalsin again who made a useful break from his own forty meter mark, quick ball got to Ngongo, on a great line and he shimmied and sped, beating five tacklers as he traversed the fifty meters to the line, unfortunately, turning an ankle in the process. The Vikes replied with good spirit and never-say-die attitude, retaining possession for a number of phases before replacement, Macbryan Bos crossed, 36 – 15. It was Hammond again, with a run of his own and then putting Hall away for a close call. With about twenty minutes left, Polson who was noticeable, added the tenth phase and Dalsin gave a quick feed to Styles, back inside to Evans, a replacement, who was unstoppable, 43 – 15.
Play became disjointed for CW with liberal subs but not to discredit UVic who erupted with a trio of nifty tallies to end the affair. Schellie looked like he might have been away only not to get the advantaged play call and then CW lost a ball in what looked like a good driving maul and two UVic subs combined to finish a 70 meter movement and with about eight on the clock, closed it to, 43 – 22. Tate to Hall got the next one started with about five minutes remaining and from the lineout, aided by some "lazy" CW defence, Cooper found his way over the line and it was 43 – 27, with a little unease on the balcony as to how much injury time would be adjudicated! CW did consolidate however turned the ball over for Tate to work it wide to some flyer (remained unidentified) who went sixty meters for the final authority, a bonus point in a bloody good effort! The last fifteen minutes will be analysed closely by the coaching staff of CW, for the bench was of quality but the work rate noticeably dropped and it was all too casual for this fan's liking.
This was an entertaining match with the result fortunately in the bag before the students were allowed their way. I thought for the Vikes, Shota put in an honest 'arvo', Liam Chisholm was very noticeable in his minutes, back after injury, Ollie Nott and Jeff Nishima (again) were all obvious in the forwards. Hammond and Kaay were the pick of the backs although both Tate and Hall played well against their old club. There were many good performers for The Tricolours, particularly in those early minutes. Wooldridge played probably his best game, although a couple of passes could have been honed! Polson, Dobrofsky and Morris were also outstanding, with J.Mo, slotting into the seven spot with increasing comfort and his improved fitness, enabled him to see out the end. The Dalsin-Styles combo was very dangerous and had the better of their opponents, Scholtzie worked hard on both "O" and "D" and Kiwi Hutton, on debut was not out of place. The bonus point win almost makes it a mathematical certainty for a spot in the Barnard Cup but there is still hope for The Vikes. Next up for Ceedub - at home again with a "quadruple header" next Saturday against James Bay, hopefully, with a full contingent and a more alert bench! Thanks to the afternoon's officials and players from both clubs for an entertaining afternoon of rugby at The House of Windsor.
POSTSCRIPT: Absence in Seattle! B.C. Premier Women's Champs had to forfeit their opener to the Sarries in Seattle on Saturday – not a good way to start defence of the title in one's opening league match. I am sure there are reasons but the optics are not good. Go, CW!
---