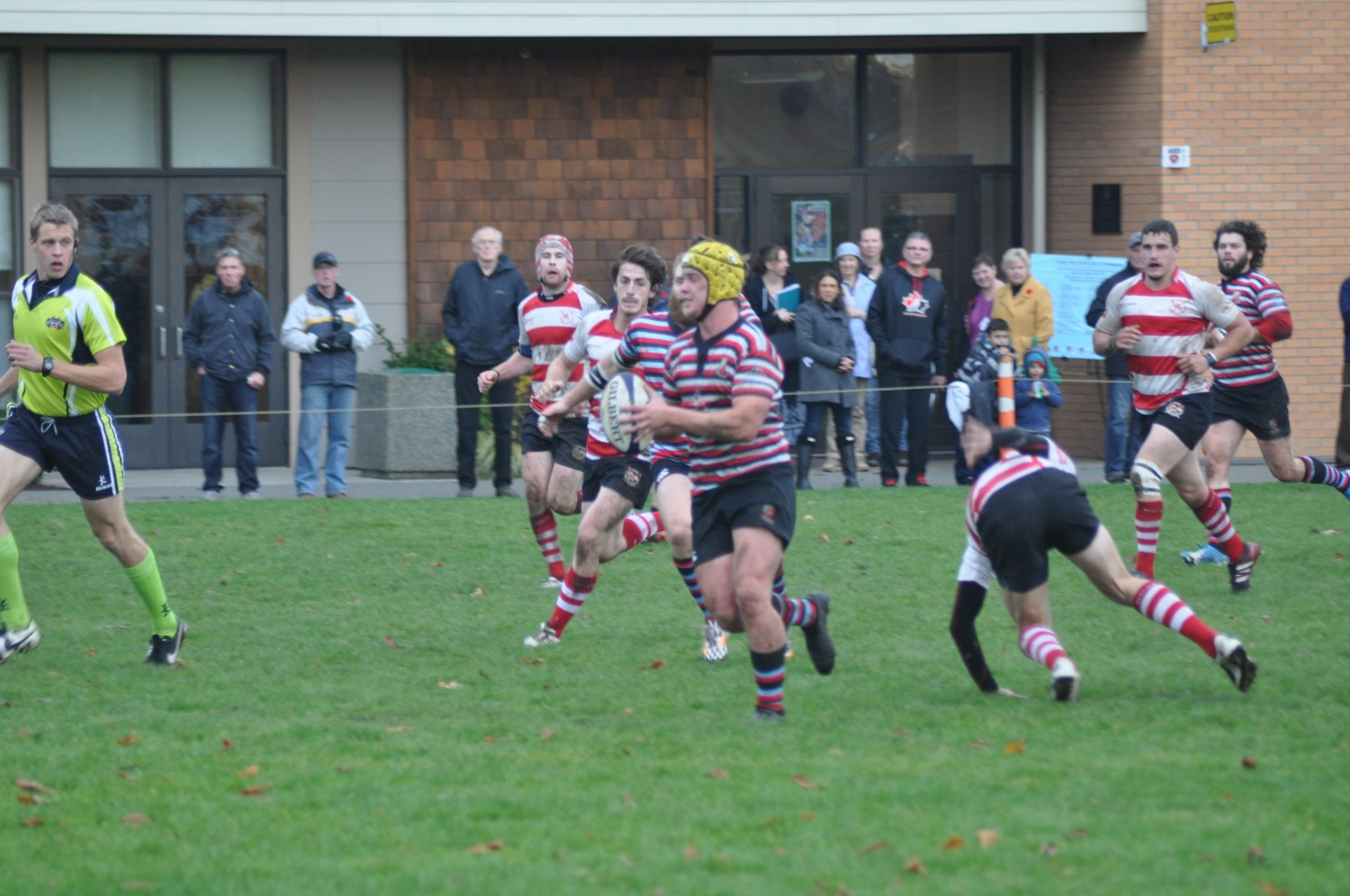 CW Women open the day @ 11:30 a.m. against visiting SFU. The Visitors do not have a stellar record however, the Hosts will be missing six women at the NSWT's XV's Camp and nothing is a "given" in our game. CW will be deservedly led by youngster, Laura Crow-Hutchon and Kara Galbraith, Stef Hansen, Lauren Sargent will be part of her youthful cohort. The forward play will rely on the experience and effort of Shaw, Harvey and Schigas. This being said, this pundit rates the real one to watch will be #9, Jess Neilson. Jess has progressed from CW Minis to C.U.A.A.A.'s, Varsity Rookie-of-the-Year to coming back 'home' to round out her season. This lady is a superb athlete and rugby player. Prediction – CW, bonus point "W".
"You've come a long way, girl!"










Men's Action
Both games promise to be very close contests based on season's results to date. In The Ones, VCR is 1 – 5 with seven points and CW is 1 – 4 with five points. This will be an occasion for the hosts to get out of the cellar and bring some fruit for recent their labours. Much will depend on the leadership of Kiel Horan, Brian Kim, Sammy Stephenson, Brendan Carroll, Jedd Alexander and Fletcher Evans. A toughie to predict, but I will go with a 'Home' win.

Premier action will be another tough pick with both squads having similar records – VCR 1 – 5 @ six points and CW 1 – 4 @ five points. VCR was put to the sword against UBC last outing, however, they did manage 24 points. Prior to that, they pushed Caps to a 14 – 15 result and managed a close one against Ravens, 11 – 17. On paper, The Visitors look like having an edge. To boot, their visits to The House of Windsor have been kind, witness their last score-line, 25 – 17. This should never be and we predict, Ilnicki and Co. will get the job done tomorrow. It will be a close score-line, so no prediction of point differential. CW are fielding their "best available"; so let's get behind The Lads and Ladies…..a full verandah and go, Ceedub!


---