Triple-Header at Westshore
---
---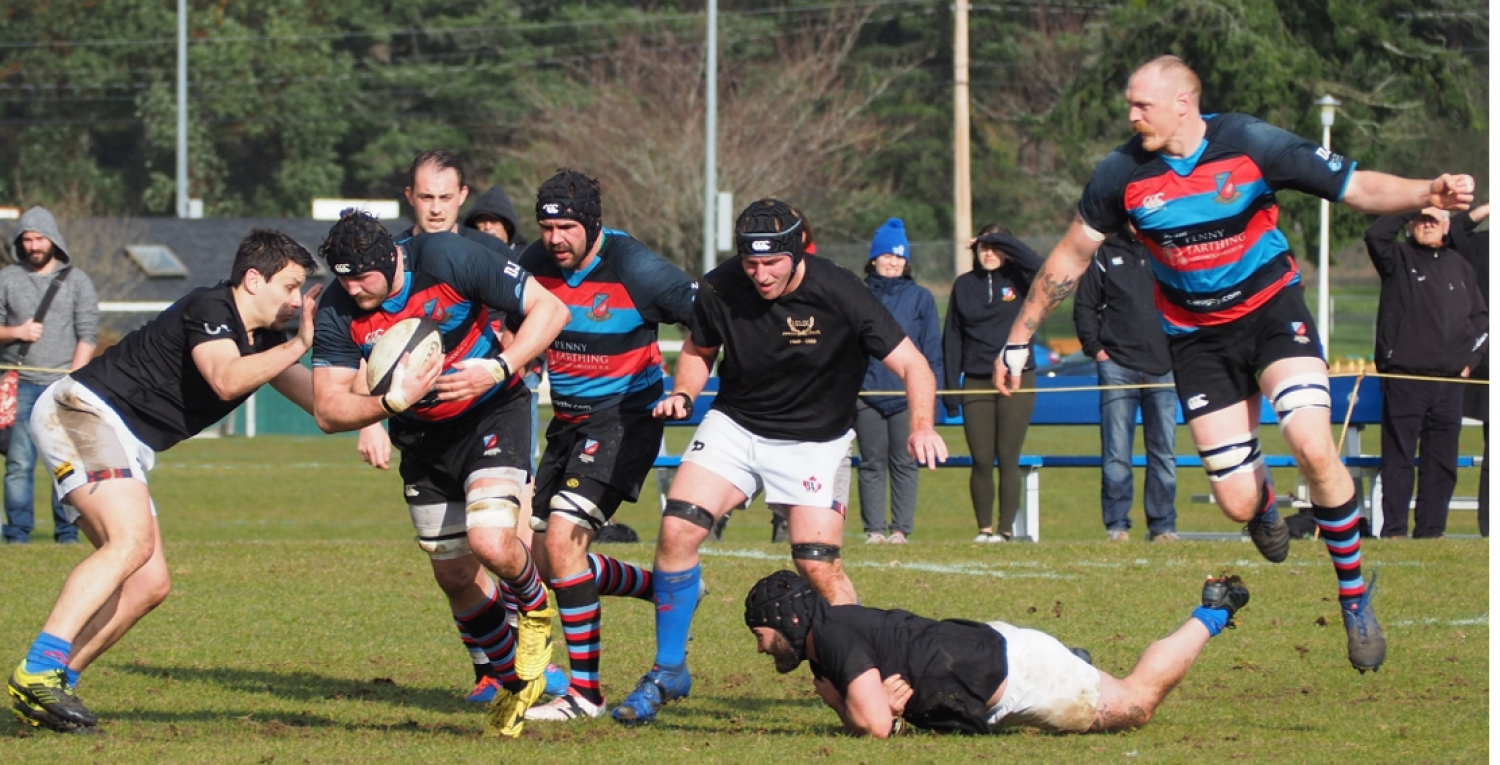 Finnie on the rampage.
Overheard at training last night, from Captain Chiz; "Don't take this game lightly, Westshore always shows up to play us!" Truer words could not be said, no matter what the respective records of the Premier teams are to date. Today we will just touch briefly on the team composition of CW. The last meeting between these two teams resulted in a CW win and the Barnard Cup. The resistance was strong for a long time in this match and of course, the Home field advantage and forecast inclement weather will both be factors stiffening the resolve of the holders of the Gerwing Shield.
CW has made some changes since last outing. In the forwards, Finnemore starts at #8 with no sign of Sanderson. The later has been playing so well, it can only be imagined there is injury involved. Otherwise, it is a seasoned combination that will lay down the gauntlet. It is the backs that see wholesale changes from last outing. 'The Director', Schelly gets the start at #9, a first for some time and knowing this bringer of chaos, one can be sure he is relishing this opportunity. Jordan Tait will face his old club in the #10 slot after being moved from fullback, and it remains to be seen if he will bring the same stamp exhibited by Bowd. Kyle White gets the upgrade from his last outing with the Divvies when he stood out in the centers, big, strong, fast, and skilled, I predict he will be noticeable. His partner, Dan Griffiths has been solid all season and that will not change this week. Harry Elliott returns to the fullback spot, a position where he was starting to show real promise prior to his warming the bench these past two games. Given their last outing, one can bet this group will be switched on for the full eighty minutes! The Divvies have some new faces but will be guided by a pack that has shown great consistency and solid play.
CW's Premier Women will face a stern test from Westshore, a team, no doubt bolstered by the insertion of Farries, Bermudez and Alarie, National Sevens players. CW's victory at the last minute at last meeting was no doubt, not taken kindly by the VV. This will be a contest well worth making the early trek to watch.
FOOTNOTE: We see former CW-er, Jarvis Dashkewytch on the Westshore wing, a rather surprise sighting to this pundit. Jarvis was a popular and well-grounded CW Age Grade player for several seasons when he earned Provincial and National honours. He was on the wing for UVic when they won the Gerwing Shield in its initial contest.
---