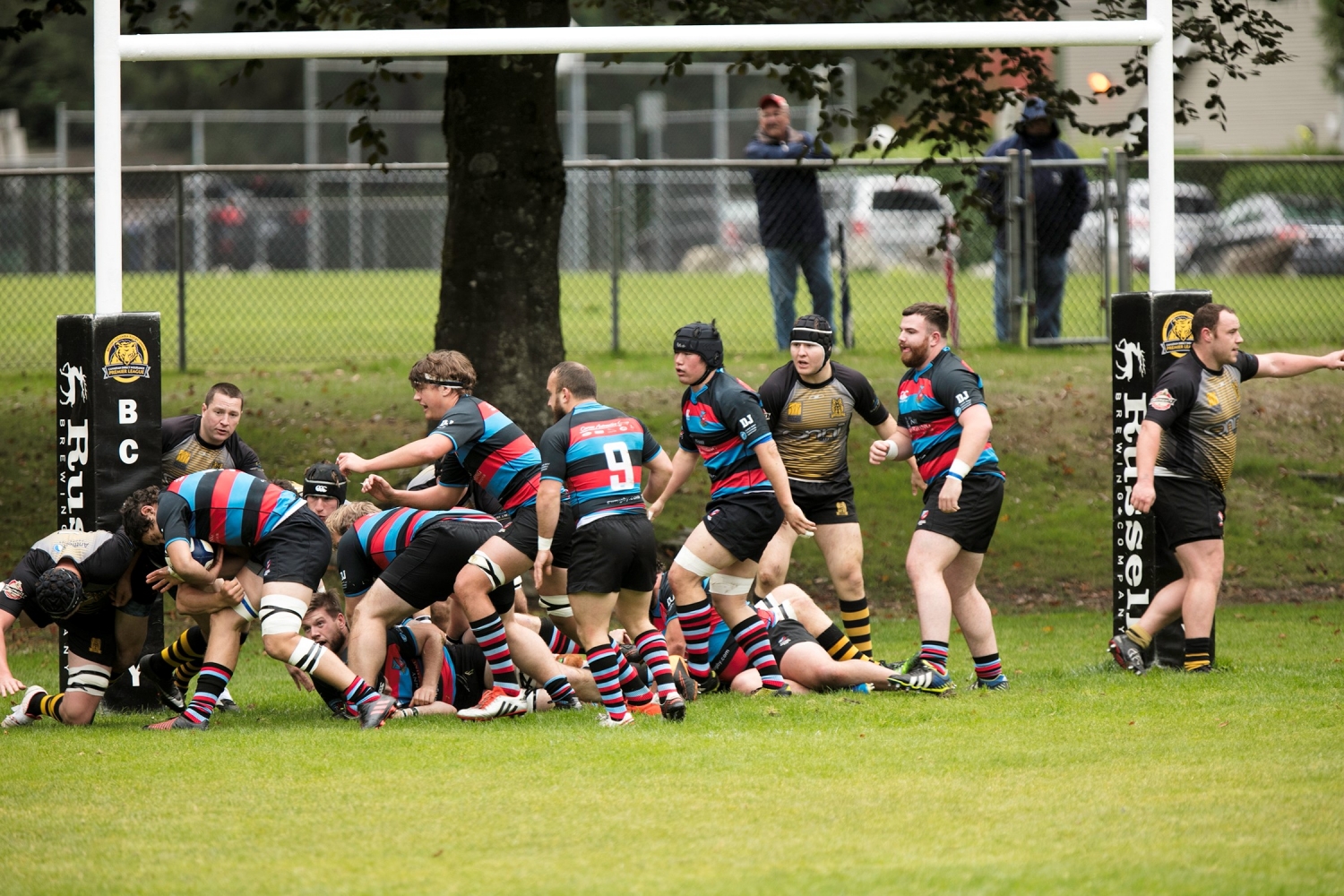 Friday night text to the coach from Will Knott; "sorry coach, got a dose of Away-Game flu and can't make it!" Saturday morning at the terminal; "Joe Bloggs just texted and he can't play today!" Enough said.
This pundit was treated to a smorgasbord of rugby at Klahanie Park yesterday. I opted for the Premier Women first half – bad choice. Caps opened early from a bunch of willing and organised runners and continued often. The parade looked like it would be a long day for CW. The hearts were big but the Physicality Dept. was proving to be a mismatch. Captain, Tash Louckes, Olivia Donald, Caroline O'Keefe, Marlene Nedved and Lizzie Adams were noted for their resistance. The size difference compounded CW errors. The first half finished at a point per minute vs few territorial forays into Caps territory. I left to watch the Men's Reserves.
The women went on to offer stiff resistance, compose a number of forays, being held up over the line on two occasions and the scoring rate was reduced significantly. Hats off to Nicole Shaver and Dawson Germain, deemed Players-of-the-Match by their opponents. Bouquets to Caps – a polished display. FRF – Nevenne Hammond, Captain, Melissa Robinson, Gillian Boag, Lindsay Nicholson, Jacklyn Simington and Julie Davidson stood out for me. Good to see Jess on the sidelines and her half-time adjustments proved fruitful. The women can hold their heads up with an A for effort.
Reserve Men: 10 – 10 at the half, highlighted by a blocked conversion attempt from in front, by CW's, "Coop" Turchet, debatably, to be the winning factor at the end of the day, 'onya, Coops. The second stanza opened in lively fashion. It was Haydn Evans who crashed over after good lead-up which earned a tap penalty, 17 – 10. Not long after, Lorimer broke through a gap, shimmied, put on a nice move on the fullback to complete a good, fifty meter effort, 24 – 10. With the match well in hand, things began to unravel. Evans came off under concussion protocol, then it was Damon Adams, red-carded for some indelicate use of his leather. Caps found some attacking life and a natty chip and chase resulted in a try. This was followed by a successful penalty and it was 24 – 18 with ample time. Caps were met with resistance before flanker, Scott, on a reverse, got the ball close. A series of pick and drives saw the line in sight. Continued possession resulted in try in the corner, 24 – 23. A CW win and two Capilano bonus points. The coaches felt the Reserves lost opportunities for a couple more first half tries.
I liked Fowler, Dawes, the Ford – Tate link, Windsor and Lorimer, in the action I observed. Hats off to Angus Boyd-Porter and Neil Fowler, adjudged CW Men-of-the-Match. In a severe prop shortage, how can we not praise Heppy with his solid eighty minutes? News arrived with the arrival of the Islanders from Brockton, of a 52 – 14 loss but far from a lost cause.
Finally, the main game. On paper, Caps looked solid enough with a young line-up, although tight-head prop, Courtney, was still absent due to injury. CW opened with massive energy, driving forward and earning two penalties. Then a forceful scrum shunt earned the third penalty. From the ensuing lineout, there were probably ten or so recycles, Hohert being prominent. Fraser had a slice and from the ruck, quick service saw Pullin dummy and walk in for the easy opening score. This was a portent of things to come. CW's FRF was relishing the going and in return, Zaruba showed some stuff, bumping, grinding and fending for yards. Next it was Fraser who broke, from the ruck, DiNardo speedily fed Pullin who 'diagonalled' for Logan (take note, Ice), to pick out of the air and show clean heels over 40m, 14 – 0 after fifteen minutes. Although a large Caps pack was being matched in the Physicality Dept., they were the next to strike. A good Cap lineout drive of some 15 – 20 m, saw Weyell dive over, 14 – 7.
One had a sense that the next team to score could put their mark firmly on the final result. Play ebbed and flowed with Zaruba, although notable, not used to his maximum potential. Schellie was tested and Caps, Karius made good ground. When Caps turned ball over, a fingertip pass went to Adibe, on to Logan who made 20m. Quick ball from the ensuing ruck came to Stewart, featuring prominently, on to Pullin for a quality finish and 21 – 7 lead. Pullin and Fraser switching roles, mixed the attack and a competent defensive line was causing all kinds of Capilano errors. Caps' Rogers, made a nice break which came to naught. Patient build-up by CW almost put Keta away; not to be. Caps won a defensive lineout but confusion in the three-quarters saw CW snag ball, through four pairs of hands and Logan was in on the overlap and a 26 – 7 half-time margin.
The second half started with CW putting a throttle on the game. Schellie and Adibe made ground then CW stole a lineout. DiNardo provided yet another wide pass, Adibe broke the tackle and Fraser went 20m for a 31 – 7 lead. The rest of the half was more of the same, with tries from Pullin (or was it Stewart?), Keta and Adibe. Glenn McKinnon was rewarded for his toil on the final play, crossing in the corner, 52 – 14. Tate and Mortimer had good minutes in the late going and Schellie moved to #9. This concludes the narrative!
Not much joy for Caps, a very different team to those we became used to under Larisch's tutelage. McKinnon, all heart didn't get much support but he can often be adjudged to be doing too much by himself. As usual, #9, Chris Robinson, played an honest eighty.
One had to dig deep into the memory bank to recall a CW performance that matched this one for sheer brilliance. There can be no shortage of accolades on this day. Firstly, it was rugby that was a joy to behold by supporters of both teams. The speed and precision of execution opened gaps aplenty and good vision allowed willing runners ample opportunities. It all started with the Front Row Fraternity where Braddock gets my vote. The locks more than held up, Hohert being stellar and Yama winning the Players' Hard Hat. Stewart's poise, leadership and talent was the pick of a lively trio of loosies. Every one of the backs had their moments of brilliance, starting with Schellie, 'boot-lacing' big unit, Zaruba on two occasions to DiNardo at #9, setting the machine a-fire with a great exhibition of service. The remainder bagged all eight tries and this speaks for itself! I really liked Logan's work rate and Mike Adibe was awarded M-o-M, along with Nathan Stewart.
I must give all three of today's officials, heaps of praise for jobs well done. Thank you. The Tricolours host the Hornets at the House of Windsor next Saturday.
(P.S. Thanks to Caps',
Andrew Klaver
for today's photos.)
---