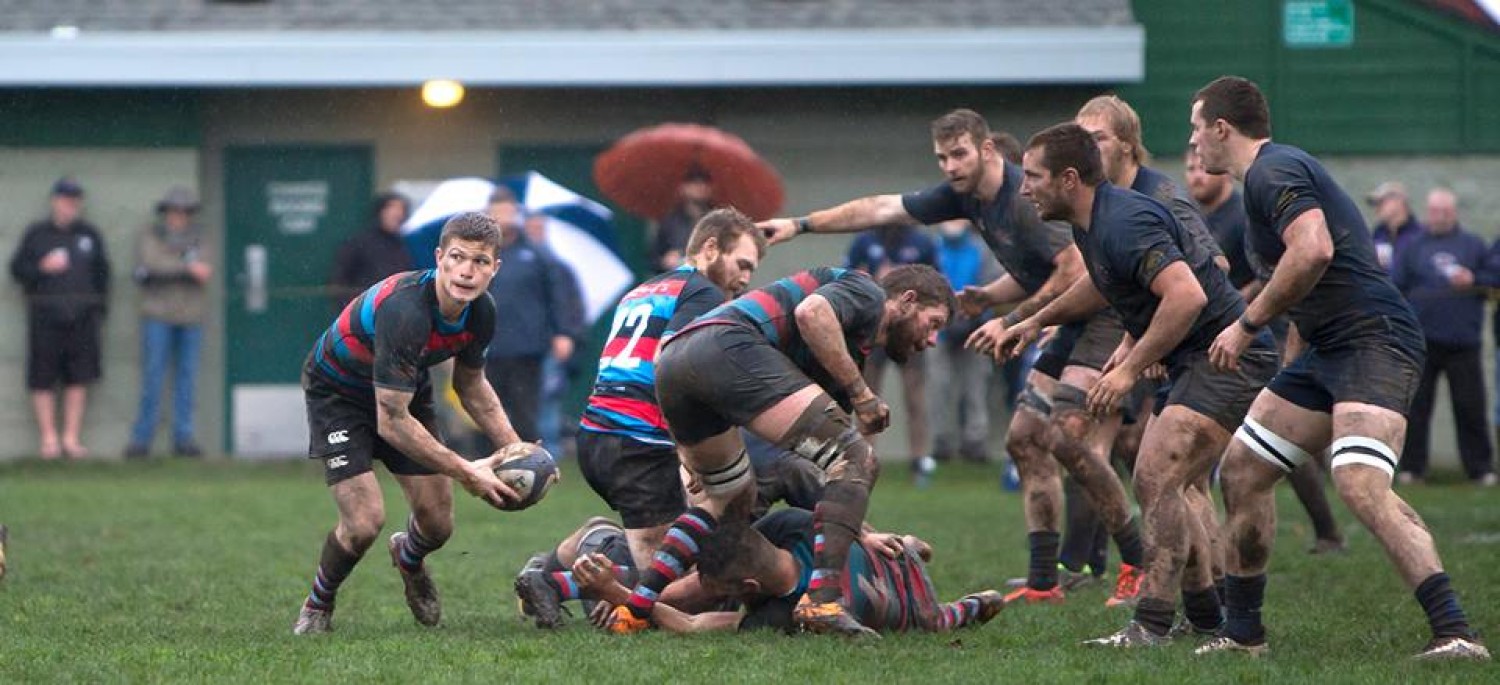 When it was all done and dusted, CW came away from MacDonald still sporting a bagel against James Bay from the three encounters so far this season in Premier play. It was a day that only the staunchest of rugby fans might want to brave to watch these storied clubs do battle. Perhaps it was ominous when CW lost their first scrum or perhaps not, however James Bay started strongly, aided by steady service and enthusiastic carrying from Shupe, Barker, Keith, Wakefield and McAuley. Likewise for CW, Stewart, Turner, Polson, Woolridge, Thornber and Dobravsky responded. When CW did get some possession it was aimlessly kicked away, not a prudent tactic on this day, designed specifically for the piano movers. Well into the half James Bay booted ball downfield and slow decision-making proved to put CW under an inordinate amount of pressure which they were unable to clear from. Two set scrums, many retentions and another errant kick later and the ball got into the hands of sizeable center (#12?) who proved unstoppable from the ruck, 5 – 0 Hosts. The tally being deserved by dint of error free rugby and accurate retention for lengthy phases in the slippery conditions. CW seemed to have its pack going well as play resumed, only to be thwarted with poor execution in the backs. It was 25 minutes or so into the half before Dobravsky worked it down into the red zone on CW's first visit and it may have seemed that an advantage was missed with an arguably "cynical" knock-on, as the ball became very difficult to handle. Dalsin was next to make something out of nothing and as a promising attack looked to be mounted, yet another indiscriminate kick, saw the ball returned with interest by James Bay, some seventy meters back downfield, as the half came to an end. There will be some flinching if the video is viewed collectively at The Temple. Must credit Polson with some very good lineout work, Thornber, who always brings his best against the Bays and Woolridge who just worked and worked in the first forty.
Conditions seemed to worsen as the second half commenced. On the CW side a number of changes were necessary for whatever the reason and despite JBAA looking dangerous with ball in hand, particularly, #8, McAuley a good sized lad, it was CW that drew first blood to get the score to 5 – 3. JBAA tested the waters again, driving a line-out maul some thirty meters but despite this ploy, Polson was almost "automatic" with CW lineout ball and Ngongo, Thornber and Woolridge all chimed in to make ground and it must also be added that Nathan Stewart was having a very visible (no pun) match as well. The efforts were rewarded around the mid-mark, only to have the 35 meter penalty go marginally wide, this being after an earlier far lengthier attempt that had also failed to find the mark. It was James Bay's turn to get the upper hand, momentum flowing back and forth in the second stanza, when White made a shifty break, eventually leading to a James Bay lineout from which their "patented" driving maul by all fifteen, saw Johnson get the credit – deservedly so, for he did play well on this day. This ploy proves to be very difficult to stop without incurring a penalty and the skills to do that really need to be acquired as it is an attacking force. 12 – 3, with the convert proving to provide the winning edge. CW did not let up, a positive feature from the side this year and the big men, Braddock, Turner (who seemed tireless), and Sponarski all contributed and who else but 'Burger' was to break the line for a thirty meter ramble. These gains ably orchestrated by Dalsin, eventually earned a penalty and yet again, churning ahead came Polson, Braddock and Thornber with Braddock eventually crossing under a mass of bodies. At 12 – 10, The Tricolour kept coming but it was too little, too late and thirty unidentifiable rugby players wearily shook hands with respect for each other and the battle that had taken place.
Huge thanks to Chris Assmus, M-i-M for his handling of a game that is always a pressure cooker with the conditions today not being of any assist. This man simply does a very good job every time out, facilitating play and his banter with players (perhaps superfluous on some occasions), sets a calmer atmosphere for the contest. The prediction was CW by a slim margin, perhaps JBAA's slim margin did represent the accuracy of the day. These two have one more slash at it in the Barnard Cup and hopefully, the weather will cooperate to see what the backs are capable of in that one. For today, it was the James Bay pack that really carried the day for the team, it being difficult to sort out individuals as I am sure that is the way they would have it, with no shirkers. In the backs, Freckleton's service to White enabled him the time to kick prudently, pass or run, often linking back up with his forwards. Jordan Wilson Ross constantly looked for work and the big center (#12), did his job well.
For CW it seemed like the tactics were all wrong once the ball was out of the control of the forwards. The two packs played each other pretty equal and that is where CW should have focussed their challenge, some #10 ball did call for cut back switches for forwards to earn their ticket but this was not often enough, ball being spread wide or booted, making the big men slog to the next phase. Dalsin, Ngongo were the pick of the backs and Horton did seek work and was aggressive on 'D'. All the backs did their job on defense but there will be some shaking of heads when this one is reviewed. It could well be contributed to some last minute re-shuffling being necessary but everyone should be on the same page after Thursday nights and the game being revisited, mentally, often before kickoff, nothing that Coach Manning has not emphasised, (I am sure). Our boys get one more kick of the can on December 3rd for all the marbles. (Ed. Opinions expressed are purely those of the writer.)
These two clubs also played two other matches yesterday. The 3rd Divvies played at Windsor due to the weather conditions and CW came away with a 24 – 7 victory in reportedly, another enjoyable and well played encounter between these two squads. The Premier match had as its precursor, the First Div. match, one which saw CW take another victory by a score line of 24 – 12. The scoring of their four tries enables them to leapfrog back into fourth position on the league table and a potential playoff spot. Well done, Ones. We bring a brief report from a guest pundit for this one. "CW Ones were full value as was James Bay. It is hard to understand how this JBAA team sits at the bottom of the Div 1 Table. That said, CW came out on top with a score of 24 to JBAA 12. Four tries secured the bonus point on a day when conditions imposed their own will against crossing the line with any flash. Nevertheless, three CW backs crossed for tries and young Douglas Hepp crossed again for one….for Hepper that is two games and two tries back to back. Well done, Heppy. The CW Ones are to be complimented on the way they kept composure in attack as well as on 'D' and how together they worked to free up backs with ball movement and width for three nice tries."
---