Through Tricolour Eyes - The Week in Review
---
---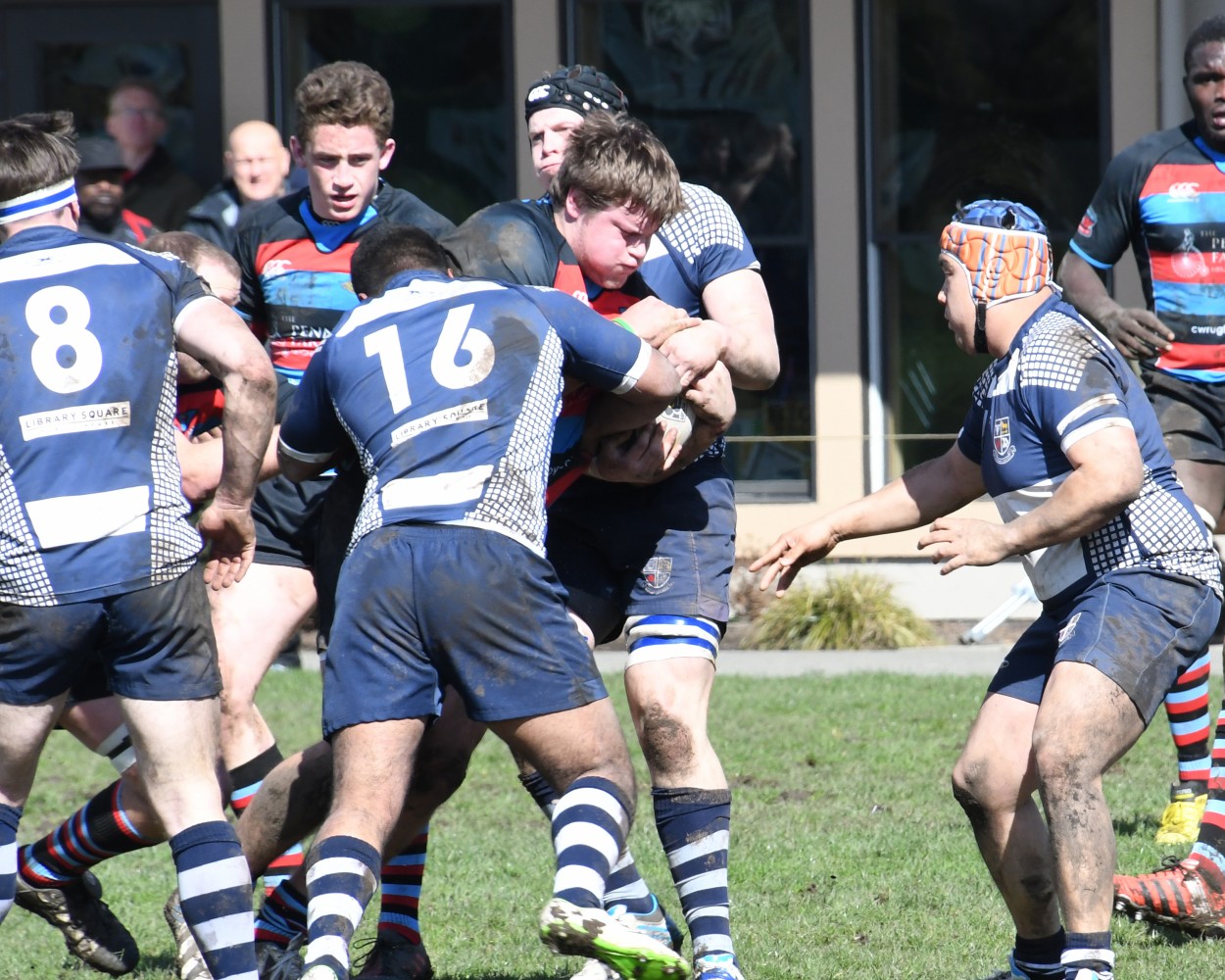 Burnaby Firing on all Cylinders: From the first play of the game, Burnaby shunted a CW "put-in" backwards, took the loose ball and the half back went 45m under the posts and this was a portend of the kind of day it was to be. The second scrum also splintered, resulting in CW hooker, 'BK' Kim going down and leaving the field. Scrummaging was to prove a huge problem all day for CW and hats off to Burnaby, a club that works very hard and takes great pride in this aspect. CW had limited possession but on the odd occasion they got the ball, they managed to retain it and work two valuable tries, small consolation when the opposition scores eight.
The Sage reports that every player gave it their best shot and brings special attention to Doug Hepp who as the senior member on the field, replacing BK early and putting in hard yards throughout, also a shout out to Thomas and Schellenberger who had been called upon early to replace injuries in the Premier contest the previous day. Their play was adjudged to earn them both M-o-M honours by their opponents. Well done, men. 7:00 ferry, wounded troops and wounded pride but upon reflection, a season of honor. Best of luck to the two combatants in the final, The Lakers Vs Norsemen, it should be a cracker.
Ed. Apologies to Mike (Bogie) Stewart, omitted in dispatches of thanks on Monday. Bogie has transitioned from Spicer's leadership for many years (eons) with field set-up. How I could have omitted is BAD, Bog's – a pint next up and thanks for taking on this thankless task, not to mention, donation gathering from those who seek to avoid Peter K by lurking in on the 'far side'!
This site is delighted to congratulate four of our Women Premier players who have been selected for Canada's NSWT XV's tour to NZ where they will play the hosts, England and Australia in 'exhibition' games prior to the Women's RWC in Ireland in August. Julia Zussman (#15), Brittany Waters (center), Karen Paquin (flanker) and Olivia De Merchant (prop) have been named to the team which includes a number of other V.I. Premier players.
Coach Rattier comments; "It's important to play the top teams before we go to the Women's Rugby World Cup. Also, New Zealand is the best place to continue our team bonding. Rugby is a religion there and it's important for the players who have never been there to be exposed to their culture."

Canada, who is ranked No. 3 in the world, will face top-ranked New Zealand on June 9 before facing No.2 ranked England on June 13. They will conclude their tour on June 17 against Australia who are ranked No. 6. Four day "rests" between games will be a very real test of depth and stamina. Canada will face the Black Ferns in the pool stages of the Women's Rugby World Cup, along with Hong Kong and Wales in the pool stages.
Coach McGrath has announced his side for the men's penultimate Sevens contest, upcoming in Paris. Adam Zaruba returns to the squad at the expense of CW youngster, Josiah Morra. Luke Bradley, Jared Douglas, Justin Douglas, Mike Fuailefau, Lucas Hammond, Nathan Hirayama, Harry Jones, Isaac Kaay, Pat Kay, Luke McCloskey, John Moonlight and Matt Mullins join Zaruba in Paris as Canada seeks its sixth cup quarterfinal appearance of the season. Hirayama will captain the side.
Canada has been drawn into Pool A where they will face South Africa, Scotland and Japan. Canada is 0-4 against South Africa this season but is 2-1 against Scotland. Canada lost its only match-up with Japan in Sydney.
"We have a tough pool again as there are no easy games on the World Series," McGrath said. "Japan are fighting for their place and Scotland will be looking to get back the form that made them potential title challengers before Xmas. South Africa has been the stand out team even with key players missing through injury. We have had varying degrees of success against them without being able to sustain it through a full game. Our challenge is to match them in all areas of the game."
Last year, McGrath won his first ever cup title as a head coach in Paris as he guided Samoa to a 29-26 win over Fiji. There will be much additional pressure on the guys after their win In Japan, no longer the "outsider", their time will be interrupted with press and teams seeking to knock off the Champ.
With two more tries, Moonlight will become just the third Canadian to register 100 HSBC World Rugby Sevens Series career tries. He is also poised to become just the sixth Canadian to score 500 series points. Fuailefau is 10 points from becoming the 16th Canadian to score 200 series points. Best of luck from CW Rugby.
The Paris Sevens takes places May 13-14 and can be seen LIVE on www.worldrugby.org so mark this in your diary.
Canada's women's U18 head coach Dan Valley, has named a 24-player squad for August's two-game series with the USA. Canada will face the USA on August 1 and 5 at Gee-Gees Field in Ottawa.
"We've selected a very skilled, physically gifted group for our series with the USA," said Valley. "We have five returning athletes from last year's side that we'll be leaning on heavily to set the expectations around both culture and performance.
Ten players are selected from Ontario while another seven are from British Columbia. Alberta has five representatives with Nova Scotia and Saskatchewan each having one player named. Two of B.C.'s seven are from V.I. – Westshore and CW's, Shaye Tudor. Best of luck to this group as well.
---