They Came, They Conquered!
---
---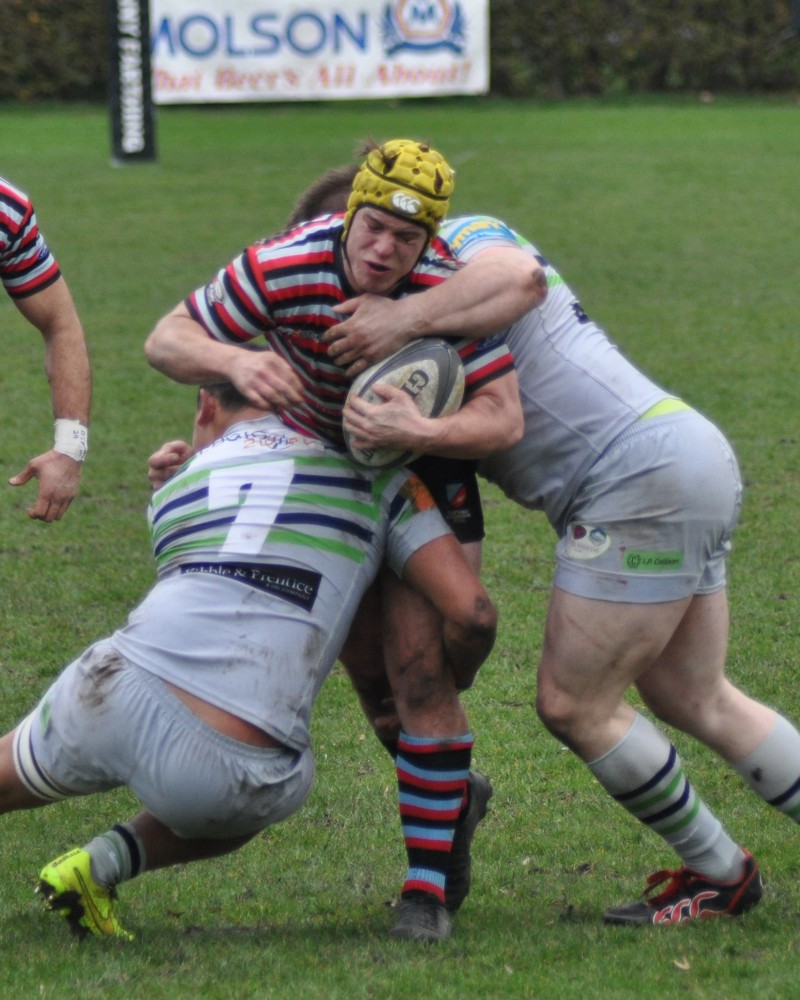 A defensive wall blocks Oliver's progress.
Clubs on the mainland have already seen it but CW was witness to Seattle being the real deal, take this to the bank from a former sceptic regarding their inclusion in the CDI comp – class, on and off the field.
The main game saw a notable swelling of the crowd, fans who might be disappointed with the score line but not the spectacle. Seattle opened with an error. CW reacted with a grubber and lineout thrust from newcomer, Albornoz which could have resulted in an easy score. The visitors settled, teams testing each other in the tight and loose, CW having their way in the sets, led by loose-head Braddock and Seattle setting a pattern with their pick and drives. Early decisions by the M-i-M seemed to leave players unsure as to what the consistency of expectations might be and did not add to the contest. Woolridge barely had time to warm up when he had to leave the contest. Seattle was almost away only to be penalised for shepherding from the back of the ruck and it was 16 minutes when #12 Nick Hawks (??) grubbered through enabling a favourable bounce, he fed his wing and received it back, catching Rocher in a 2 on 1 and crossing for first blood, 7 – 0.
CW worked play back with Daumer featuring. CW splintered a Seattle scrum with Braddock driving Lee Lo, only to be mysteriously penalised but this was followed by pressure with a good 15m forward drive from the hosts and from a subsequent set, a penalty was converted around twenty minutes, 3 – 7. Horton again obliged about five minutes later following a good effort from Oliver, 6 – 7. It was disappointing to see CW passes go to ground with opportunities begging and the game ebbed back and forth with no real dominance gained, although the visitor's centers – both big units were a cause for concern. CW missed an opportunity when a penalty skirted wide. CW pinched a Seattle lineout and drove a long way but nothing came of it. The half finished with CW's chances not capitalized on and there were a number, however, solid defense by Seattle deserves mention.
Seattle opened the second half with vigour, when #9, Motokana made a huge break, blindside. Seattle stayed on the front foot, despite being splintered in the front row, they miraculously won a tight-head scrum, resulting in a CW penalty at the breakdown. The tap penalty saw what could be described as a "soft" try and 14 – 6 lead. From the kickoff, the ball went deep to #8 who went on a rampaging 50m run, the ruck was won, Suruila saw the opportunity and chucked a huge miss to Stanfill who obliged with the honours and a quick 21 – 6 lead. The game's turn around in ten minutes, five either side of the half, when CW did not score and Seattle scored a brace, was the TSN turning point.
With Seattle now on the front foot, the air out of the balloon, deflating a vocal audience the task of a comeback would be huge. The boys did waken. From the kickoff, yards were gained and Kleebs went blind from an attacking scrum, only for the pass to go awry in the tackle. At 17 minutes Seattle received a red card, perhaps rather heavy-handedly and the loose head prop was marched. CW did take advantage and from a number of sets won from penalties taken, eventually a huge drive, saw Kleeberger break and manage to slip to a very alert Panga for CW's first try, 11 – 21. About half way through, Mitchell took a "man-around" from Kleeberger to feed Henderson, 16 – 21. It was more CW when Panga broke, fed Henderson, inside to Riley Ilnicki (showing up around the park), quick ball from the tackle saw Buydens cross, 21 – 21. Another missed conversion was one of four rather "easy" attempts at goal go astray on the day, nine points that would have been the difference.
Panga, Thornber and Kleeberger tried ever so hard to make a difference in an exciting series of back and forth and when Riley Ilnicki blocked and retrieved a kick, racing some thirty meters towards the line, the 12 TH Men let out an audible sigh when the ball was passed to a white jersey! CW again moved the ball but a final pass to Horton with a huge space open, went to ground, the win went begging. The last five minutes continued to be hectic but the final say came when #13 Rasileka, goose-stepped his way free to feed Eagle winger, Stanfill who had work to do, things did not look good. Stanfill beat three defenders to score a very stylish, winger's brace. CW had sufficient possession in the second half to do the job but the Seattle backs had an edge.
For the visitors who had forwards missing at national team training, those present stood up well, this fan liking a big #8 in particular. #'s 9 & 10 – Motokana and Suruila were very skilled with international experience, giving their big centers great opportunities to use their size and Stanfill was some kind of finisher. Despite good attacking patterns, it was a commitment to a smothering defense that won the day for Seattle, often forcing the attacking flow laterally.
Seattle gave Braddock and Panga MoM's but in my view, the best Tricolor on the park was minis grad, #9, MacPherson. It was a good effort and if a semblance of this pack can be retained, results will improve. Cap off to Thornber (mini grad #2), an active contributor in 11/2 games. Kleeberger is still a very talented player and as his timing returns, he will only get better. Panga at #10 looked to be a good answer to what has been a plaguing question, despite a couple of "experienced" experiments. Oliver, Mitchell and Rocher looked 'small men' on this day but never gave up and Horton was obviously scouted and tightly marked.
A few Bits and Pieces…..
Talking with visiting Kiwi, Bill Smith from Timaru; "…the hands were cold but the balls were correctly inflated".
From the verandah; "Enjoyable game, good effort".
"Congratulations to The Bus, inducted into the Hall of Fame!" (Rogie)
Thanks to the officiating crews for both matches.
Next week, Klahanie and Caps. This was a very close first-round match, 13 - 0, a game many players and spectators thought should have been a W. Caps, led by McKinnon, are always very tough at home, so it will be a stern test to hopefully, break the ice.
---