They Came - They Conquered.
---
---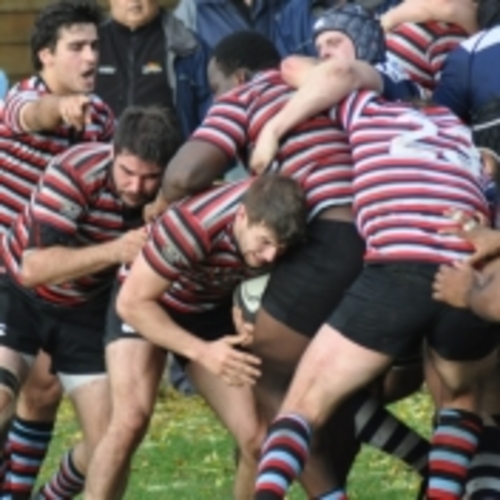 Visiting Burnaby Lake had lots to prove to themselves, rather than the locally assembled sparse crowd, including a large visiting contingent. There was a time when the House of Windsor was an afeared venue. This certainly has not been the case the past two weekends. In the curtain raiser the Visitors had opened a 38 - 0 lead at the half and coasted to a 59 - 14 win. With the exception of Captain, Jacob Lamb and Trent Tabor yet again and glimpses from Riley MacPherson, this one was a clinic for the other guys for the majority of the eighty minutes. It is fair to say that heart and physical effort were noticeably lacking, leaving The Ones in the Ceili's Cellar.
BLRFC is an evolution of the old Vancouver Trojan RFC. It is an amalgum of Kiwis, Fijians, Scots, Bayside RFC and stalwarts. On this day they looked the goods, showing just why they are undefeated in CDI action. Play opened with CW energy when Thomas was caught within the five meters after a clever Watson dummy and break but nothing resulted. Reekie, the Scot, who was a threat all day, returned the yardage with a thirty meter, swerving burst.
Burnaby, with a much larger pack applied the screws, earning a penalty chance (missed), for their efforts. They retained field position and from a set scrum, moved the ball short side through three pairs of hands for winger, Murphy to dot down after fifteen minutes. It was Reekie again, showing his pedigree with an individual "gem" after good ball transfer and it was 10 - 0 for the Visitors. CW did work play downfield but a critical missed touch penalty saw Burnaby quickly move seventy yards back to CW territory, catching the home team offside and the penalty saw Burnaby with a 13 - 0 interval lead. The score line to some may have looked as flattering CW however a good deal of honest effort and heaps of tackling had managed this differential.
The second stanza opened with a flurry of CW action in fact it was some 14/15 CW recycles from a lineout after the kickoff when Buckley scored a well deserved tally. An easy convert was missed. CW came back again with exerted pressure from many willing forward runners and they earned a penalty. This was the TSN Turning Point as a kick to touch was taken, for whatever reason, in lieu of a relatively easy chip shot. The resultant line out was lost! Burnaby dug in and after ten minutes, Dolesau got his first real touch with a step of room, two passes and fifty meters later it was Burnaby knocking on the door.
What followed was a rather amazing CW stance, repelling thrust after thrust and a couple of defensive five meter scrums, eventually earning a penalty and working the ball to reverse the field position. Unfortunately this effort was too easily wasted when the ball was turned over and the Hosts were caught out of position with a clever, Jeff Ryan break down the blind side and a feed to Dolesau for an easy try. This came with only fifteen minutes left in the contest. Following the kickoff, CW won the ball and again forced the issue, only to lose mauled ball to a Kalar breakout and feed to Dolesau and eventually, after this strong defensive effort, there was little gas in the tank and Burnaby sprung Reekie for a 25 - 5 (bonus point) lead. Dolesau followed with his brace after individual brilliance, fending off four would-be tacklers.
From the restart (three in all in the half), CW pushed yet again but lost the ball! Finally, they were fairly rewarded when a solid defensive tackle sprung the ball which went wide and accurately from Buckley to Daume to Morris. Another goal kick was missed, leaving the final tally, Burnaby 30 - CW 10.
---