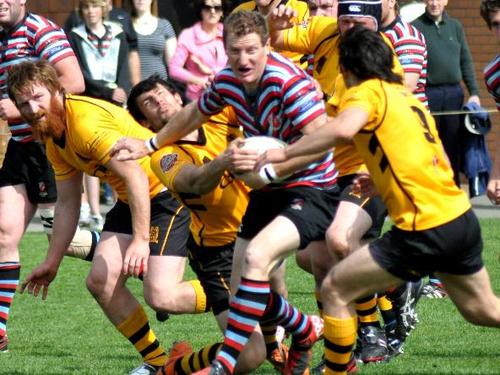 The curtain draws on a very interesting weekend. Firstly, congratulations to the NSMT Sevens, marginally being nutted by Samoa 7 -12 in the Plate Final at Hong Kong. The boys earned 12 MAJOR points, moving up the ladder to ninth place, vaulting the more illustrious 'Poms'. An excellent result, guys and we all had the sense you wanted better still - that's the style.
CW travelled to Capsville with a very "thin" contingent. The Ones were blasted 10 -34 by the #2 team in the Ceili's League....finishing with only fourteen men. Regardless of the scoreline, the boys still hold a good space ahead of #5 on the table and with a couple of Home games to finish, could well jump up to third. There is work to be done.
Head Coach, Hydes, admitted he was very proud of an outstanding effort from the boys who dressed for Prems. Caps are a very accomplished side as defending CDI Champs. With Seale unavailable late, many other glaring absences, Kehoe soldiering on despite a broken hand, the Chaps got to within a dropped ball on the final play and the try line begging of stealing one @ Klahanie. That's the good news. The bad news is that fourth place, Lomas, showed a clean pair of heals, breaking out with a major whipping of Bayside and a "softer" draw to the finish. That being said, anything goes this season and a bonus point upset by the Tricolors may well see the final Home game against Lomas being the decider as to who makes the Playoffs. Lots of water to go under the bridge!
The Mighty Thurds were back in action and pinched one off the visiting Valhallians - a stroke of fortune. 'onya, The Chaplain!
Finally, Mins finshed another EXCELLENT season.....blessings to the coaches and team managers.
Go, CW!
---