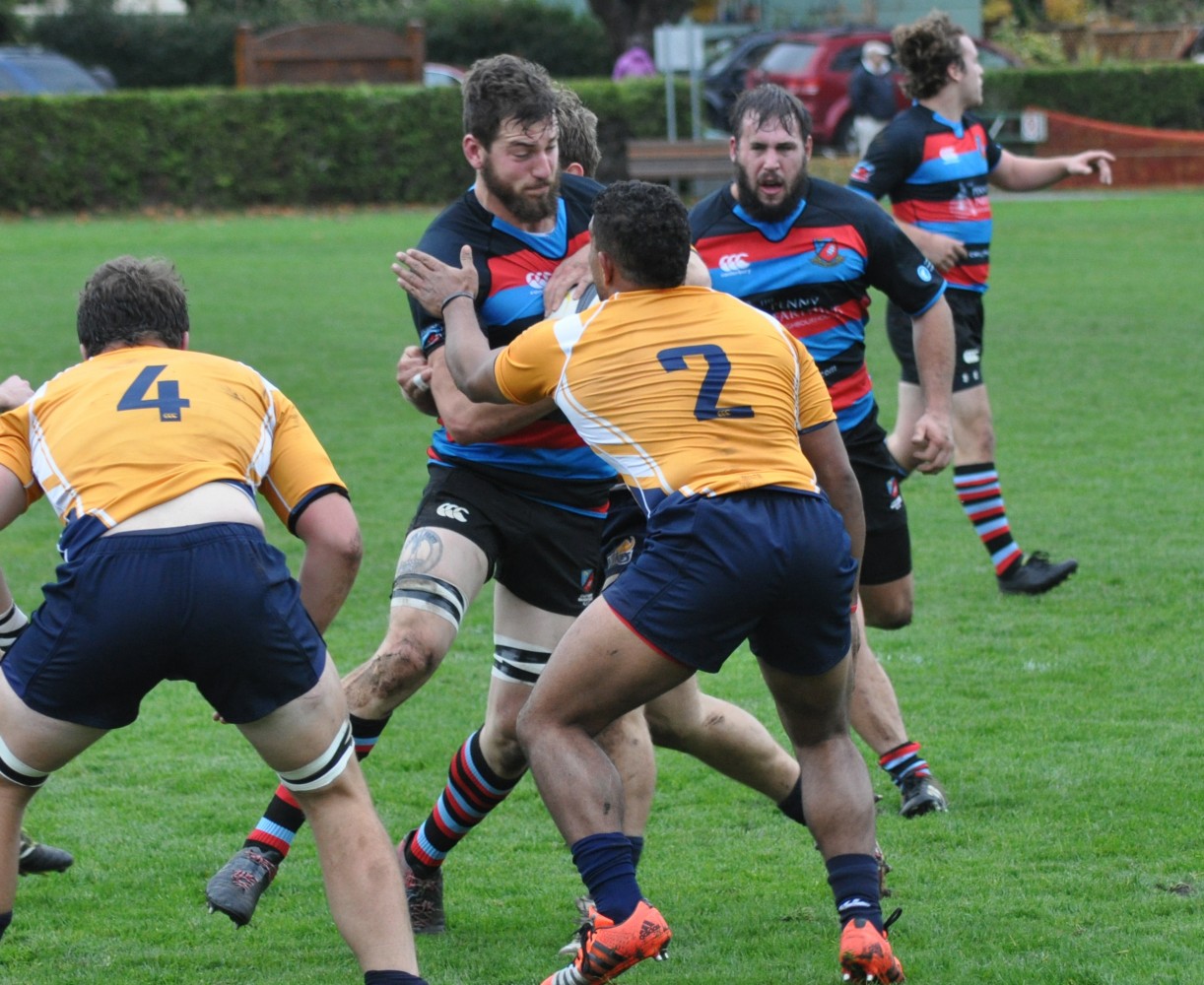 This week we welcome The Sage back for his always, different perspective of the game.
Div One: Tries: Brendan Gerhardt, Kyle Hohert, Marcus Hall and Grant Baird. Goals – Gerhardt – 1 pen., 4 conv.
There were two main story lines in this match. Firstly, a full eighty minutes of battle The Ones are giving each week and secondly, by coming from behind, once again, the leadership factor provided by a host of different players. Twenty-eight unanswered points brought comments from the Norse after the match; "What the hell was all that about?!?" As expected, The Norsemen – skill, pace, well-drilled. CW are an interesting group, young as well, some 18, 19 yr. olds, a good sprinkling of vets and then there is Heppy! The first half saw three tries from the Visitors with some porous defence and lack-lustre attack. (The Ruggernut's dough was in the bag!) Then there was the second stanza! Subs, John Moar and Ben Hutton – difference-makers and Hard Hat to Grant Baird. One hard core, experienced forward shared; "When the final whistle went I almost started crying. I'm not sure why I was so emotional but it was such a tough effort to come back and win." Guess this says it all.
Prems, 25 – UV 20. One objective "visitor" commented; "This was a fine match, very even with skilled players moving the ball up and down the field." T: Matt Kelly, Haydn Evans, and Dustin Dobravsky G: Styles d.g., D.D. conv.
An even match, as witnessed already with the score appropriately close at the half and at the end. Hard fought, physical confrontation with no temper flare ups, giving of their all with respect for the opposition. All this handled admirably by the M-i-M, Andy Foster and the tempo was retained and calls were clear and decisive, keeping players on the field with the final outcome being decided by the players as it should always be. Well done.
Hard Hat Awardee, Haydn Evans, back from the flu and absent from the Prems for a while gave a performance to be remembered. His energy, attitude, rambles off the base of the scrum and lineout play, earned him accolades from all. This will certainly make selections tough, a nice option to have, going forward. It was unique to see an infrequently used skill being used to secure points – two drop goals. This seems somewhat appropriate given the shout out from the site mid-week to Don Burgess. Keaton Styles added CW's trey.
Suffice to say, rather than this or that individual (Haydn exempt, this week!), being the cause for success it is apparent that the lads are buying into a form that is producing success. Both backs and forwards, as a unit and collectively, as a team, are on the same page. There is a game plan, the phases build form basic structure and the whole thing seems to look better each week. It's a Sage "hats off" to the players and coaches. Your efforts are producing results, and we realize what a mighty effort this takes.
Thank you, Sage for these insightful and analytical comments. If you missed the match we offer you video replay. Next up, after the Vancouver (Men's) Sevens next weekend will be Burnaby when they visit the House of Windsor on 18th March. This will be a showdown of mammoth proportions, two undefeated comp leaders, so a real thriller.
A special day as the club remembered and honoured Gerald Steenkamp - R.I.P.
---