'Twas the week before Christmas......
---
---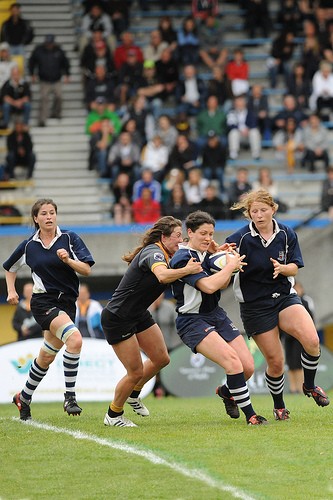 Schnell & Riordan on the attack!
Anna Schnell, coach of CW's Girls program was an elite player on an elite Burnaby Lake Rugby Club squad in her playing days. In her six seasons (2004-2010), Schnell was a dominating force as Burnaby Lake won three provincial championships. She also led B.C. to its first Canadian championship in eight years in 2005.
Schnell has played more than 30 times for Canada including the 2006 and 2010 World Cups. She was the second highest scorer in the 2010 tournament in England with 46 points, losing out on the scoring title by only two points.
BLRFC has announced the induction of Anna to their Rugby Hall of Fame. We at CW are honored to have Anna join our fledging girl's program some three seasons ago. She has worked tirelessly to expand the program, not to mention bringing the very special attributes she has as a coach to our young players. Anna and fellow Burnaby player, Marley Riordan have thrown their hat in with The Tricolors and it is a tribute to them that our program has improved in leaps and bounds. So, Anna, our very special congratulations to you for this recognition.
Footnote – The exchange of players between clubs, pending on where they may end up with jobs, is a unique feature of B.C. women's and men's rugby. CW is very fortunate to have had the likes of Evan Mallory, John Graf and Kyle Gilmour and last but by no means least, to BLRFC, our beloved, Duke of Sooke, to name a few who have gone "back and forth", give their services at Windsor.
To our CW Family and Rugby Enthusiasts,
Consistent with one of the Club and Executive's future visions, the Castaway Wanderers U18 Team are embarking on a UK/World Cup Tour in October 2015. As with any tour, fundraising is an important way to assist in reducing costs to the touring players.

With the second half of the season comes the "rainy season". What better way to stay dry than to sport the CW colours with a supporter umbrella?

Purchase Price: $45.00 with all proceeds going towards the U18 Tour. We thank you for considering this fundraising venture.

Please contact Andy White to arrange for purchase/delivery: [email protected]
Fill the Kettle: CW Board members have volunteered to do Kettle Duty this Sunday at the Pharmasave on Oak Bay Ave., from 10:00 a.m. until 6:00 p.m. The news has reported that giving to the Salvation Army Christmas Appeal has not been as generous so far this year as in the past, whether it`s because we don`t carry cash or whatever. Let`s prove this different on Sunday. Drop by the Kettle on your way to The Penny for a Christmas libation and a Merry Christmas to all.
Book This!
Level 1 Referee`s Course – January 25th., Windsor Park - Registration starts at 8:30, course starts at 9:00 a.m. Course will be over by 4:00 p.m. Open to all players, male and female, U16 up. Participants need to bring lunch, snacks, WHISTLE and be prepared to get a bit muddy. Dress in your "rugby wear" or at least sweats. Even if you end up not refereeing, you will be a better player for the experience. The course will be conducted by VIRRS.
---