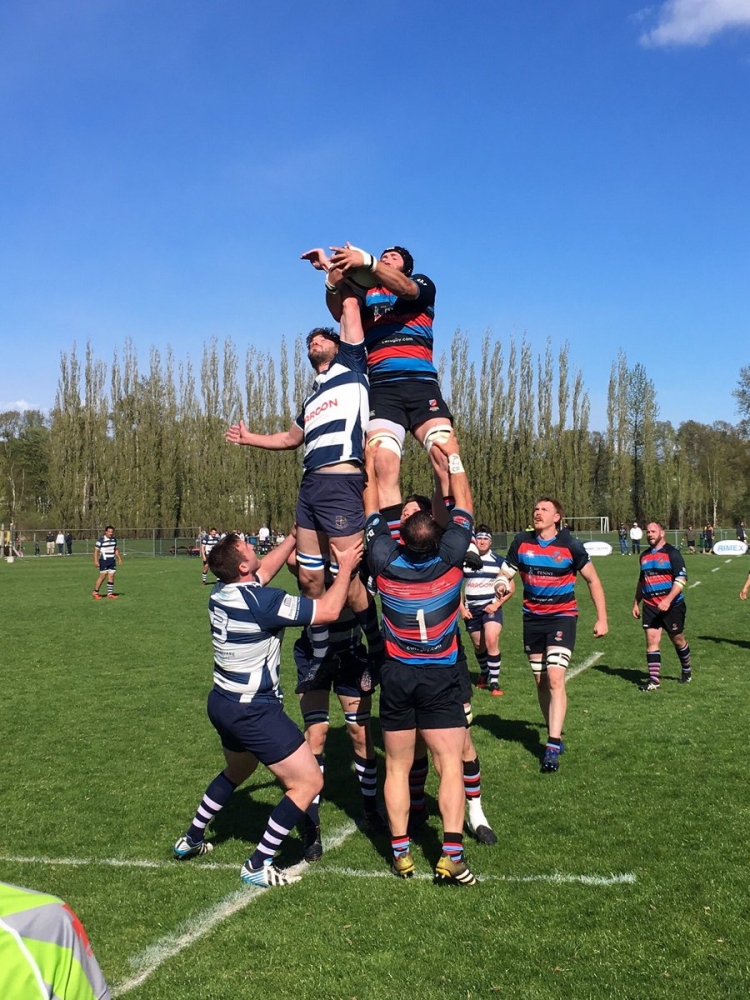 There were many stories on this day, a day when the elements decided to have their say in CW chasing the prize. Despite a horrendous delay and slow crossing, the boys were in good spirits with great craic, putting matters in perspective. As the adage goes; "The devil is in the details". Suffice to say, the details on this day did not go CW's way! Dropped balls from finger-tip passes on a windy day; unbridled, hectic enthusiasm and excitement vs patient and secure build-up and finally, missed tackles added to woes caused by tight Burnaby marking. For the first quarter, CW had field position advantage which they failed to turn into points after a loss of possession or errors. Chiz and Burger had notable charges, only to be thwarted by errors.
At the 23 minute mark, Burnaby received a "yellow" for repeated offside infringements. CW pushed the advantage however a team is only as good as the opposition allows and from yet another dropped ball, Burnaby broke away against the flow and McQueen made hard yards and almost crossed. His mates recycled and Watkins almost cheekily inched over and on the recycle it was Watkins again, this time feeding his Captain, O'Toole who proved to be unstoppable to post first points, 7 – 0. A man short and almost thirty minutes gone. Burnaby, with tails up, attacked, only for Josiah to "pinch" a ball and the battle wobbled in midfield. The next significant incident was Captain Stewart going down for extended repatriation for his ankle with 5/6 minutes to play.
Referee Mason seemed to be having issues with Braddock, in a feisty FRF tussle and Burnaby came back from a Morra/Schelly scamper. Morra again was prevalent looking for his chip to break something but McQueen safely cleared. CW worked play back to the red zone and thence came a massive scrum from Woolridge. Pitblado fed CHall who craftily feinted and dummied, creating space for Bam Bam Bradley to make ten metres and a deserving, tied game, 7 – 7. This scribe thought CW had the edge, possibly even leaving points on the field.
The second stanza opened with forceful play from Burnaby's Hildebrand and TVikilani however, Schelly threatened on the counter only for the ball to be lost. Burnaby's Watkins dummied and was off on a 40m break but the defence held as the Story "heated up". Next it was BL's MacLaine who made a nice run and as both teams exchanged possession, probably in no small means due to the ferocity of the tackles, Burnaby's Paolella got close and the Lakers tightened the screws with a series of retentions only to be repelled. The action was fierce. CW's Dobravsky was deemed to commit a "professional transgression" and after 8/9 gains of mere inches, it was TVikilani who crossed at the ten minute mark, 14 – 7.
Fawcett replaced Braddock as a blood sub however, John was unable to return. Burnaby really asked questions at this stage with the Fijian brothers pairing on a couple of nifty off-loads. A BL knock on saved the day and from the scrum the ball came to Morra but the jig was up and McKeown and MacLaine had him bottled up. Despite this, The Tricolours persisted and with things again showing some promise, the ball was knocked on and a 40m clearance was made. At the mid-point, with Burnaby's defence denying space and time, a scrum occurred where CW's FRF had the upper hand, only for the ball to be bobbled blind-side and the ever alert Watkins, broke a tackle and went, triumphantly 40m for the TSN Turning Point and 21 – 7 lead.
Despite this almost unassailable lead, the character of our boys came to the fore. Dobravsky broke, against the flow to recommence a hopeful spell. Wide ball came from a lineout, CHall to FHall to Schelly to cross, only to be called back for a forward pass. Then a second chance with ball stolen, Schelly making something form nothing and "held up". Finally, Bradley on the crash made hard yards and fed FHall inside, 21 – 14 with ten on the clock. Unknown to the large and vocal supporting group present, twelve points would be scored in this span! CW halted a Burnaby breakout and shakily won a subsequent scrum, only for the ball to go to ground. The ever alert Watkins, grubbered, catching the defenders out of alignment and Munck dived on the loose ball in the end zone, 26 – 14.
It suddenly became "all CW". Such urgency, so late! Sawyer's insertion provided energy and with Burnaby grinding, the defence forced ball to touch. From the lineout fast hands, the surety of which had not been witnessed, saw The Tricolour go the length of the field. Schelly, Stewart, Adibe – never say die, 26 -21. From the re-start CW had the defence on edge. Could the favour be returned from the last match and the day saved? It was not to be as Burnaby won a lineout and moved on to the Final. A five point differential was opined on Friday, primarily the value of the home field, and so it came to pass. Left to ruing the chances lost, the boys manfully fronted for post-game respect and reverence for what the game is about. Our hosts move on to another BC Championship Final with the hopes that the outcome will produce them their first title.
CW thanks Burnaby for their hospitality and their accommodation of our request of an ample period of pre- game preparation time. We wish them the best in what will be a hard fought Final. The officiating crew did their job and it was the players who decided the outcome. Dusty Dobravsky and Bam Bam Bradley were deemed M-o-M of the match by Burnaby. CW recognised Hildebrand and Watkins. In my book, Watkins was best player on the field today. To our boys – thanks for a fantastic season with some extremely brilliant and entertaining rugby and ever so close to winning the prize. To those "moving on", we wish you the best, spread The Tricolour word and to those remaining, with a new focus and goal. Once again, we have been reminded about just how difficult it is to earn the honours. This was penned, returning home at midnight, emotionally and physically spent and that was just from looking on! A post-mortem may be attempted mid-week but for now – pardon any verbosity. Game over.
The Skipper Hobbles Home!


FOOTNOTE; Having been told how the semis would work for the Women's Premier Competition (BCRU), our ladies fronted at 12:45 today to play Westshore at Juan de Fuca Stadium. Having a little "inside" scoop, it was hoped that the original route could have been taken, enhancing motivation for a strong performance after knocking off Capilano. Suck it up, it wasn't to be and congratulations to Westshore who walloped the Tricolour today, 67 – 7. They will go into the final, odds on favourites to play today's winner on the mainland between Caps and Seattle. Must admit, not sour grapes but it does take something away from a season of hard work and continued building. Thanks, ladies for a job well done.

The Ruggernut


---