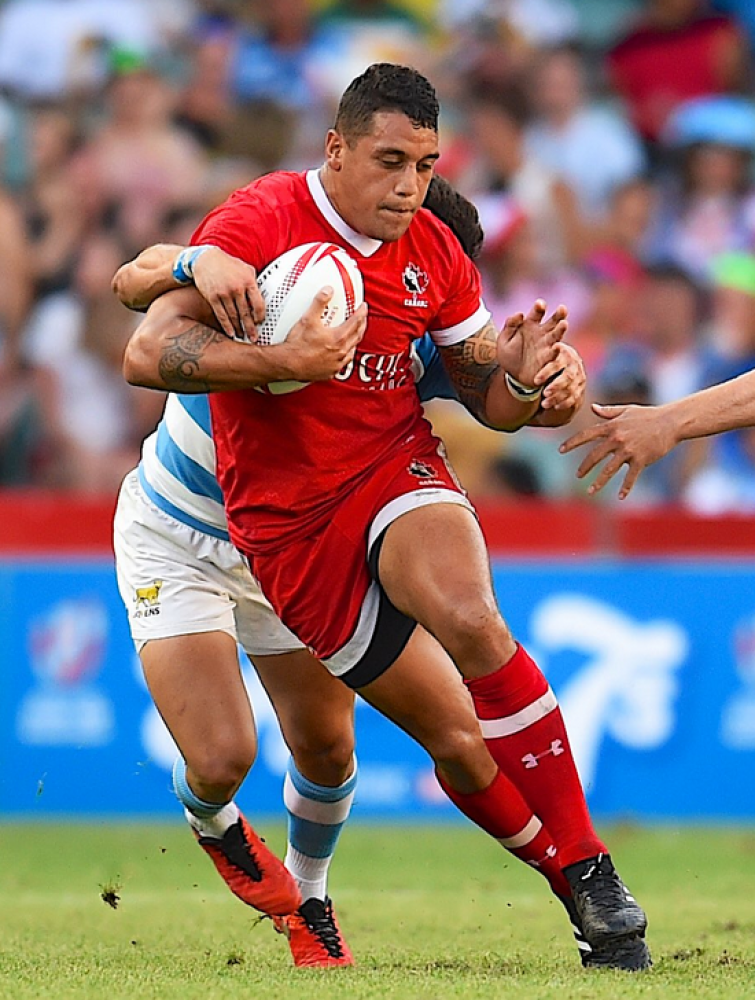 It was heady stuff when almost this time last week CW's Mike Fuailefau, was announced to the Durban Dream Team. Fuli and Justin Douglas became an unprecedented duo. There were many chests bursting in the CW Camp for Mike. Mike's dad, Joe, a former Samoan International took his son at a young age to Velox RFC at Gordon Head to play minis many moons ago. Mum, Cindy, lent her shoulder to anything that needed doing. Mike changed clubs to finish this part of his preparatory rugby education at CW Rugby. He then went through the Age Grade factory with The Tricolours and on to UVic where Doug put him through Finishing School, further honing his skills. Very quickly he climbed the ladder, improving skills, strength and speed. He is now viewed as being amongst the leaders and 'senior members' of the NSMT which is appearing as though they might have a banner year. 'onya, Mikey and CW's congratulations on this honour.
Canadian Schools U18 7's sent a select team to the World Schools Rugby Sevens Tournament in Auckland this weekend. CW had two lads selected to the team; Lachie Kratz and Justin Dashkewtych. The opposition at the tournament came from Tonga, Samoa, Cook Islands, Japan, Fiji, Australia and NZ. It would be a difficult task to expect our lads to make too much of an impression against such opposition on the scoreboard however; "this experience against such experienced youth from the South Seas would serve in good stead for the future." (Coach Asselin)
The boys prepared well and we bring the following report from Fred Asselin (Head Coach); "We are training two times a day with recuperation sessions and are learning how to become young professionals and gain valuable playing experience. They are also getting sightseeing opportunities as they went and toured the prestigious and brand new state-of-the-art Auckland Blues training facility and watched a training session from one of the Super Rugby Teams. The players also got the chance meet with staff and some of the players, including All Black young sensation Winger Rieko Ioane. Thursday they will have their first opportunity to test their skills against the Cook Islands in a warm up game and to fine tune and test their playing patterns.
With the great leadership of Lockie Kratz from Victoria and Jarvis Dashkewytch from Tswassen, they are going to have their work cut out for them against opposition that are all from the Southern Hemisphere. The pool play will be against Samoa, Tonga and New Zealand Condors, a select all-star team from the high-school championships. The experience these boys are going to gain here will carry them through their rugby careers. They are the only Northern hemisphere team and they should be very proud of that. I'm a very competitive coach but I'm also realistic, and know that all of the games will be very challenging. We have a goal of improving our structure and creating opportunities throughout the tournament. As I told the boys one game at a time and that they have a whole nation that believes in them. When you think that most rugby players around here start at 5 years old, and are playing international rugby by the age of 18/19 years old it is very new experience for our young athletes to play against such experienced young rugby players." (Ed. Lachie Kratz has been at it since he was five!)
And so it came to pass. The boys unfortunately, lost all four of their matches however, no doubt the experience was invaluable. For mine, this is money well spent!
---