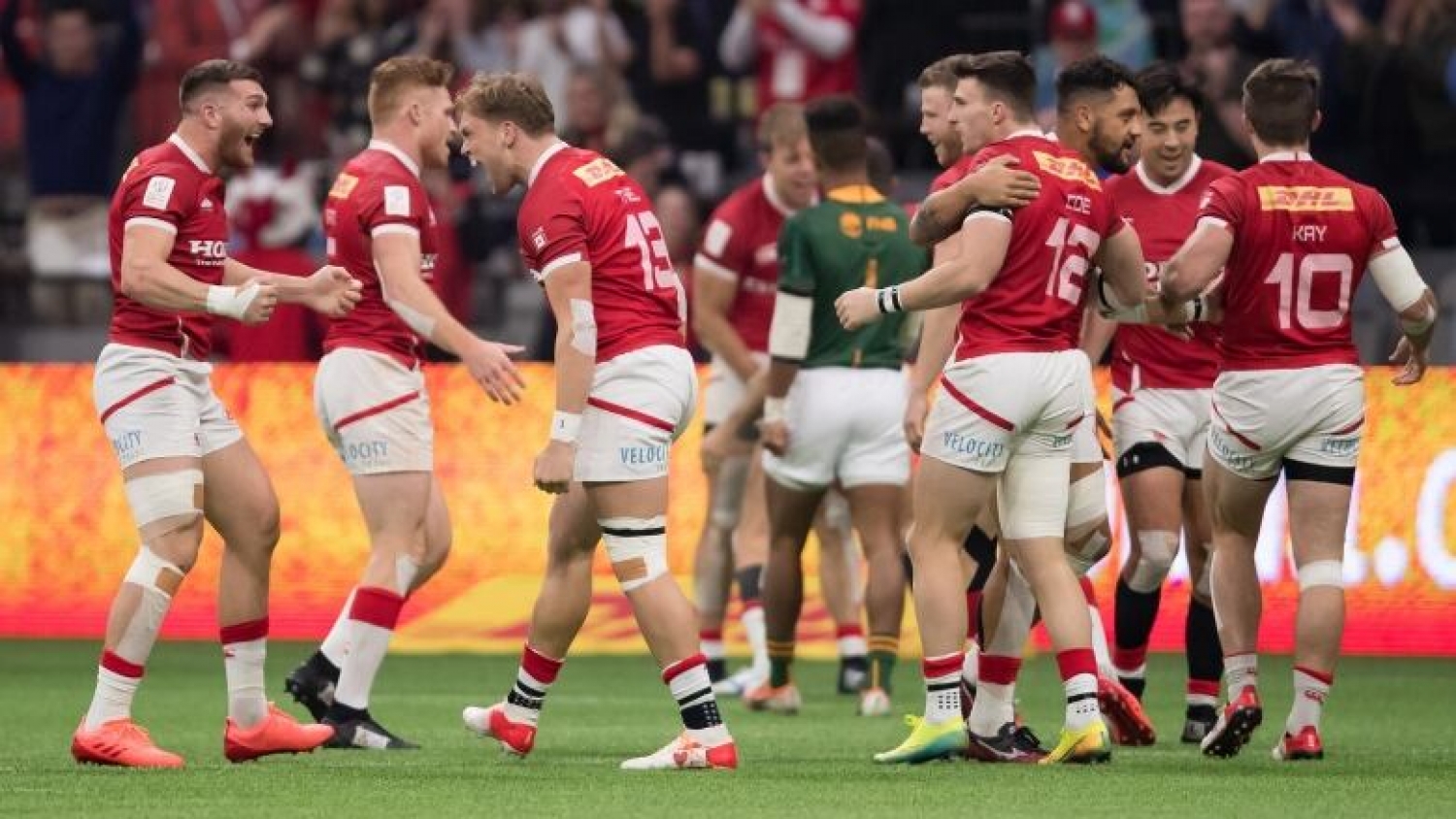 (Photo credit - Nigel Reed, CBC Sports)
(Photo credit - Daryl Dyck - Province newspaper.)
Every rugby fan in Canada must still be on a total high following the weekend Sevens stop in Vancouver. The Canadian Men put on what must have been amongst their 'best ever' performances in front of record Vancouver crowds. One simply cannot heap enough praise on the lads who gave 110% in all six matches and it was mere centimeters away from being a gold medal appearance, when Sauder was nutted out from his try against Australia in the semi. It would almost seem unfair to laud one over another, as each played their role when he had to and their team game was noteworthy.
When Canada's best are healthy, they showed they are a force to be reckoned with and overall their level has been lifted a notch or two in terms of strategy and effectiveness. Each man has the ability to lead when necessary and the skill level has become high, with a noted improvement with ball retention. Their unbridled enthusiasm was contagious and fedback by the colourful crowds. Stadium electricity was magnetic!


The team now sits "comfortably" in eigth spot with two venues remaining. We all keep our fingers crossed for the Olymipcs to take place as this would be a just reward for those who have given yeoman's service, putting their lives on hold for the cause of Canada Rugby for almost a decade. Take time to enjoy this one, boys!


FOOTNOTE: CW had a number of current players involved in the Vancouver Sevens Tournament. This was a lead-up event, held on Thursday and Friday. The Men's Next Gen team won that division and Schelly and Hammond Junior (James) joined some guys from the Bays and former CW, now Pride player, Brennig Prevost. Dustin Dobravsky and Kapi Vataiki coached the Island Boys U18 (3rd) and U16 (1st) teams. The U18 Boys featured Max Abercrombie (All Star), Owen Smith and Matt Klimchuck and Chloe Hill-Huse was on the Girls U18 team (1st). Well done to all of these athletes and then to be witness to the men's stunning feat!


















CW takes great pride in having the above men wear the Tricolours at some stage or stages. Special 'shout out' to Pat ("50 Cap") Kay.
---