Sizzling Start; Frizzle and Frazzle To Finish!
---
---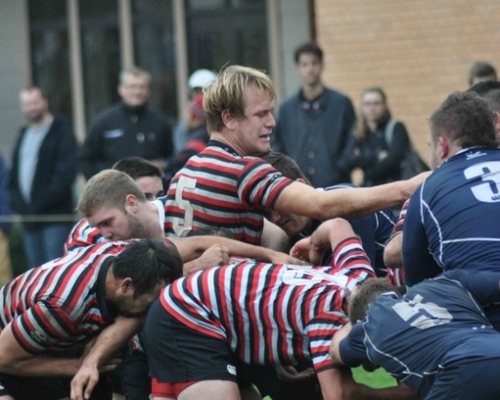 CW hosted JBAA in two matches, Saturday last. The Ones trailed 3- 21 after a disappointing first half. The teams tied each other, 17 - 17 in the second stanza for a final, CW 20 - JBAA 38, bonus point victory. The Ones, so far this season, appear mirred on the runway. Tabor and Crawford (deja vu from yonks), were noticeable, Mikey outpacing the defense over thirty meters to score the final tally. Commitment at the breakdown and any form of "attacking tackle" were not present on this day. Regardless of many changes to the lineup, individuals need to "man up". There will be another opportunity to see if anything was learned when The Ones play Burnaby next weekend.
In the "main match", The Tricolors drew first blood with a Watson penalty, only to be tied at 25 minutes when Mack responded. A clever diagonal from Buckley, saw Morris touch down, wide out. JBA responded with a Dalziel try. CW forwards got through a ton of work and were rewarded when Dingwall blocked a clearing kick for the hosts to go ahead 15 - 8 at the half.
For the opening ten minutes of the second stanza, The Tricolors stuck to the plot. Suddenly, chaos of catastrophic proportions occured when James Bay backed their backs with the mercurial Mack whipping fast ball away from the breakdowns to a backline that is becoming, arguably, one of the best in the Comp. Dalziel has adapted to #10, big, hard running centers, pacey finishers and Adams at #15 whose intelligent entries can easily split the defense.
By match end, the last thirty minutes had produced 32 James Bay points, counting five tries. It was a capitulation that was most disappointing, given such a good result for 75% of the match. Obviously, a lack of power subs was an issue but it could be forever so this season. M squared - Meeres and Mack started the havoc and as it progressed, the opposition visibly lost energy and commitment. There were some efforts of note for the Home side with Braddock, van Buren and Buckley toiling hard. Unfortunately, the contest had considerable niggle, handled patiently by the ref until the end when red cards were issued.
It does not get any easier with League leading, Burnaby Lakers looking to shake the Windsor Park monkey off their backs next Saturday.
---