SEVENS WORLD CUPS KICK OFF
---
---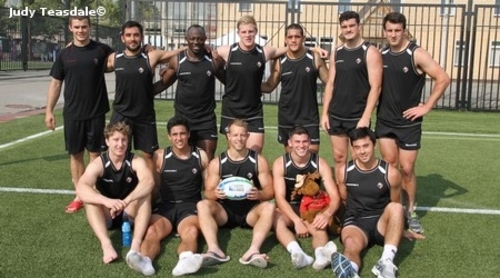 Canada's Men's & Women's teams take to the pitch today in Moscow in RWC action. For the men, UVic's Nate Hirayama has been handed the captaincy for the campaign, always a chance as often Yak comes off the bench as an impact sub, 'onya, Nate - all the best to you and the boys from Ceedub. Canada opens with NZ and on day #2 battles U.S. and Georgia.
The women open with the Netherlands, a country that has caused upsets amongst the BIG SIX, so will be a strong challenge to open the campaign. There have been selection criticisms from some sources regarding this team but the Ruggernut's prediction is that it will be a breakout result for the women, with a top four finish at least. They finish Pool play Vs. Tunisia and N.Z.
Ontario Blue's and CW's, Lucas Hammond shows the way! Much will be on the shoulders of the youngsters, Justin Douglas, Hammond, James Bay's Ty De Goede and CW's Mike Fuli in Moscow. The cautious "blooding" of this crew will need to produce results to fill some noticeable voids due to unavailability of other possibilities.
CW IS BEHIND BOTH SQUADS - GO, CANADA, GO!
Games can be viewed as follows;
RWC Sevens Viewing Schedule - June 28-30

Men

Day One– LIVE on

www.rwcsevens.com



Canada v New Zealand at 15:44 local time
(Friday, June 28 – 07:44AM EST / 04:44AM PST)

Day Two– LIVE on

www.rwcsevens.com



Canada v USA at 10:06 local time
(Saturday June 29/Friday, June 28– 02:06AM EST / 11:06PM PST)

Canada v Georgia at 13:46 local time
(Saturday June 29 - 05:46AM EST / 02:46AM PST)

Day Three– LIVE on

www.rwcsevens.com


TBC

Women

Day Two–

Canada v Netherlands at 09:22 – No Live Stream
(Saturday June 29/Friday June 28 - 01:22AM EST / 10:22PM PST)

Canada v Tunisia at 11:56 – No Live Stream
(Saturday June 29 - 03:26AM EST / 12:26AM PST)

Canada v New Zealand at 18:32 – LIVE on

www.rwcsevens.com


(Saturday June 29 - 10:32AM EST / 07:32AM PST)

Day Three
TBC

To view the complete IRB LIVE streaming schedule,

please click here
---