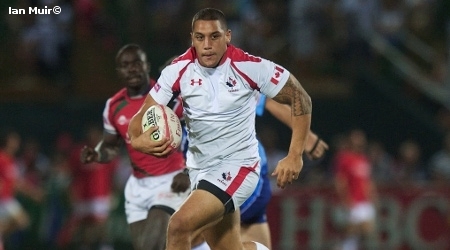 Fuli on the fly against Kenya
Dubai Day 2 opened dismally for Canada. Many readers may have watched some missed tackles that allowed France a 35 point separation at the half in front of a crowd of no one! The boys finished with three tries but a 42 – 19 outcome was not the goal. It was doubly troubling to watch the U.S. come from behind to defeat Japan, 14 – 12. Canada dropped to the Shield level.
'Overnight' it was Canada's crack at Japan. According to sources, the score line closed to 17 – 14 but Canada was in control and went on to win, 29 – 14. Canada met Kenya in the final and went ahead 19 – 7, giving up a late tally for a score of 19 – 12. Reading between the lines from RC's website, it appeared that the core group of Duke, Moonlight, Mack and Trainor were in form and that Hammond, Fuli and Douglas have matured to the next level. Having said this, the gap between Canada and the top eight on the table is widening.
Sevens Stats & Facts. The Bokkies evidently hit their straps as the Tourney progressed, blitzing Geraint John's Aussies 33 – 7 in the Cup Final, arguably, a score that put Canada's earlier result in a favourable light. N.Z. who did not have their line crossed on day #1, lost their semi, 28 – 0 to South Africa and found no trumps when they lost 26 – 12 to Fiji to finish fourth. Samoa went 0 – 3 on day #1 but won a hat trick and the Bowl on day two.
Canada's Shield gives them three points for a total of six, good for 13th place, a whopping 14 points behind #8, Wales and seven points behind the U.S. in eleventh place. Despite the wins at a "lesser echelon", the big points are earned by the top eight in round robin, pool play. So Dubai is done and it's off to Port Elizabeth – hopefully, healthy and better for this shakedown. Good luck, boys from all at Tricolor Country.
---