Sevens Back on the Continent
---
---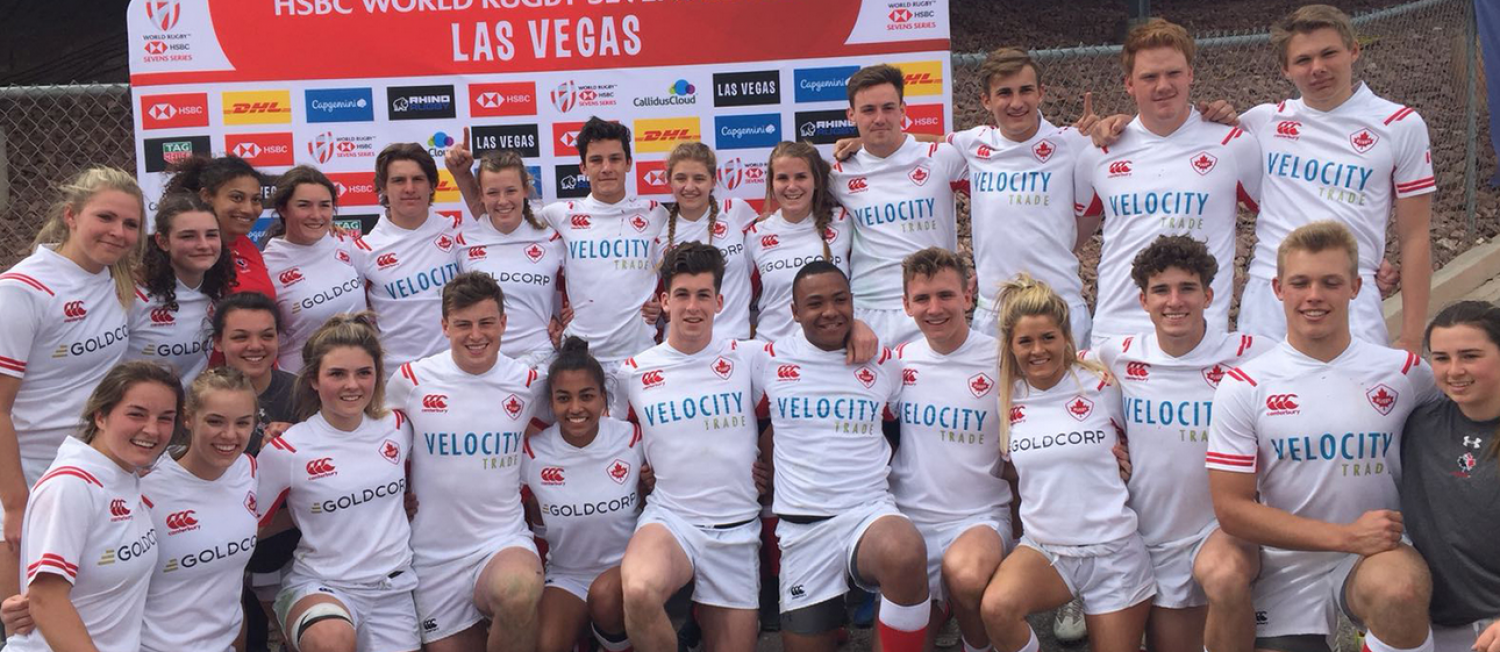 Vegas Sevens last weekend was certainly exciting with an all-American Final. U.S. Sevens were the Talk of the Town after they walloped Argentina 28 – 0 in the Championship Final. U.S. Rugby has convinced any of the Doubting Thomas's that they have more than arrived on the Sevens scene. There was a time when teams could focus on weaknesses to overcome the Tests, Isles and Bakers. Their team is now so balanced and seven strong, no matter who is on the pitch. Of course, Baker with his eight tries last weekend is the beacon. His 100m try against Fiji was amongst the all-time, great Seven's tries. Whilst with point scorers; it is of credit to note that Canada's Nate Hiriyama was the top point scorer in Vegas. 'onya, Nate.
Something to crow about for Canada was the undefeated successes of our Youth Men and Women U18 teams. Canada Women d. U.S.A., 36 – 5 in the final and the Men d. U.S., 14 – 10. (N.b. Above - CW's, Lachie Kratz is first male kneeling on left). Well done, Canada.
To Vancouver the troubadours come, hosted by Canada…… Their Pool results were mixed – disappointment against England, good pushback against RSA and a close win over Wales. Day 2 was better. Although the score Vs Scotland was close it is fair to say Canada was the better side. Then it was France, a team who is a mere two points ahead in the standings, an opportunity to make a statement. Don't know about the players but as a fan, I was very disappointed to see chances squandered with a man advantage for over half of the game. The team looked like it was missing Hammond. It was with interest we saw appearances from Tevaughn Campbell, newcomer and CFL speedster who scored a brace against France. He certainly has the wheels, so expect more of him in Vancouver. This is the good news. The problem is that Canada will face USA, Australia and Uruguay in their Pool.
LATE-BREAKING!! RUGBY TICKETS FOR VANCOUVER - 2 RESERVED SEATING (BOTH DAYS). GREAT SEATS; CENTRE FIELD, 8 ROWS UP FROM PITCH. FACE VALUE. CONTACT, TOM @ 250 893 5800 or E-MAIL.
In conclusion, the refereeing of the new laws at the breakdown was very inconsistent and will need to be sorted out in jig time because penalties in this game can be often unfair and fatal.
Meanwhile, in Santiago. The NSMT went out to a deserved 22 – 3 lead at the half only to almost squander it with a poor second half showing. In fact, had Chile secured some passes that went to ground, matters could well have been tenuous. The 33 – 17 win was no doubt, a salve for all concerned. That's it for XV's until the RWC Repecharge Tournament, at least as best this writer knows. Happy for the boys, securing the W but there is much work to be done.
Finally, today we introduce you to the club's Captain in Doug Fraser's absence, Nathan Stewart. Nathan is another of the line of connections CW has been fortunate to make with Williams Lake Rustlers Rugby, going back to former Captains, Riley Ilnicki and National Team player, Matt Weingart. Nathan sets the bar by example, leading the boys with weights and his commitment to fitness. 'onya, Nate.
---