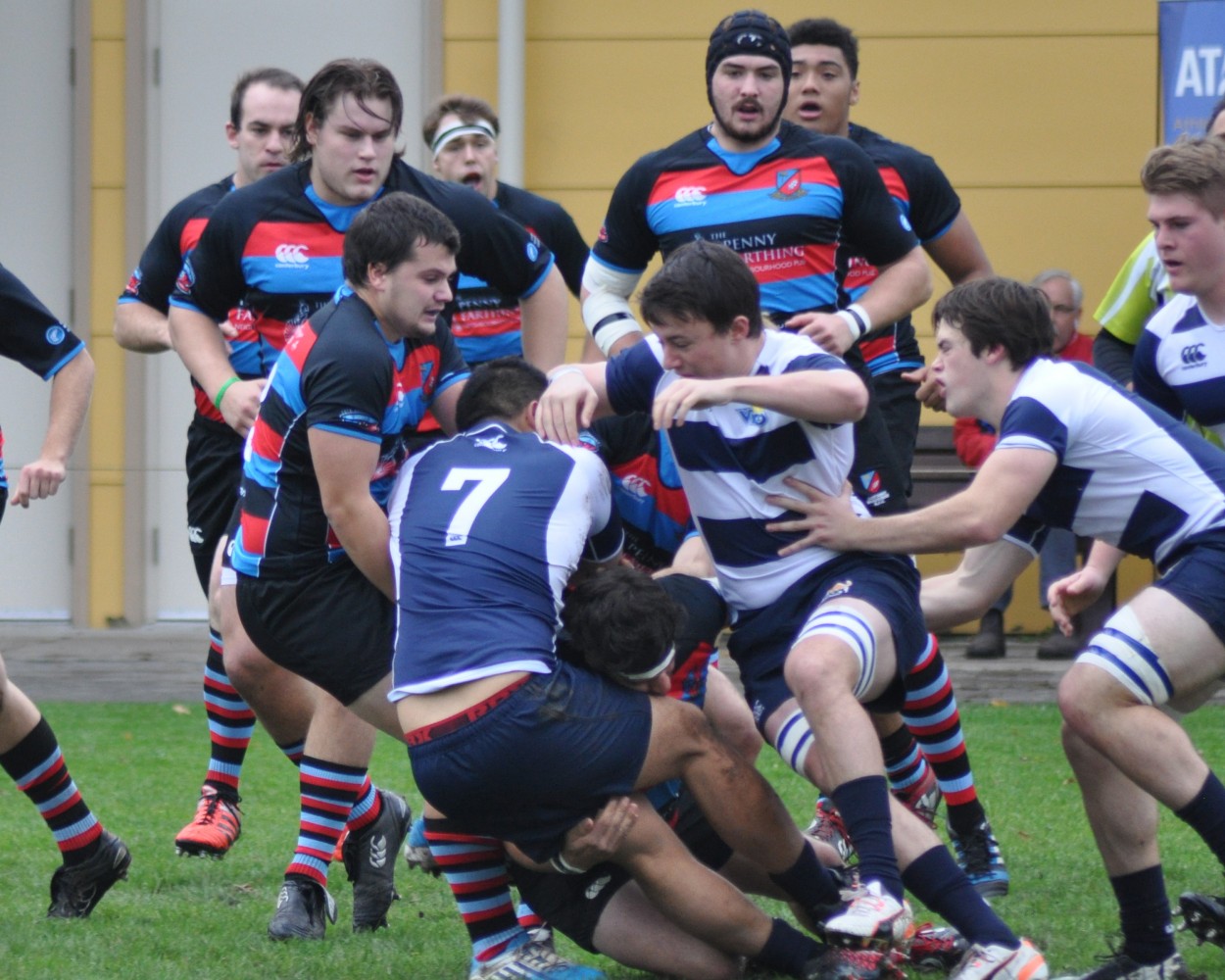 *1st Div vs UVic*1. Doug Hepp 2. Jeff Crone 3. Grant Baird 4. Neil Fowler 5. Kyle Hohert © 6. Jordon Montgomery 7. Kiel Horan 8. Matt McLean 9. Brock Gallagher 10. Brandon Gerhardt 11. Ethan Hager 12. Oli Winser 13. Cody Milne 14. Marcus Hall 15. Curtis Bailey
As much as last weekend's result was a good one for the boys, they will really be put to the sword tomorrow against UVic Norsemen, league leaders. Taking a score line against two like games vs JBAA and Rowers, the Norsemen would have to be 3-4 try favourites. They return to Windsor with some familiar faces – Carter White, Gavin Kratz, Evan Cambridge, Brennig Prevost, Daniel O'Flynn and Brayden Tate. The hosts' strength lies in a solid scrum and backline outbreaks. Have to make the Norse favourites …… points spread? Mmmm, hate to back against my boys but, 14+. Prove me wrong, you good things!
*Prems vs UVic*1. John Braddock 2. Clay Thornber 3. Jack Sponarski 4. Cam Polson 5. Connor Turner 6. Nathan Thomas 7. Riley Ilnicki © 8. Haydn Evans 9. Mike Dalsin 10. Keaton Styles 11. Jonny Morris 12. Dustin Dobravsky 13. Doug Fraser 14. Mat Kelly 15. Brandon Schellenberger

In this one, the hosts have to be favourites, 3 – 3.5 points. Vikes bring a few "old boys", probably in their last game as students vs their old club. Macbryan Bos, Jeff Nishima-Miller and Fergus Hall, this writer thinks (? A dangerous thing ?), are all in their final year at Uni. How time flies! The Tricolour is playing good rugby with improvements each week. This said, UVic can never be counted out. CW has shuffled the pack, bringing in Haydn Evans to fill for Stewart, playing 7's in Vegas for B.C. I just like the toughness and cohesiveness the boys have shown in the campaign so far. It might just be team play nudges some outstanding stars, despite huge absences in the visitor's line-up. When the dust settles, I predict CW will still be undefeated, maybe by three. Go, Ceedub!


1- Jenn Appleby 2- Adrienne Shepherd 3- Olivia Demarchant 4- Olivia Prior 5- Camille Provençal-Aubé 6- Emma Dupuis 7- Lizzie Adams 8- Gabby Senft 9- Lauren Sargent 10- Jess Neilson 11- Keira Flanagan 12- Steph Black 13- Brittany Waters © 14- Karen Paquin 15- Julianne Zussman 16- Erika Shaw 1 7- Chelsey Ferguson 18- Laura Crowe-Hutchon 19- Jess Dovanne 20- Marlene Nedved

Will this be the week that the Burnaby bubble breaks? Burnaby has not managed a W as yet although almost all their games, except for a blowout vs Westshore and early season loss at Klahanie, have been very close. Witness their top of the league bonus point total at seven. Last time round, CW managed a very tight, 40 – 36 victory. CW looks star-studded although there has been manipulation of the pieces. Good to see Lauren Sargent back in the mix and Marlene Nedved on the pines. Based on a new-found FRF strength, The Ruggernut will call CW, by five. Best of luck, ladies.


---