SATURDAYS WERE MADE FOR RUGBY
---
---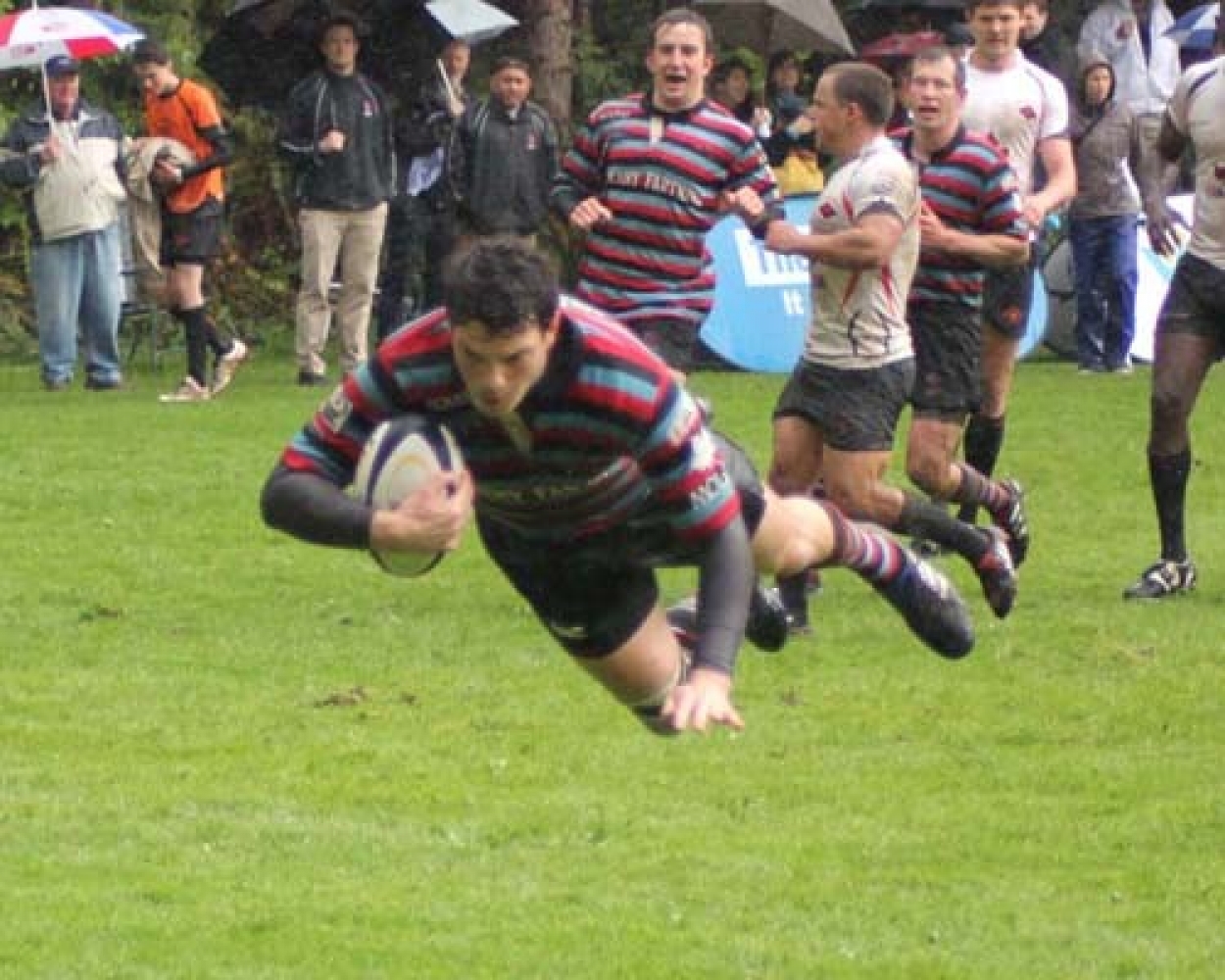 COACHING CREW COMPLETE
Director of Rugby, Ken Goodland is pleased to announce the addition of Ciaran Hearn to the Men's Coaching Team for the coming season. Hearn will serve as Assistant Program Coach for backs and skills. The men will field three teams in competition this year and training takes place on Tuesdays and Thurtsdays at Windsor Park at 6:30 p.m.

Following his retirement from lengthy achievements on the field at both Sevens and Fifteens, Ciaran brings a wealth of professional experience back to the Tricolors. Ciaran's bag of tricks includes a RFU Level 2 Coaching Certificate, succesfully completed whilst playing with London Irish. Any young three quarter, or experienced one, will learn much from Ciaran's quiet and methodical approach to the arts. In his playing days, he was also a goal-kicker of some reknown. Ciaran joined the club years back, when he came from Newfoundland and notes; "I've felt like CW has always been a home club for me". His love for the game and desire to pass that on to those in his charge lies paramount amongst his goals. The East Coast leadership team will bring much to our men's program.


Assistant Program Coach - forwards and set piece, Doug Hepp. 'Heppy' has been a long-time member of the club, going back to 1995. He has represented the Prairie Fire and the VIRU Crimson Tide in the days of the BC Super League. He had a stint in the UK and was a member of the Dorking RFC when that club won a Second Tier Championship. Doug is currently working on his Level 2 Certification. He "looks forward to this new challenge and is planning on being involved for many years to come."

Heppy, leading from the front!
Program Scrum Mentor - Doug Wooldridge. Doug is a former NSMT player with 23 caps. He hung his hat with CW following his graduation from UVic some years back and has been true blue ever since, believng in what the club stands for. He has played in France with Clermont and thus knows all of the dark arts of French FRF play! Doug still graces the field when needed and his experience is invaluable. Now with a young family, he has slipped to the sidelines and we are thrilled to have him show an interest in the coaching side of the affair. Way to go 'Wooly'!
Men's Program - Head Coach, Ken Goodland. Ken's outstandng playing career, coupled with his Technical Certification and experience at the National Youth level make him a most valuable commodity to CW. His recent appontment to the club's new role of Director of Rugby is worthy credit to his many skills and achievements. Since coming from the East Coast some twenty years ago, Kenny has become a true blue Ceedubber, serving in many inspirational, leadership and technical roles with pride in his adopted club and its achievements. The club looks forward to supporting Ken as he seeks to keep building the program, supporting the players and coaches with their aspirations of their goals and dreams. 'onya, Ken.






OLYMPIC REFLECTIONS
Former CW player, Julia Zussman adjudicates "in the middle" at Tokyo. Congratulations, Julia.


The writer commences with heartiest congratulations to Men's Co-Captain, Nate Hirayama who was honoured as Canada's flag bearer at the Opening Ceremony. Further, to Connor Braid who not only had a good series, with a hat-trick against Japan but who kept the memories of his best friend, CW's Dylan Jones, close to his heart, the true Olympic spirit. The Men's Team earned eighth spot after being nutted out by the US in extra time and a man down. Veterans such as Co-Captain, Harry Jones, Connor Trainor, Justin Douglas, CW's Mike Fuailefau and Lucas Hammond all served the cause well. The remainder - "younger" members of the team, including CW and Cowichan's, Pat Kay, can all hold their heads high.



For a more vaunted Women's Team, it was not to be. Veterans, some of whom who no doubt, wound up their career in Tokyo, Capatain Landry, Britt Benn, Karin Paquin, Ellisa Alaire, Kayla Moleschi, Julia Greenshields, Bianca Farella have served the program well and the team took care of business in Consolation play, winning two and finishing in ninth place. There will be a solid core remaining to carry the torch, going forward.


(Opinions expressed are solely those of the blogger.)
---